Todays Opening Hours
Thursday : 8:30 - 5:30
closed
Welcome To M+P International
m+p international is a worldwide provider of high-performance products for vibration testing, noise and vibration measurement and analysis, and data acquisition. Many organizations in the automotive, aerospace, electronics and other high-tech industries trust in m+p international products.

To find out more Click Here
Vibration Control Systems
m+p international supplies industry-leading vibration control systems for vibration and shock testing. Vibration controllers support electrodynamic and hydraulic shakers. Test modes include random, sine, shock, sine-on-random, random-on-random.

To find out more Click Here
Dynamic Signal Analyzer
m+p international's dynamic signal analyzer for noise and vibration measurement, analysis and reporting. Satisfies all NVH needs for real-time FFT acquisition, modal testing, rotating machinery, acoustic measurement.

To find out more Click Here
Modal Acquisition and Analysis
m+p international's modal software package provides a complete set of tools for classical and operational modal analysis, shaker measurements (SIMO and MIMO) as well as for ODS, SDOF and MDOF analysis and for modal model validation.

To find out more Click Here
Data Acquisition Systems
m+p international's full-featured data acquisition system for strain and stress analysis, static and dynamic structural testing, performance and functional tests, process and condition monitoring.

To find out more Click Here
m+p VibControl Systems
Our m+p VibControl systems for advanced shaker vibration testing and signal analysis, from 4 to hundreds of channels, are used by many leading environmental test laboratories throughout the world. End-users appreciate the intuitive operation, the extensive analysis and reporting functions and, of course, the excellent stability and high-quality level of the vibration control systems.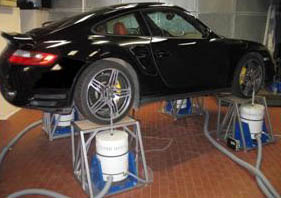 Vibration testing on shakers using m+p international's VibControl system
The open hardware and software architecture, standalone or networked, of our m+p VibControl products ensure system longevity meaning that your investment is reliably protected. m+p VibControl supports high-precision measurement hardware that we designed for the specific needs of vibration testing. m+p VibPilot is a compact 4/8-channel instrument, m+p VibRunner is configurable as 16 ch input + 8 ch output/tacho or 24 ch input in each chassis and can be used as a desktop instrument or mounted into a 19" rack, m+p VibMobile is a portable multi-channel front-end. Functionality includes 24-bit A/D converters, ICP® sensor conditioning, TEDS support as well as eight digital inputs and outputs.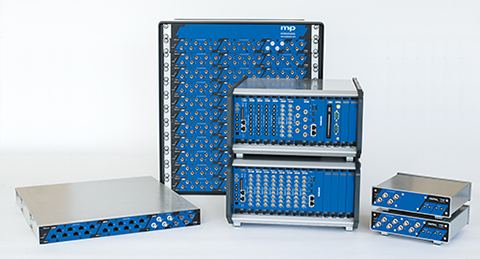 m+p international's measurement hardware exactly designed to the specific needs of vibration testing, noise and vibration analysis and data acquisition.
Using true multi-tasking functionality, the m+p VibControl software is very robust in operation and allows multiple tasks to run in parallel from the same keyboard without loss of real-time control. Our m+p VibControl products have a full range of test modes available, everything from simple ESS random testing to mixed mode gunfire simulation. Drop table capture, sine data reduction for increasing the channel count as well as unlimited time data replication and road load simulation mean m+p international can tackle the widest range of requirements.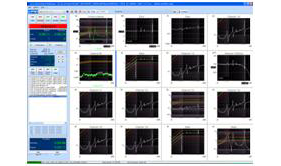 m+p VibControl shaker control software supports all test modes used in
today's vibration testing.
In cooperation with renowned partners, m+p international provides complete vibration test stands including vibration control system, computer, electrodynamic or hydraulic shaker and accessories such as accelerometers, fixtures, cables, etc.

The m+p VibControl product family also comprises powerful configurations for closed-loop acoustic testing in a reverberation chamber.
m+p Analyzer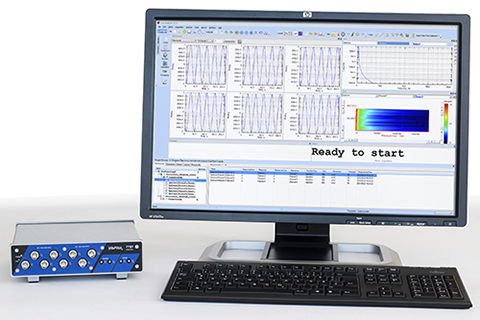 m+p Analyzer with Ethernet/USB frontend for noise and vibration analysis
(vibration analysis equipment)
The m+p Analyzer is the perfect choice for accurate and efficient noise & vibration measurement and analysis and reporting of your results in the field, in the lab and in the office.

m+p Analyzer provides a multitude of measurement and analysis software modules to cover the widest range of applications in today's dynamic signal analysis:

   • Real-time FFT and time history data acquisition (throughput to disc)

   • Structural testing: modal analysis, SDOF/MDOF, impact testing, operating deflection
     shape (ODS), multiple input/multiple output (MIMO), swept and stepped sine analysis,
     normal mode tuning, ground vibration testing

   • Rotating machinery incl. machinery condition monitoring

   • Acoustic analysis: octave analysis, sound power, tonality, sound intensity, sound
     quality, human vibration

   • Environmental testing

The power of the m+p Analyzer even allows multiple capture modes to operate in parallel, e.g. do real-time spectrum analysis to the graphics display as well as recording (throughput) the raw time history data for later post-processing as well as online order analysis.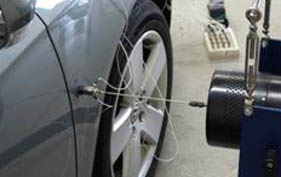 m+p Analyzer, m+p's dynamic signal analyzer, used for modal testing
(vibration analysis)
The m+p Analyzer software supports m+p international's measurement hardware which is tailored to meet the high requirements of noise and vibration analysis.

The compact, dustproof 4/8-channel m+p VibPilot frontend is suited for operation indoors and outdoors. m+p VibPilot provides Ethernet and USB connectivity to a host PC or laptop and is operated by either an external AC mains power supply or, alternatively, by a DC supply, e.g. for in vehicle operation. The fan-less, noise-free operation enables noise measurements requiring a quiet environment.

For higher channel count requirements, m+p VibRunner is the ideal measurement hardware. The 19" mainframe houses up to 3 front-mounted modules and can be used as desktop instrument or rack mounted. m+p VibRunner is configurable as 16 ch input + 8 ch output/tacho or 24 ch input in each chassis, with 24-bit analog precision and up to 204.8 kHz sampling rate. Multiple VibRunner systems can be distributed and synchronized providing very high performance data throughput capability for the largest of channel counts using multiple Ethernet Gbit interfaces.

m+p VibMobile was engineered for the requirements of mobile multi-channel noise and vibration measurements and dynamic signal analysis applications. Including multi-range AC and DC power supply and battery option the front-end is perfect for portable use in the field or mounted in vehicles and for use in the lab. m+p VibMobile fulfills both the robustness and channel density criteria needed for optimal test and measurement productivity.

In addition, m+p Analyzer integrates seamlessly with a full range of National Instruments USB, PCI and PXI hardware modules for analysis, display and reporting.
Data Acquisition Software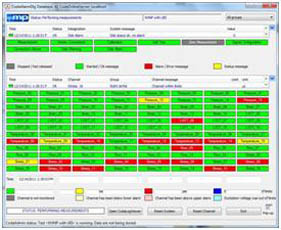 Coda data acquisition software: Full-featured alarm monitoring
m+p Coda data acquisition software: Full-featured alarm monitoring
m+p Coda is a turnkey software platform for data acquisition, signal analysis and monitoring. The extensive built-in features and tools improve test efficiencies and deliver precise, repeatable results. The intuitive graphical user interface facilitates set-up, operation and analysis, thus reducing the time and cost of the entire process.

The modular design makes m+p Coda the ideal choice for a wide range of applications:

   • Measurements and data analysis on test stands and test assemblies.
   • Performance and functional tests of turbo machinery, jet engines, gearboxes,
     generators.
   • Experimental structural testing, multi-axis strain and stress analyses.
   • Process and condition monitoring.
   • Static and dynamic structural tests, e.g. on aircraft and rail vehicles.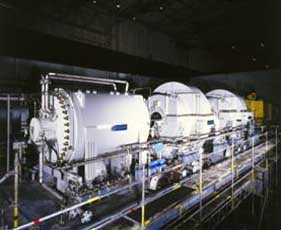 m+p Coda acquisition system used for turbomachinery testing at Siemens, Germany
m+p Coda processes temperatures, voltages, stresses, strains, pressures, forces, accelerations, frequencies, and many more physical quantities.

For maximum system flexibility, m+p Coda supports m+p's own precision instrumentation as well as measurement hardware from National Instruments and VTI Instruments scalable for any test size.

For more information or to arrange a demonstration please call m+p international (UK) Ltd. The place for all your Vibration Test Systems, Vibration Analysis Equipment, Vibration Control Systems and Data Acquisition Systems.
www.mpihome.com
Related Products and Services
Shaker testing: vibration control system from m+p

Shaker testing: vibration controllers from m+p

Real time analyzer for noise and vibration testing

Noise and vibration measurement and analysis

Modal analysis, structural testing in automotive

Dynamic mechanical analysis, modal analysis

Dynamic testing from 4 to 512 input channels

m+p VibMobile: portable, multichannel measurements

NVH testing in a motorhome

Noise and vibration testing on wind turbines

Multi-axis shaker testing (MIMO)

High-frequency vibration test stand, piezo-shaker

Multichannel data acquisition and monitoring

Strain measurements, experimental stress analysis

0

stars based on

0

customer reviews
Write a review
Approvals & Certificates

ISO 9001 Quality management systems
Events & Shows
Sensors & Instrumentation
The Engineering Testing Show
EIS Instrumentation Analysis & Testing Exhibition