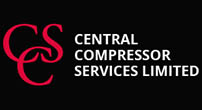 enquiries

ccslimited.com
Phone: 01707 [Reveal]
Fax: 01707 390548

Central Compressor Services have been established for 20 years and are specialists in the supply of Compressed Air Systems and associated Spares. We sell new & used compressors complete with all air drying and filtration needs. Our engineers are able to service all makes and models of compressors, they carry Gardner Denver Parts amongst others and can be called upon in case of emergency breakdown. The Central Compressor Services installation team can install compressor systems into large building systems or even just a few outlets.

Central Compressor Services are a registered supplier with the Carbon Trust Loan Scheme. Carbon Trust loans are without cost and all we have to do is prove the energy savings are there! We offer FREE compressed air energy surveys to identify potential energy savings and can even do most of the loan application for you on-line. Call or Email us to request your FREE energy audit. Our compressors qualify for the Carbon Trust's Enhanced Capital Allowance (ECA) scheme and this can give you £'000s in tax relief with the purchase of energy efficient compressors; a 75kW variable speed drive Compair compressor is eligible for approximately £5'000 tax relief in year 1 through the ECA scheme, regardless of whether a Carbon Trust Loan have been given to purchase the equipment.

Some of the Compressors available:

Reciprocating / Piston Compressors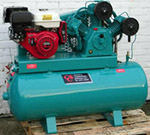 These compressors are heavy duty no-nonsense and are perfect for tough environments; they are extremely rugged and low cost and can be used for most applications. The Compair BroomWade V-Major (VM) and Bellis & Morcom range can be rebuilt for larger applications. The Central Compressor Services team can give in capabilities of up to 2,000 CFM. We do offer a smaller cast iron range of reciprocating heavy duty compressors, often used as garage compressors, they are quieter and long lasting with a relatively low speed.

Industrial Compressors - Fixed or variable Speed, Rotary Screw or Hydro/vane


A fixed speed rotary screw or vane compressor will give you best value for money when a relatively constant air demand exists. These compressors range from 20 CFM to 2,600 CFM. For circumstances where there is a varied air demand our range of variable speed compressors can achieve significant energy savings – you can contact us for a free survey to quantify the savings with data-logging. We supply CompAir, Gardner Denver and Gardner Denver Parts, Hydrovane compressors. Our compressors can be fitted with water cooling to capture the heated generated during the compression of the air; heat recovery significantly increases the efficiency of the compressed air generation where there is a requirement for hot water.

Ultra Low Noise Compressors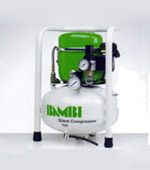 We have the perfect solution for situations where low noise is paramount to the working environment, for example Dental Clinics. These are the Bambi and Jun-Air Products and are one of the quietest compressors we have to offer. Also integrated into the compressors are breathing air filtration (with a variety of different options) and desiccant dryers. These compressors will give you the quality of air that you require.

We also offer mobile/portable compressors, high pressure compressors and breathing air equipment; visit our website for more details of these products.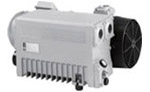 Vacuum Pumps

Central Compressor Services can supply Vacuum Pumps from Becker, Busch and Rietschle. The Vacuum Pumps are used where there is a requirement for suction.
For more information on Compressors click here to view our other page: Central Compressor Services Ltd
Related Products and Services

0

stars based on

0

customer reviews
Write a review
Associations