Todays Opening Hours
Friday : 9:00-6:00
closed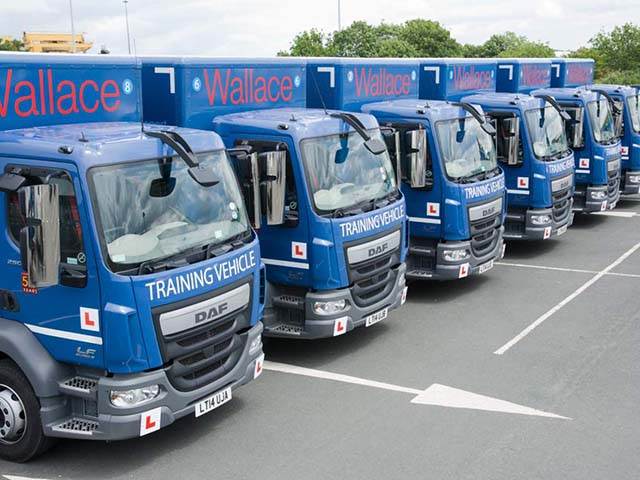 Forklift Truck, HGV Driver, LGV Driver & Construction Plant Training
Wallace School of Transport delivers Lorry, forklift truck, minibus, coach & bus driver training with Lorry training centres in London, Middlesex, Hertfordshire, Essex, Surrey, Berkshire & Buckinghamshire.

Our instructors are fully qualified and experienced and we are accredited by DVSA (Driving & Vehicle Standards Agency), RTITB (Road Transport Industry Training Board) and ITSSAR (Independent Standard Training Scheme and Register).

Our facilities are second to none with our modern fleet of training vehicles which are easy to drive and as our staff are friendly and approachable, we will provide all the support you need to pass your Theory Test (Multiple Choice and Hazard Perception), Initial Driver CPC case study (Module 2), and Show Me - Tell Me Questions and Answers and in preparation for the Off-Road Practical Test to gain your Driver Qualification Card.

Please phone if you need help with applying for your Provisional Entitlement with our Quick Start Package.

We also carry a stock of current Theory Test Study Material including books, CD-ROMs and DVD's as well as On-Line Learning which you could collect from our Park Royal (NW10 7AR) office or we can post to you.
Services / Courses
HGV Class 1 / LGV C+E Driver Training
We provide HGV Class 1 Training (Heavy Goods Vehicle), now known as LGV C+E (Large Goods Vehicle). If you would like to drive trucks with trailers this is the course to choose. With this training you can drive up to 44 tonnes.

We offer a choice of LGV C+E training vehicles and your examiner will allow you to use either an Articulated or Drawbar Combination vehicle.

Our courses starts every week with our qualified and friendly instructors. Wallace School is known for their High Pass Rate and Modern training vehicles which includes automatics.

We offer this training in Battersea, Basingstoke, Brentwood, Croydon, Dartford, Dunstable, Enfield, Guildford, Harlow, Heathrow, High Wycombe, London, Luton, Park Royal (Near Wembley), Reading, Slough, Watford and Wembley.

To find out more Click Here
HGV Class 2 / LGV C Driver Training
We also provide LGV C driver training, formerly known as HGV Class 2. With this license you can drive: Tipper Trucks, Lorry Loader Crane - 26 tonnes (Hiab Certificate Required), Skip Lorries (ADR is an advantage), Refuse Vehicles and Food Waste Recycling truck as well as general haulage vehicles, so basically any rigid truck up to 32 tonnes.

And after passing your LGV C, we're ready to help you progress to LGV C+E licence.

We offer this training in Battersea, Basingstoke, Brentwood, Croydon, Dartford, Dunstable, Enfield, Guildford, Harlow, Heathrow, High Wycombe, London, Luton, Park Royal (Near Wembley), Reading, Slough, Watford and Wembley.

To find out more Click Here
We offer FLT - Forklift Truck Certification for Counterbalance and Reach at our fully equipped Park Royal (Near Wembley) Training Centre and for Company Clients we can provide Fork Lift Truck Counterbalance training and certification On-Site at clients premises for any type of fork lift including pallet truck, pedestrian stacker, narrow aisle to name a few.

Also at our Park Royal Centre we offer truck mounted forklift training - Moffett Mounty - and revering Banksman training.
For anyone seeking construction qualifications at our training centre in Surrey we can provide CPCS/CITB Telescopic Material Handler, 360 degree excavator, Forward Tipping Dumper Truck, Slinger Signaller and Signaller Banksman.

To find out more Click Here
With the introduction of Driver CPC drivers who need to complete 35 hours of periodic training to gain their Driver Qualification Card (DQC) can undertake training with us at our Park Royal (Near Wembley) or our instructor can deliver training at your premises.

Our Jaupt approved training can be delivered either in 1 day sessions, weekdays and weekends, or as an intensive course, Monday to Friday.

To find out more Click Here
Description: Wallace delivers accredited training and certification for Lorry Loader Crane (HIAB) to carry, load and unload heavy loads including steel, bricks, building materials.

Our truck has Remote Controls (& Levers) with choice of Hook & Brick Grab attachments at our centre in Park Royal, near Wembley.

Our Courses are one, two or three days, depending on the operators experience with lorry loader cranes, and previous formal training or maybe an expired certificate.

To find out more Click Here
Wallace School also provides training to gain your ADR Certificate, whether it's your first time and you need an INITIAL course or if you already hold an ADR Certificate and you want to renew it with one of our REFRESHER course.

Drivers and companies must comply with legislation to help keep the transportation of dangerous goods safe. Drivers require specialist knowledge and skills to understand specific health and safety issues relevant to their industry.

Certificates are valid for 5 years and can be renewed in the final year prior to expiration by taking a short re-certification course to re-qualify for a further 5 years.

To find out more Click Here
Wallace School can help you get a Managers CPC Licence, if you want be a manager of a Passenger Transport Operator or Road Haulage Transport Manager, we can provide you with the skills and knowledge for you to be able to demonstrate your professional competence to meet the Operator Licensing requirements.

These Exams are available on-line with only 3 days' notice, or you can take paper exams which usually takes place in March, June, September & December.

A full CPC certificate is issued when all units are passed.

We also deliver OLAT courses. Operator liscence awareness training as well as a 2 day managing O' Licence compliance and refresher course.

To find out more Click Here
Ambulance & Paramedic Driver Training
Specialist training for anyone seeking to be a Paramedic or Ambulance Driver is also available. Our simple and easy to drive training vehicles are ideal for those seeking LGV C1 Driver Licence. Our 7.5 category vehicles are also suitable for those seeking to drive a horsebox vehicle up to 7.5 tonnes, although to driver larger horseboxes, you will require a full LGV C Licence.

To find out more Click Here
B+E Van / 4 x 4 Trailer Training
We also provide B+E training. With this training you can drive any car/van up to Maximum Gross Weight (MAM) of 3500kg (3.5 tons) coupled to a trailer over 750kg gross permissible weight/ By holding B+E you will also be covered if the trailer MAM is greater than the unladed weight of your vehicle.

With this licence, you can driver any of these Vans or 4 x 4 to tow, Caravans, Large Camping Trailers, Horseboxes, Large Sailing boats, Multiple Canoes and Kayaks, Trailers Vintage and elite cars, Jet skis, off roaders and quadbikes Trailers.

To find out more Click Here
See below for the locations Wallace School of Transport cover:
Abbotts Langley
Addlestone
Aldermaston
Aley Green
Amersham
Ampthill
Ascot
Ashford
Aylesbury
Aylesford
Bagshot
Bagshot
Baldock
Barking
Barlton-Le- Clay
Barnet
Basingstoke
Battersea
Beaconsfield
Beckenham
Bedford
Bedfordshire
Beds
Belvedere
Berkhamsted
Berkshire
Bexley
Bexleyheath
Biggin Hill
Boreham Wood
Bourne End
Bracknell
Brentford
Brentwood
Brixton
Bromley
Broxbourne
Buckinghamshire
Bucks
Burnham
Bushey
Byfleet
Byfleet
Caddington
Camberley
Camden
Caterham
Catford
Central London
Chalfont St Giles
Chalfont St Peter
Charlton
Chatham
Chertsey
Chesham
Cheshunt
Chiltern Green
Chingford
Chislehurst
Chobham
Chorleywood
Cobham
Cookham
Crawley
Crayford
Crowthorne
Croydon
Dagenham
Dartford
Datchet
Denham
Dorney
Dunstable
Ealing
Earley
East Ham
Edgware
Edmonton
Egham
Elstree
Enfield
Epping
Epsom
Erith
Esher
Essex
Eton

Farham Common
Farnborough
Farnham
Feltham
Finchley
Flamstead
Flitwick
Frimley
Fulham
Fulmer
Gatwick
George Green
Gerrards Cross
Gillingham
Godalming
Gravesend
Grays
Greater London
Green Hithe
Greenford
Greenwich
Guildford
Hackney
Hammersmith
Harlow
Harpenden
Harrow
Hatch
Hatfield
Hayes
Heathrow
Hemel Hempstead
Henley on Thames
Henlow
Hertford
Hertfordshire
Herts
High Wycombe
Hillingdon
Hitchin
Hoddesden
Hogwood
Holyport
Home Counties
Hook
Horsham
Houghton Regis
Hounslow
Ickenham
Ilford
Isleworth
Iver
Kempston
Kempton
Kensington
Kensworth
Kent
Kings Langley
Leatherhead
Lee
Leighton Buzzard
Letchworth
Letchworth Garden City
Lewisham
Lightwater
London
Long Cross
Loudwater
Lower Earley
Luton
Maidenhead
Maidstone
Markyate
Marlow
Medway
Merton
Middle Green
Middlesex
Mill Hill
Milton Keynes
Mitcham
New Addington
New Mill End
Newbury
Newport Pagnal
North Wood
Northfleet

Northolt
Orpington
Peter's Green
Petts Wood
Potters Bar
Poyle
Purfleet
Radlett
Reading
Redbourn
Redhill
Rickmansworth
Rochester
Romford
Rothomsted Estate
Royal Tunbridge Wells
Ruislip
Sandhurst
Sandy
Sevenoaks
Shefford
Shelford
Sidcup
Silchester
Slough
Snodland
South Oxhey
Southall
Southgate
St Albans
St Paul's Cray
Staines
Stevenage
Stoke Poges
Stotfold
Strood
Sundon
Sunningdale
Sunninghill
Surrey
Sutton
Swanley
Swanscombe
Tadley
Taplow
Thatcham
Theale
Thornton Heath
Toddington
Tonbridge
Tottenham
Totteridge
Tring
Twickenham
Twyford
Uckfield
Uxbridge
Waltham Cross
Walthamstow
Walton on Thames
Wandsworth
Ware
Wargrave
Warlingham
Watford
Weedon
Welling
Welwyn Garden City
Wembley
West Byfleet
West Drayton
West Malling
Westoning
Wexford
Weybridge
Weybridge
Wheathampstead
Whitley
Windsor
Wingfield
Winnersh
Woking
Wokingham
Woodburn Green
Woolwich
Yeading
Visit our website for more info or contact a member of our team
Related Products and Services
WALLACE HGV LGV PCV Forklift DRIVER CPC Transport

Wallace Bus & Coach Training in London

C1 drive upto 7.5 tonne

Easy to drive Wallace '65 plate vehicles

Drivers on Demand

Lorry Loader Crane - Hiab Training with WALLACE

Reach Forklift Training in London

Wallace B+E training for Van and trailer licence

Quick Start-LGV HGV PCV provisional licence

Moffett Mounty Forklift Training in London

Wallace is accredited with RTITB ITSSAR

Brick Grab + Hook attachments

Forklift Training at Wallace Warehouse

Driver CPC at your site of your choice of dates

C+E Class1 - Articulated Close Coupled Drawbar

Training for Any Type Fork Lift at your site

Digital tachograph training with Wallace

Counterbalance Training At Your Premises

Driver CPC at your site or Wallace centre

Wallace School's helpful staff

5

stars based on

18

customer reviews
Write a review
By Dave Smith ,
I would like to thank you and especially my instructor James Tagoe for helping me to gain my class 2 driving licence , i passed my test today with only two minors and i put that down to James and his expert teaching, i look forward to doing my class 1 in the near future with you company and i would highly recommend your services to anyone, just the way i was recommended to use you. Thanks once again.
Was this review useful?


By Katarzyna Lemieszek ,
I hope you doing well. Im writing this e-mail to say Thank you to all Wallace team. I have done C1 driving training at Acton followed by exam on last Thursday, thankfully positive ! :)

I would like to say thank you to Elvin - for very fast respond and getting me on the course quickly on the dates i needed and place next to me, Hylon - for very professional e-mails with all important information, and to my fantastic instructor Paul - for his positive attitude, for making me confident and safe (!) driver, thank you for making this training really enjoyable.

Finally i would like to say Thank you to all Wallace team for being so friendly and professional, high standard of provided training and for helping me to start my dream career with an Ambulance Services.
Was this review useful?


By Maciej Pachut ,
I would like to say big thank you to my instructor Jamie for great time over the course. For his professionalism, for the way he was explaining all problems and helping to avoid future mistakes. I have had few instructors in my life, but he is definitely one of the best I meet.
Was this review useful?


By Client ,
To all at Wallace. Thank you all very much for your smooth operation, from my form filling, medical, theory practice website, through to me achieving my Class 2 driving license. This would not have been possible without a special mention to my mentor, Khaleed. Great instructor with a calm persona who explained everything simply to me, with a smile on his face. And a massive 'Big Up' to Khaleed's lucky hi-vis, it certainly works.
Was this review useful?


By Client ,
Dear Wallace School of Transport, a couple of months ago I started the process with you of becoming a coach driver. Three days after that initial call I was at your office being informed of the processes and having my medical assessment done. That same afternoon, you saw to it that I could have a driving assessment. From the driving assessment all the way through to my test you ensured I always had the same instructor, he's been great. I passed on Saturday on my first attempt. The whole process has been extremely efficient. Thank you, and a huge thanks to my amazing instructor Mr Jon Paci.
Was this review useful?


By Client ,
I recently passed my test with Wallance school,extremely pleased with the instructor Jamie McGregor.I can't recommend him enough as he was very patient and accurate in everything he taught me,he is a real credit to you and I would to thank him for my progress.
Was this review useful?


By Client ,
Thank you to Paul Hutchin and all those others at Wallace School of Transport for getting me over the various hurdles and enabling me to pass my LGV C test (first time round) and especially for meeting my very particular scheduling requirements. Had it not been for the well informed website with prices shown I may never have booked with you. I may be back for LGV C+E training in the near future.
Was this review useful?


By Client ,
I would like to thank you for all your assist. Also, I would like to send my thanks to your lovely instructor Terry Wright. A great person and a truly dedicated instructor. Wishing all the best and looking forward to collaborate with you.
Was this review useful?


By Client ,
Hi, I would like to give a positive feedback about your forklift training service. I have received an excellent help from Colin Butt he delivered the training course with a perfect attitude. It made it very easy for me to understand and adapt in the future.
Was this review useful?


By Client ,
I would like to take this opportunity to thank all at Wallace, especially the office staff for arranging everything for my C+E lessons and driving test, as with my C lessons and test with you previously, the vehicle provided and my instructor's excellent training meant that my lessons and test had a positive outcome.
Was this review useful?


By Andrew V. (Croydon) ,
Please pass on my thanks to all involved and keep up the fantastic service at Wallace School of Transport, many thanks
Was this review useful?


By Jose F. , White City, London
An enormous thank you to Gerry, an awesome instructor, for teaching me the fine art of driving a huge lorry around London. With Gerry's knowledge and fantastic teaching ability I was able to pass my C licence with a perfect score, NO FAULTS!!!! amazing. Thank you Gerry and every one else at the Wallace School Of Transport. ps I look forward to completing my C+E soon.
Was this review useful?


By Rohan W ,
The best forklift training ever, the instructor's very good. I felt comfortable confident the first day I recommend them, 100%.Colin and Sean thanks guys, you're the the best.
Was this review useful?


By Paul Watkin ,
Hi, just passed my class2 this morning over in Enfield! My instructor was Paul Hutchin top class instructor & a funny bloke!
Was this review useful?


By Qasim ,
Thank you to my instructor, Mr Sukhdev, for teaching me pcv licence which i have passed first time he is outstanding instructor i can say the best instructor i will recmond any one to him he is good and great guy very friendly and very helpful once again big thanks to him and all the staff at wallace school !!!!!!!!!!!!!!!!!!!!!!
Was this review useful?


By Adam ,
I am writing to thank you for an outstanding and excellent training methods of Wallace instructors, Recently I have undergone B+E training with Paul Murphy and passed my test without mishap. His training methods were very clear and understandable and easy to implement on the roads so I felt confident on the test day. I hope this email will not be unnoticed and Paul Murphy will be praised for his superior performance. If I decide to gain further qualifications WALLACE will be my No1 choice
Was this review useful?


By Robert ,
Thanks to the guidance of your instructors James (Wembley Branch, manual coach) and Terry (Enfield branch, lorry), I always knew what was required of me to confidently pass my test of cat C and D. I will happily and strongly recommend your company to anyone who wants to become a professional driver Gentlemen, one more "big" thank you very much for your excellent service and brilliant advice how to "play" with examiners during the test;-)! See you soon for my C+E
Was this review useful?


By Vladimir ,
Many thanks to you and your instructor John. On Wednesday I have passed my C+E at first time.
Was this review useful?


Key Contacts

Ruth Wallace
Director
Tel: 02084533440
Email: info

wallaceschool.co.uk
Payment Methods
Visa
Cash
Visa Debit
Cheque
BACS
MasterCard
Direct Debit
Postal Orders
Payment Terms
Pro-Forma
15 days
30 days
Opening Hours
| | |
| --- | --- |
| Monday | - 09:00 to 18:00 |
| Tuesday | - 09:00 to 18:00 |
| Wednesday | - 09:00 to 18:00 |
| Thursday | - 09:00 to 18:00 |
| Friday | - 09:00 to 18:00 |
| Saturday | - 10:00 to 14:00 |
| Sunday | - Closed |