Todays Opening Hours
Thursday : 8:30-5:00
closed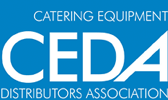 Welcome to CEDA - The Catering Equipment Distributors Association
CEDA, The Independent Trade Association
CEDA, the independent trade association representing the majority of professional distributors of commercial catering equipment in the UK, provides a valuable resource for those in the hospitality industry, giving unbiased and trusted advice to those in the market looking to purchase any manner of catering equipment as well as directing customers towards the most suitable and local suppliers for their business needs.

Nick Gillham, Proprietor of Caerwylan Hotel, used the service recently and said: "After buying a run-down hotel in North Wales three years ago, we were faced with the challenge of re-developing the entire property, including the ground floor and kitchen facilities. We attended Hotelympia as a fact-finding mission and were offered a personal shopper experience with CEDA. The session provided us with valuable, impartial advice which really helped us with our catering equipment buying decisions for our business, enabling us to make informed choices."

To arrange a personal shopper service or access advice, contact Peter Kay, CEDA Director, at peterkay@ceda.co.uk or phone 01386 793911.
For more information about CEDA and the benefits of membership, please visit www.ceda.co.uk.
CEDA Information
Whether you are looking for an item of commercial catering equipment, advice on sustainability, energy-saving or a complete new kitchen installation, CEDA members can provide you with the service and advice you need to help you get the very best solution from the world's leading manufacturers of catering equipment.

CEDA represents more than 80 member companies whose expertise, guidance and knowledge will help you make the best choices to suit your individual requirements.

Membership Benefits:

Becoming a member of CEDA provides a wide range of benefits including cost saving initiatives, enhanced industry credibility and networking and co-operation opportunities.

Please visit the 'Benefits' section on our website for full information about then numerous advantages of becoming a member of CEDA and how membership could assist your business.

To find a catering equipment distributor or for further information about CEDA, please visit our website where you can view detailed information about the association and our activities.
Please call or email us for assistance with any questions you may have

0

stars based on

0

customer reviews
Write a review
Associations
Key Contacts
Miss . Fiona Mason
Office Manager
Tel: 01386 793911
Email: fiona

ceda.co.uk
Mr . Peter Kay
Technical Support Advisor
Tel: 07770 848798
Email: peterkay

ceda.co.uk

Mr . Adam Mason
Director General
Tel: 07594 486829
Email: adam

ceda.co.uk
Opening Hours
| | |
| --- | --- |
| Monday | - 8:30 to 5:00 |
| Tuesday | - 8:30 to 5:00 |
| Wednesday | - 8:30 to 5:00 |
| Thursday | - 8:30 to 5:00 |
| Friday | - Closed |
| Saturday | - Closed |
| Sunday | - Closed |