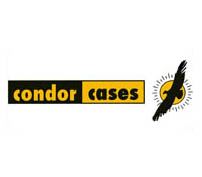 sales

condor-cases.co.uk
Phone: 01603 [Reveal]
Fax: 01603 735901
Welcome to Condor Cases
Condor Cases is a custom flight case manufacturer offering custom designed and built flight cases, transit cases and CNC routing to a wide variety of clients throughout the UK. The company, which is based in Rackheath near Norwich, was established in 1996 and has many years experience in the flight case industry.

Condor Cases products include custom flight cases for 19' racks, computer racks, server racks, motorsport cases, DJ equipment, plasma cases, lighting cases, sporting cases, soft bags and CNC routed foam inserts. The transit cases are CAD designed and manufactured in house by a skilled and highly motivated workforce. Products include a range of standard cases and fittings/extrusions. The standard range of web shop cases can be customized if required and offer exceptional value.

Condor Cases offers customers a fully bespoke design service to ensure that requirements are fully met at reasonable cost. Condor Cases has in house CAD facilities and CNC routing capability within the comprehensive workshop. Condor Cases provides a cost effective and efficient service for all clients and we deliver throughout the UK.

Condor Cases supplies custom designed and built flight cases. All of our cases are designed and made to meet your specific requirements using our in house CAD and CNC facilities. Our Quality Control procedures ensure that all of our cases are made to exacting standards and that repeat orders are interchangeable with those cases originally supplied. In addition to flight cases we also supply CNC machined inserts and panels, soft bags and fibre cases. A wide range of industries is catered for including AV, Television, Presentation, Manufacturing, Aerospace, Marine and Offshore and the music industry generally.
Years Of Expertise
We are unusual in that we are able to call on the considerable experience of the partners; ranging from aerospace and offshore oil technology to electrical installations. This expertise allows us to offer additional services rarely provided by other transit case manufacturers.

Condor Cases is rapidly becoming the first choice for many well known companies in diverse sectors including; Audio-Visual, Motor Racing, and Offshore Oil and Gas. We has a proven record for the design, manufacture and supply of specialist custom built storage and transportation cases produced to specified requirements and delivery schedules.

Condor Cases offer excellent protection whether in transportation, exposure to the elements or simply during storage. If you need a large batch or perhaps a single item you will not be disappointed.

Quality assured
To ensure the continuing maintenance and development of the Company's quality objectives a quality system in accordance with ISO9001 is operated.
The Product
If you wish to protect and give added value to your products then a CONDOR CASE is for you. All of our cases are designed and manufactured to meet your exact requirements.

Choose from our range of panel materials - lightweight panels are a speciality. Plywood panels may be faced with epoxy laminates, stucco aluminium, ABS or PVC. Glass reinforced plastics (GRP) is also used and is available in an almost limitless colour choice - including RAL, BS5252 & Pantone.

An extensive hardware selection is available to allow our designers to equip your case with the fittings needed to meet the needs of yourself, your equipment and its operating or storage environment.

Condor Cases interiors may vary from a simple stained trunk to an intricate routed insert designed to provide full, yet economic, protection for your equipment. Shock loads to delicate equipment can be controlled to a specified maximum 'G' by careful selection of foam densities and the relative area/volume ratio of the foam.

We also design and manufacture cases which provide full vibration limitation. These normally incorporate a 19" rack frame but the techniques used can also be applied to non-rack mounting equipment.

Condor Cases exteriors may also be customised by choosing from the following options:

- Anodising of extrusions
- Castors
- Hardwood runners
- Fabricated aluminium runners
- Pull-out handles and recessed wheels
- Screen printing of company logos & product identification
Related Products and Services
Motorsport Flight Cases

Tack Lockers

CNC Routed Wax Scrappers

Flight Cases

Correx Boxes

CNC Routed 6mm FE Ply for Stage Sets

12mm Birch Ply Lanterns for Stage Sets

CNC Routed 6mm FE Ply for Stage Sets

12mm Birch Ply Rope Ladders for Stage Sets

CNC Routed 6mm FE Ply for Stage Sets

0

stars based on

0

customer reviews
Write a review
Associations
Payment Methods
BACS
Cheque
MasterCard
Visa
Visa Debit
Opening Hours
Monday
08:30 to 17:00
Closed 13:00 to 13:30
Tuesday
08:30 to 17:00
Closed 13:00 to 13:30
Wednesday
08:30 to 17:00
Closed 13:00 to 13:30
Thursday
08:30 to 17:00
Closed 13:00 to 13:30
Friday
08:30 to 17:00
Closed 13:00 to 13:30
Saturday
Closed
Sunday
Closed