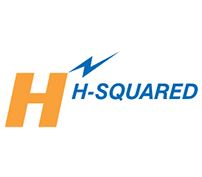 sales

h-squared.co.uk
Phone: 01462 8 [Reveal]
Fax: 01462 815 187
One Stop Shop for Wholesale Batteries
H-Squared Electronics is a specialist distributor of wholesale batteries, battery packs and torches to industrial, commercial and public sector customers.

We supply over 27 million wholesale batteries each year - both standard consumer and specialist industrial batteries:
Single use batteries: high power alkaline, alkaline, lithium, zinc, zinc air and silver oxide batteries.

Rechargeable batteries: ready to use, nickel metal hydride, lithium ion, lead acid and nickel cadmium batteries.
Key to this is the strong relationships we have with leading manufacturers: e.g. Duracell, Energizer, Panasonic, Saft, Ultralife, Rayovac-Varta, Yuasa, Tadiran, Eagle Picher, GP – and the many years of experience we have of working within the battery industry. Working with us gives you access to over 100 man years of battery market, product and application experience, and to over 100 types and chemistries from more than 15 suppliers.

Our market experience includes many major organisations and contracts within the following sectors:
Public sector - Health Service, Police, Fire, Local Authorities, Government Departments, Universities

Manufacturing - Medical Devices, Instrumentation, Security, Safety

Utilities - Water, Electricity, Gas, Telecoms

Service - Post, Broadcasting, Hygiene

Wholesale and distribution - Electrical, Stationery, Industrial

More than just stockholding and supply, we add value by offering:

Unbiased advice – battery selection, application, troubleshooting, handling, safety, transport, disposal.

Custom pack development – specification, battery selection, architecture, design, sampling, evaluation, approvals, manufacture.

Custom packaging – tailored solutions involving labelling, custom pack quantities, shrink wrapping and proprietary packaging.

Supply chain services – buffer stock agreements, KANBAN / JIT call off, special delivery arrangements, electronic trading.

We operate an ISO 9001:2008 accredited Quality Management System and an ISO 14001:2004 accredited Environmental Management System that cover all aspects of the operation of our business.

We offer fast, efficient delivery anywhere in UK and Ireland from our extensive stock of products.

For further details of our Products and Services, please visit www.h-squared.co.uk
Visit our website to find out more
Related Products and Services