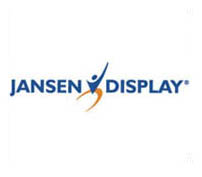 info

jansen-display.co.uk
Phone: 01480 4 [Reveal]
Fax: 01480 404 951


Specialists in the supply and manufacture of Visual Communication products to both Trade and End Users since 1995

Jansen Display is one of Europe's leading suppliers of Visual Communication products including Snap Frames, Pavement Signs, A Boards, Lockable Notice Boards, Illuminated Poster Cases & Totems as well as a range of Office products sold under our brand name SCRITTO™ which includes Magnetic, Enamel & Glass surface Dry Wipe Boards, Natural Cork and coloured Felt Pin Boards & Flipcharts.

First established in 1995 we now have six European offices and a network of Distributors in over 30 countries from the USA to Australia. With low cost manufacture in Eastern Europe and extensive Global Supply Jansen Display has grown to become a preferred supplier of many leading brands and retailers across the Globe.

The UK office & warehouse was set up in February 2008 to further expand our network of resellers and offer our full range of products to both trade and end users direct from our UK warehouse.

What do we offer?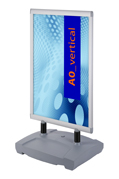 Snap Frames

Poster Frames

Specialist Poster Frames for Railways

A Boards & Pavement Signs

Lockable Notice Boards

Dry Wipe & Pin Boards

lluminated Poster Cases & Totems

Menu & Leaflet Stands

Cable Display Systems

Banners & Roll Ups

Queue Guidance and Merchandising solutions

Literature stands

Bespoke Manufacture

Design Services

Worldwide distribution with Local contact

Poster Frames & Snap Frames
We manufacture a wide range of snap frames and poster frames which are available from stock in standard poster sizes in both silver and black finishes. Our range of snap frames includes the commodity 25mm curved profile and a designer 37mm profile which can be in dual colour combinations. We also offer double sided poster frames to mount directly to glass windows, suspend from the ceiling or to sit on the top of gondolas and petrol pumps. We can also supply any size and colour of poster frame on short lead times from our factory in the Czech Republic.

Pavement Signs & A Boards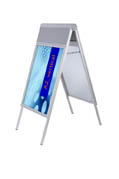 Our external pavement signs offer comprises a range of A boards to include standard aluminium A boards with double sided poster frames with either metal or plastic back walls, a designer curved top Compasso A board with optional logo panel and our new A boards with timber frames, chalk boards, dry wipe boards with optional logo panels to the top. Our heavy duty range of Windtalker pavement signs for larger poster formats with either water or sand filled plastic bases or projecting metal legs leads by example with high quality frames, built in health & safety features, reinforced metal springs and kick proof back walls offering the best solution for a high performance, long life pavement sign for poster sizes from A1 to 40" x 60" tested to Beaufort scale 8.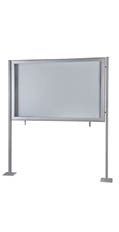 Lockable Notice Boards
Jansen Display is a leading manufacturer of both Internal and External Notice boards with a range of five lockable units starting with an economy indoor and ending with a fully waterproof, heavy duty unit with gas strut opening toughened glass doors and a full metal frame. Our entry level indoor range offers the choice of either cork or dry wipe magnetic back panels with hinged high impact acrylic doors. In sizes from single A4 up to 12xA4 these are an affordable option for displaying internal notices when a degree of security is required. Our Outdoor Lockable Notice boards all have magnetic dry wipe back panels, full aluminium frames with lockable doors, either high impact acrylic front faces or toughened security glass. With three external notice boards on offer they meet with all budgets and can be mounted onto walls, fences or posts for freestanding applications. Available in sizes from A3 up to 27x A4 we cater for a vast range of sizes. We can also fabricate bespoke sizes in any standard RAL paint colour if required.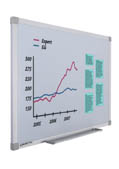 Dry Wipe Boards, Cork & Pin Boards
For the office market we manufacture a range of notice boards and whiteboards in sizes from 600x450mm up to 2000x1000mm. Our Dry Wipe range comprises an entry level magnetic, enamel magnetic and premium glass surface all with aluminium frames and pen trays. Our range of pin boards is available in either natural cork or felt surfaces in blue, red, grey or green, all with aluminium frames. We also provide Flipcharts, freestanding options for our boards and a range of accessories such as magnets, dry wipe marker pens, chalk pens, erasers and cleaning fluid. All products are sold under our own brand of office products and labelled "SCRITTO"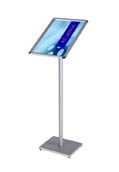 Menu & Leaflet Stands
Our range of Menu Boards and Leaflet stands offer a versatile, mobile solution for displaying either printed literature such as menus, welcome & directional information or leaflets and magazines. Available in A4, A3 and A2 poster sizes or multi combinations for leaflets the stands offer a very competitive indoor solution for restaurants, corporate receptions, retail, museums and galleries plus all leisure businesses to position material and information exactly where it's needed. Our quality, good looking Menu Stands have either mitred or round corner snap frames and can be used in both portrait or landscape orientations. We can also provide bespoke designs and colours to suit your individual requirements.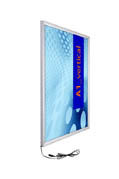 Light Boxes & Illuminated poster displays
Jansen has been at the forefront of illuminated poster displays for over a decade and we continually develop new products to embrace the latest developments in technology. We offer traditional back lit light boxes with flat or curved fronts. Our Classic back lit box is only 50mm deep and utilises a Patented method of light dispersion allowing for a reduced depth with no hot spots. Our latest development using LED lamps is a 25mm deep edge lit unit with a 25mm wide snap frame giving super bright white illumination and quality coupled with very low running costs and a minimum 7 year lamp life. We also offer freestanding double sided elliptical Totems with snap rails to the sides in sizes up to 700mm wide x 2000mm high giving you the chance for a real eye catching display opportunity.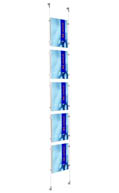 Cable Display System
The Appendo cable system includes a range of floor to ceiling, wall to wall and track mounted cable kits to attach either standard easy access acrylic poster frames or the full range of Jansen products to include Snap Frames, Light Boxes, Poster Stretch, Banners and shelving options. Sold either in kit form or by individual component the range allows for a low cost solution for window poster display. We also have the innovative E Clip suitable for 2mm acrylic pockets which not only makes our system the most affordable on the market but also allows for installation in approx half the time of a conventional system using grips with grub screws and Alan keys.

Bespoke Manufacture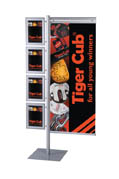 As a large scale manufacturer of visual communication products we are specialists in the design and production of affordable solutions to meet our customer's expectations. We have extensive manufacturing capabilities in acrylic, sheet metal, timber and aluminium. We work closely with all our customers and can design and manufacture specific products at competitive prices in lead times of only 3 weeks. Our range of waterproof lockable poster frames was developed exclusively to meet the requirements of rail operators and the transport industry. By working closely with a National rail operator we designed, prototyped and trialled the frames and won a contract to supply frames to their entire network of stations. If you have a requirement, be it for large or small scale supply Jansen can assist with all aspects and provide a competitive, quality end solution.

Summary
Jansen Display Ltd is the preferred Poster Frame supplier to many of the UK's leading Retailers. With our low cost manufacture and direct supply, coupled with high quality and service we have grown to become one of Europe's leading POS and Display providers supplying many Global brands with all their requirements across Europe either direct or through our network of resellers. We have a highly creative "In House" Design team who can turn your enquiry into reality at an affordable price whether it be for bulk or small quantity production.

Why not contact us for a quote to see why we are one of the fastest growing display & POS providers in Europe.
Related Products and Services