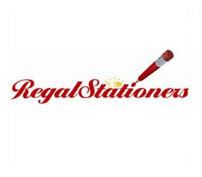 sales

regalstationers.co.uk
Phone: 020 888 [Reveal]
Fax: 020 8886 5464

Welcome To Regal Stationers
We have been in business for the past 14 years and have over 40 years experience in the stationery trade and take pride in the solid reputation we have built for offering a first class service with first class products. Our Company is based on customer satisfaction and we will always go the extra mile to ensure our customers requirements are always met.

The Regal Stationers values are Service, Value, Reliability and Quality. We are proud of our investment in people with staff training a priority on a regular basis that allows us to be Fast, Efficient and Friendly when dealing with customer enquiries.

Regal Stationers has a wide range of Stationery Supplies ensuring that you get choice and specification to meet your office needs.
Visit us at
www.regalstationers.co.uk



Regal Stationers
supply all of the leading brand names for
Computer Consumables
ranging from HP, Brother, Lexmark, Epson, Samsung, Oki, Xerox, Panasonic, Canon, Kyocera, to Dell, Ricoh, Gestetner, Olivetti, Sharp, Tallygenicom, and lots more.
We also have a large selection of
Recycled
or '
Compatible' Cartridges
which are of a very good quality.
Regal Stationers
regularly compares prices of
Laser Toners
and
Cartridges
against our competitors to ensure our customers are receiving the best value possible.
Regal Stationers
Stationery Supplies
and
Office Products
range from A4 Folders, Binding Combs, Binders, Document Wallets, Dividers Clear Pockets, Box Files, Storage Boxes, Notepads, Biro Pens, Desk Top Organizers, Rulers, Whiteboards, Whiteboard Markers, Clipboards, HB Pencils, Staedler Pens, Diaries, Post It Notes, Envelopes, Scissors, Packaging Tape, Waste Paper Bins, Bin Bags, Wall Planners, Duplicate Books, Rubber Bands, Staplers, Staples, Manuscript Books, Business Card Holders, Index Tabs, Letter Trays, Hole Punches, and Highlighters. We also provide many different types of paper including Recycled Paper, Coloured Paper, A3, A4, Lined and Plain. We also check our prices compared to other
Stationary Suppliers
to ensure you get the best possible pricing available.




We at Regal Stationers also have a large range of Office Machines like: Shredders, Binding Machines, Cables and Adaptors, USB Flash Drives, Fax Machines, Printers, Digital Cameras, Label Printers, Voice Recorders and Tapes, Scanners, and Loads more products. Remember... Regal Stationers compares prices to ensure you get all these products at the best prices available.

Don't forget that Regal Stationers also has a large range of Cleaning/Janitorial and Kitchen products available including: Napkins, Kitchen Tools, Toilet Rolls, Plastic Cups, Plastic Knives and Forks, Dusters, Brushes, Refuse Sacks, Mops, Buckets, Toilet Roll Dispensers, Soap Dispensers, Soap, First Aid Kits, Plasters, Paper and Recycling Bins, Nescafe 750gm Coffee & Teabags, Sugar, Kenco Coffee, and loads more.

Regal Stationers also supplies Office Furniture including Filing Cabinets, Bookcases, Office Desks, Office Chairs, Footstools, and a whole load of other furniture.
Regal Stationers has a wide range of suppliers for their products, giving you greater choice and the benefits of competitive pricing. They include: Bantex, Berol, Bisley, Bostik, Cambridge, Casio, Clipper, Crystalfile, Datacopy, Dyson, Elba, Energizer, Fellowes, Guildhall, 3m, Ambassador, Britvic, Cathederal, Chartwell, Daewoo, Durable, Epson, Filofax, Five Star, Helix, Hago, Amstrad, Belkin, Brother, Bush, Canon, Dahl, Duracell, Esselte, Twinlock, GBC, Glade, Acco, Alba, Andrex, Basildon Bond, Cadburys, Challenge, Concorde, Deflecto, Dymo , Edding, Elite, Europa, Exponent, Febreze, Flix, Gold Blend, Grundig, Harper, Hewlett Packard, IBM, Kobra, Linex, Maxima, Nescafe, Papermate, Pandaflex, Phillips, Pilot, Post It, Pukka, Rexel, Rotodex, Sanyo, Sharp, Sony, Staedtler, Tippex, Leitz, Kodak, Logitec, Maxwell House, Olivetti, Parker, Pentel, Plantronics, Q Connect, Ricoh, Sasco, Stanley, Strata, Tombow, Ibico, Imation, Kensington, Kores, Lexmark, Lyons, Nobo, Pritt, Rapid, Scotch, Snopake, Tetley.
Related Products and Services