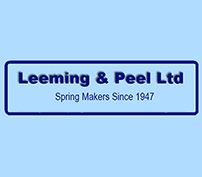 leemingandpeel

gmail.com
Phone: 01274 [Reveal]
Fax: 01274 481 690
Welcome to Leeming & Peel Ltd
Leeming and Peel Ltd Springs, in Bradford West Yorkshire, UK manufacturer of coil springs, compression springs, flat springs and tension springs.

Formed in 1947, Leeming & Peel Ltd has over 65 years experience in the spring industry, with focus on providing fast efficient spring supply service to customers throughout the UK and the world. Visit our web site: www.leemingpeel-springs.co.uk (soon to be updated) or our facebook site: www.facebook.com/lpsprings.

We have a special department set up to produce small quantity / prototype springs, large quantity and batch production is carried out on the latest CNC spring forming-coiling machines.

Fast service on small batches, pay by card and ask for next day delivery on standard products.
Car coil springs Re-Set to length or shortened
We offer a free Spring design service
We can manufacture garter springs & other coil springs in Exotic Alloys such as Inconel X750, Hastalloy, Nimonic 90 Berrylium copper, Phospher Bronze, Elgiloy, Phynox, and stainless spring steel (302S26, 316S42, 17/7PH 301S81) Small batches of Car Coil Springs can be made to order to any size or load you require using our software. Compression springs, tension springs, torsion springs, flat springs, die springs, double torsion springs, conical springs, garage door springs, agricultural springs, snap rings, wire forms, "R" clips, coned hook tension springs. Wire hook springs are manufactured in round or rectangular section spring wire. When ordering it is useful to give details of any closely related working parts, such as: spring works in a hole or over a shaft.

When ordering a compression spring information require if no drawing available : outside dia, inside dia, free length, wire size and type, total number of coils, ends closed and ground, working length.
When ordering a tension spring information required : outside dia, inside dia, wire size and type, total number of coils, body length, loop size, full loop or gapped loop, loops inline or 90 deg.

When ordering a torsion spring, information required : outside dia, inside dia, wire size and type, leg lengths, bends, leg angle,

We are able to work in both metric and imperial measurement, customer drawings, samples and specifications. We have a quality registered standard "ISO 9001 2008". Material certifications can be supplied, and Certificates of Compliance.

Springs can be supplied in natural finish, shot peened, bead peened, zinc plated, nickel plated, gold plated, chrome plated, galvanised, painted, colour coded, powder coated, chemical blacked, delta toned, and chemically cleaned.
www.leemingpeel-springs.co.uk
Related Products and Services
All springs are made in England ,Quality Counts

Zinc Plated Tension Spring with hook ends

Colour coded Compression Springs

Tension spring manufacturing details

Flat springs in carbon & stainless flat strip

Standard Clock Spring

Torsion Springs with various end types

Selection of tension spring ends possible

Small Zinc Plated Compression Springs

Various springs that can be manufactured

4.5

stars based on

2

customer reviews
Write a review
By Graham Earl, Private Individual
Graham thanked us for making new clock sprinsg for his vintage car. We got the sample and made 2 new springs within 4 days then posted them back after taking a credit card payment.
Was this review useful?


By Donna Meegan, Member Of Public
Leeming & Peel Ltd supplied me with a new tension spring for my Recliner Chair.I found the service A+ with delivery made to order in 48 hours.You can pay by card & get them posted to your door.
Was this review useful?


Approvals & Certificates
ISO 9001 Quality management systems – Requirements
Key Contacts

Mr Gary Peel
Director
Tel: 01274 491464
Email: lpsprings

aol.co.uk

Mr Mick Thomas
Sales Director
Tel: 01274 491464
Email: lpsprings

aol.com

Miss Kim Drake
Clerical Assistant
Tel: 01274 491464
Email: lpsprings

aol.com
Payment Methods
American Express
BACS
Cash
Cheque
Maestro
MasterCard
Visa
Visa Debit
Opening Hours
Monday
07:30 to 16:30
Tuesday
07:30 to 16:30
Wednesday
07:30 to 16:30
Thursday
07:30 to 16:30
Friday
07:00 to 14:00
Saturday
Closed
Sunday
Closed