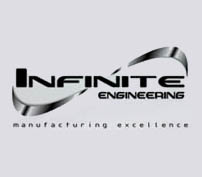 info

infiniteengineering.co.uk
Phone: 0121 77 [Reveal]
Fax: 0121 773 6770
CNC Precision Engineering

We have been delivering success within the industry for over 20 years and have gained an excellent reputation across recognised markets worldwide.
We are able to provide bespoke machinery design, electrical and mechanical engineering and tailored management solutions on an individual basis. We strive to keep our professionalism and our standards at the very top by continually improving our understanding and performance in the market.
As a company we are split into 3 main sections:
Engineering Services
Infinite Engineering has two main engineering facilities at Canning Street and Kelvin Park. This means than we can have a distinct separation between special purpose machinery/single component manufacture which takes place at the Kelvin Park site and the multi-component manufacture that takes place at Canning Street.
We also specialise in high value materials in the hazardous, safety-lead and hygienic markets. These would include the following sectors: Marine, Nuclear, Water, Food, Chemicals & Rail.
We have achieved this through the well respected company brand name and our strong customer relationships that have been developed by delivering high quality expertise in machining, assembly and finishing.

Process Machinery
Infinite Engineering delivers bespoke machinery design & build technologies. This comes complete with site servicing, upgrades and renewals to key brand-led and globally-focused customers operating in niche, safety-critical and hygienically-led markets.

The key markets here include: Shrink Film, Foil, Confectionary & Bottling.
Facilities Management
Infinite Engineering delivers fully accountable, individually tailored, logistical site services and supply chain management to internationally recognised customers. As an all-inclusive partnership we can ensure that all needs and expectations are exceeded.

Infinite Engineering is dedicated to providing a high quality and great value service working in partnership with clients to ensure that all work that is undertaken is to exact requirements. We pride ourselves on customer retention, continuous client relationships and a customer service that can't be beaten.

Please visit our website to find out more about our company and the services we offer.
With a clarity of purpose and an ongoing desire to explore, develop and deliver new ways of thinking in terms of operational processes, systems architecture, products and services, we take pride in presenting customers with fresh, new concepts and cost-effective alternatives that can be safely, efficiently and practically adopted.
Related Products and Services

0

stars based on

0

customer reviews
Write a review