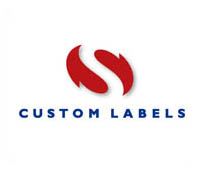 sales

customlabels.co.uk
Phone: 01278 [Reveal]
Fax: 01278 433900
Custom Labels - Barcode Asset Labels / Warranty Label Suppliers
Custom Labels Limited exist to meet your requirements for asset, calibration, warranty and barcode labels as well as many other label products for industrial use. We use high performance materials and encourage the testing of samples to ensure customers make the right choice, particularly for barcode asset labels where durability and quality are essential. Labels are designed to your requirements and an email proof sent to ensure every detail is correct.

Barcode Asset Labels
In the current economic climate it is critical to have a comprehensive and traceable means of identifying your assets, schools, universities, health trusts, banks, building societies, local government, police forces and industry have all benefitted from using Asset labels manufactured by Custom Labels Ltd. Our wide range of Barcode Asset Labels will suit your Asset tagging requirements. An interactive design page on our website makes the design and ordering process easy to follow. As Asset Label Suppliers we manufacture from Tamper Proof, Tamper Evident or permanent materials in a range of sizes and colours. Logo's can also be integrated into the label design.
Asset Label Suppliers
Asset Tags
We can provide superior quality Asset Tags in a standard format with your required number sequence in 48hrs. Made from a high performance silver or white 3M polyester these Asset Tags have a durable gloss polyester laminate to protect the print from abrasion and provide chemical resistance. The use of Barcode Labels for Asset tagging allows data to be collected without human error, standard asset tags numbered to order are available in a range of colours.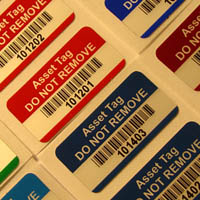 Asset Tag
Barcode Asset Labels
Barcode Asset labels are also used for product identification, process manufacturing, warehouse identification, PAT testing and many other applications. Custom labels Ltd manufacture barcode labels from a wide variety of materials from paper to kapton (High temp PCB labels). Multipart and complex labels are part of our portfolio.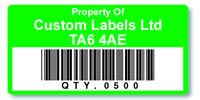 Barcode Asset Labels
Warranty Label Suppliers
Manufactured from either 'Ultra destruct' vinyl or 'VOID' polyester our range of warranty labels can be customised with a logo or sequentially numbered. Small circular tamper proof labels can be used to seal screw heads or equipment to prevent unauthorised warranty claims, labels cannot be removed and replaced!

It has been a particular problem in the computer service and IT support industry where customers swap components from out of warranty equipment into products still under warranty, the losses caused by this type of behaviour can be prevented through secure labelling, identification and sealing of units.
Warranty Label Suppliers
Calibration Labels
Calibration and Test labels are produced from predominately paper and vinyl, many labels incorporate a write and seal laminate to provide durability. Electrical test labels can incorporate your company logo, sequential numbering and be produced in a range of sizes to suit your application. Having manufactured millions of test and calibration labels you can take advantage of our experience in this field.
Calibration Label
Custom Labels Ltd offer a competitive solution to your Asset Label and general label requirements. We also manufacture Warranty Labels, PAT labels, calibration labels and a wide range of industrial and healthcare labels to meet your label needs.
To design and order Asset Labels go to www.customlabels.co.uk,
for general enquires email us: sales@customlabels.co.uk or ring : 01278 433800
Related Products and Services
Circular service label with serial number

Detailed crest logo enhances label

Asset label enhanced with a clear varnish

School asset label with logo

High quality asset label with shaped cut

School asset label with crest

Asset label from one of the worlds largest compani

Not a Micky Mouse asset label!

Supporting the best! British cycling label

One of many sporting institutions using our labels

5

stars based on

3

customer reviews
Write a review
By Andy Briggs, Envisage Manufacturing
After having problems with two other suppliers it was refreshing to contact Clive at Custom Labels and have artwork produced complete with our logo straight away. The ordering was painless and we received the labels in under a week with the layout and presentation exactly as we wanted.
Was this review useful?


By Denise O'Sullivan, Frankis Solutions Ltd
We ordered the durable asset tags online and were impressed with the excellent 2 day delivery and presentation of the labels. They are perfect for our requirements.
Was this review useful?


By Pippa Elloy, Film Locker
Custom Labels provided us with a very professional, efficient service. Their dynamic response enabled us to buy exactly what we wanted
Was this review useful?


Key Contacts
Mr Clive Richards
Sales
Tel: 01278 433800
Email: clive

customlabels.co.uk
Payment Methods
BACS
Cash
Cheque
Direct Debit
MasterCard
Online Bill Payments
Paypal
Visa
Visa Debit
Opening Hours
Monday
08:30 to 17:00
Tuesday
08:30 to 17:00
Wednesday
08:30 to 17:00
Thursday
08:30 to 17:00
Friday
08:30 to 13:30
Saturday
Closed
Sunday
Closed