Todays Opening Hours
Monday : 8:30 - 5:30
Open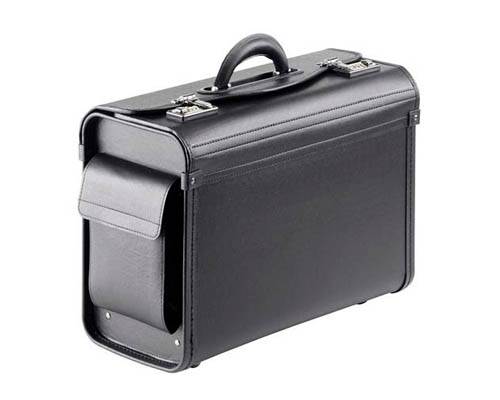 Welcome to In Case Solutions
We are a small manufacturing company with over thirty five years' experience within the industry, and are able to offer a wide range of custom case solutions to your transit, packaging and presentation problems: anything from standard cases with simple foam inserts to completely bespoke / custom cases, industrial cases, stitched bags and interiors.

Our website illustrates a cross section of products and services that we are able to offer but please contact us for further specific information and speak to a friendly adviser with technical knowledge and experience in case solutions to suit your particular needs.

The majority of the products offered are manufactured in the UK.
Aluminium AluLite Attaché Cases
The majority of the aluminium cases that we supply are bespoke build and subject to 5 off minimum order quantity but we do have some standard AluLite models which can be seen here: http://www.incasesolutions.com/aluminium_alulite.html

These cases feature aluminium frames, combination locks and are fully lined with lid paperwork wallet. AluLite cases are available in the standard sizes quoted on the website page and are normally available from stock.
Injection Moulded Case Ranges
There are two ranges of polypropylene injection moulded cases available at a price that should fit almost any budget the addition of printing with logos and product information is a popular customer choice Please browse the http://www.incasesolutions.com/ppgen.html index page and follow the links to see what models are available. Many sizes and colours are stocked. Please call us to discuss the requirement or alternatively email us.
Waterproof IP67 Moulded DuroCase
These injection moulded high performance polypropylene cases offer a rugged IP67 rated protective case at a fraction of the price of some of the other manufacturers.

We can now offer three sizes of IP67 rated DuroCase which are light and tough and have 'pick and pluck' cube-cut foam in the case base for you to customise exactly the way you want it - supplied in layers to make cutting the foams a straightforward process

Features include automatic pressure equalisation valve, strong soft feel handle, heavy duty fully integrated hinge, built-in feet, stacking 'location' ribs and heavy duty toggle locks. There are also two 7mm diameter padlocking eyes that line up through the lid and base halves to allow for padlocks or seals, for added security.

These cases offer superior protection from the elements, water, dust and impact, making them suitable for a wide array of applications, ranging from marine, photography and on-location filming, outdoor sports like hunting and fishing, military applications, offshore and diving use, etc.
Briefcases, Pilot Cases & presentation
We offer a range of briefcases, pilot cases (top loading style) and presentation products in PVC and Leather. See this page for further details:
http://www.incasesolutions.com/StitchedStandardRange.html
Medical Cases
Our 'Call-out' lightweight medical cases are perfect for domiciliary use by doctors, nurses and chiropodists and feature combination locks for security, lid document wallet and self-cut foam in the base so that you can keep all of your items snug and safe. There is also a loose toolboard for storing small hand tools.
Tool Cases
Tool cases are available in a range of sizes and designs and range from stitched 600D polyester tool wallets, to top-of-the-range heavy duty ABS toolcases. If you have a small range of lightweight tools or a heavy comprehensive set of tools, we have the case that will fit the bill. See our toolcase page  http://www.incasesolutions.com/toolcases.html for up to date information about available models, current prices and special offers.
SOCO (Scene of Crime Officer) Cases
Specialist light weight 'Call out' cases are designed to make the job easier with self-cut foam to snugly house all of the specialist tools and equipment, lid tool wallet to help organise paperwork and even a loose tool board for small tools & brushes, etc..
Bespoke services
Please see our other page http://www.businessmagnet.co.uk/company/customcases-67010.htm if you require a special, bespoke case design (some minimum order quantities may apply)
Contact us now to find out how we can meet your casing requirements
Related Products and Services
Standard Pilot Case

Pilot Case with Wheels and Telescopic Handle

Standard Budget Briefcase

Flap Over Briefcase

Alu-Lite - Lightweight Aluminium Cases

Alulite Deep Case

Titanium Dark Anodised AluLite Case

AluLite Case - Deep Drawn Aluminium

Injection Moulded Polypropylene Cases

PP Range

SP Range

SP Range Interiors

DuroCase IP67 Rated Cases

DuroCase with Cubed Foam

Tool Cases and Engineers Cases

Heavy Duty Toolcase

Tool Grab wallet

Tool Grab wallet Black or Burgundy

Toolcase

AluLite "Call Out" Case

SOCO (Scene of Crime Officer) Cases

0

stars based on

0

customer reviews
Write a review