Todays Opening Hours
Saturday : 8:30 - 5:30
closed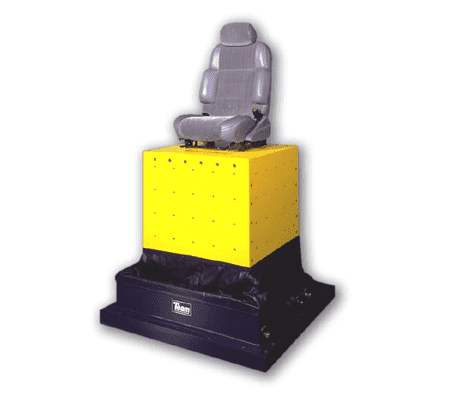 .
.
.
.
.
.
.
.
.
.
.
Team Corporation is a manufacturing company that specialises in the design and build of vibration testing equipment and associated products.

As a leader in multi axis and speciality vibration systems Team Corporation are proud to have product representation in over twenty countries worldwide.

This technology has been utilised over many years to provide improvement in areas such as passenger comfort, product reliability and public safety.
Test Systems
4-Posters
Team Corporation provides this Four Poster system which is perfectly suited for end of line and development testing applications. This unique system is suitable for passenger cars through to light trucks.
The CUBE
Team Corporation have built and installed over thirty five CUBE products. This system can actually replicate any vibration environment including high frequencies with precise digital control.
RVC 400 Rotary Vibration System
The RVC 400 vibration system from Team Corporation has been designed to generate controllable shock. Itís compact and quiet and well suited to office and laboratory applications.
Transmission Simulator
The Transmission Simulator has been specifically designed to be used as a development laboratory tool as a method for testing dynamic response of spool valves in automatic transmission systems.
Hydraulic Actuators and Components
Slip Tables
The unique T-Film bearing system from Team provides the rugged overturning moment capacity of our hydrostatic bearings combined with the full low pressure oil support of granite or journal bearing oil film type slip table.
Head Expanders
The conventional and guided head expanders from Team Corporation have been expertly designed to provide the best dynamic response at the lowest mass of weight and are available in a wide range of sizes.
Hydrostatic Bearings
HydroBall
This hydrostatic bearing is an oil supported ball joint with non-contacting surfaces and has not only been designed to save time but to also improve test results because no adjustment or greasing is necessary.
Torsion Vibration Table
The Torsion Vibration Table from Team Corporation offers technicians the option to convert linear vibration into torsional vibration to expand their existing shakers capability.

Obviously this is just a brief summary of the products and services Team Corporation provide so if you would like further information please get in touch.
www.teamcorporation.com
Related Products and Services
Multi-Axis Systems

MantisTM

Vertical Vibration Systems

TensorTM

Hydraulic Pressure Pulsation System

T-Film Slip Tables

Pitch Table Vibration Test Systems

Combination Vibration Test Systems

Full Vehicle Testing

4-Poster Vehicle Test Systems

Horizontal Vibration Systems

0

stars based on

0

customer reviews
Write a review