Todays Opening Hours
Wednesday : 8:30-5:00
closed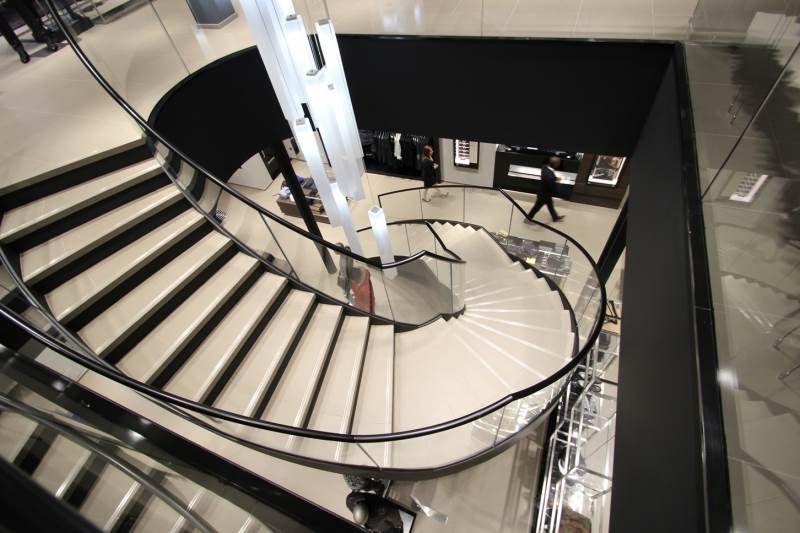 Canal Engineering Ltd - Steel Fabrication Specialists
Based in Nottingham, Canal Engineering Ltd is a metalwork and fabrication company catering to commercial, industrial and residential environments.

Since 1924, Canal Engineering has developed and adapted into four separate divisions offering a range of high quality services within each sector. These divisions consist of CANAL Architectural Metalwork & Fabrication, ASPEN Stainless, AJAX Safe Access Systems, and CEATA Training Academy. Each has a wealth of experience and knowledge that can be seen through the excellence of the management and highly skilled workforce, which is a very rare and valued resource in today's industries.

The philosophy of the company is built on offering the very best practical engineering advice in order to take an initial concept and develop it with our clients through to a finished product. Canal Engineering has developed an enviable reputation in the quality and design producing a client base in the UK and abroad that has become strong and very loyal.
CANAL: Architectural Metalwork and Fabrication

CANAL Architectural has more than 20 years' experience in design innovation, specialising in metalwork fabrication and installation. CANAL are primarily an architectural metalwork, producing bespoke pieces from sculptures to staircases and balustrades

CANAL Architectural have come to specialise in bespoke staircase and balustrade design and fabrication and now have a permanent showcase of these services in their Clerkenwell showroom, London. CANAL offer clients the ability to specify every aspect of staircase to create something totally unique to them and through our own innovations, unique in the absolute sense also.

To find out more Click here
ASPEN: Stainless

ASPEN Stainless provides product engineering solutions to meet the high demands of industrial environments. Now a widely recognised brand in the industry of hygienic plant and equipment, the wealth of knowledge and experience of ASPEN has been called upon by the food, pharmaceutical, general construction, catering, pharmaceutical, health service, and brewery industries.

ASPEN offer a standard product line of kerbing, drainage and protection systems as well as a bespoke service. The bespoke service means that any products can be re-engineered to incorporate additional requirements or criteria. Contact our technical sales manager about your specific needs today.

To find out more Click here
AJAX: Safety Access Systems

AJAX Safe Access has developed a range of equipment for tanker access, high level loading and to provide safe working environments to help eliminate the hazard of falls from height which is the most common cause of injury in the workplace.

With over 45 years of experience and knowledge in high level safe access systems; AJAX barriers, gates, platforms and steps have a well proven track record for being both reliable and easy to operate.

AJAX Righthite tanker access steps are a world leader with units regularly being supplied to countries in Europe, Asia, Africa and South America.

The standard AJAX Safe Access range is complemented by our ability produce bespoke equipment, tailored to unique requirements. Our products can be specified in a number of suitable finishes such as stainless steel for environments, such as the food and drinks industry, where health and hygiene must be considered and where harsh chemicals can corrode unprotected surfaces.

To find out more Click here
CEATA: Training Academy

CEATA provides accredited welding and fabrication courses for those in the trade and those who would like to increase their chances of gaining employment within the industry. CEATA offers course to:

• Unemployed people looking to start a new career in welding.
• Commercial training; companies can up-skill their staff to the latest British standards.
• Private training; for individuals who have an interest in welding or need assistance with a specific fabrication and welding project.

Our courses are fully accredited and are backed by our friendly, knowledgeable and experienced staff. Discover the best course programme for you by consulting Gary Gwynne today.

To find out more Click here

Image Showcase
www.canalengineering.co.uk
Related Products and Services
CANAL Architectural: Hugo Boss, Nottingham

CANAL Architectural: Basil Street Apartment, Londo

AJAX: RightHite Step Unit

CANAL Architectural: Bonhams Auction House, London

CANAL Architectural: Bourg Walk Bridge

ASPEN: Stainless Steel Protection Systems

ASPEN Stainless: Drainage & Protection

AJAX Safe Access: Swing Arm Barrier

CANAL Architectural: Republic, Leeds

ASPEN Stainless: Cleanroom Stainless Steel

AJAX Safe Access: Mobile Tanker Access Step Unit

CANAL Architectural: Cantilever Staircase, London

CANAL Architectural: Cantilever Staircase & Landi

CANAL Architectural: Twin Spiral Glass Stair

5

stars based on

9

customer reviews
Write a review
By Ivan , Foodesco
Always professional and committed.
Was this review useful?


By Geoff Garner , Premier Foods
The suppliers I deal with have always given good reports on CANAL's products and workmanship.
Was this review useful?


By Mary , MSGD
I would love the opportunity to work with you when I have an appropriate project.
Was this review useful?


By K Twells , Trent Thermal
Good quality product and skilful workforce.
Was this review useful?


By Andy Hart , Imperial Tobacco
Brilliant and very accommodating, supplying a diverse range of services and competencies to our business
Was this review useful?


By Stuart Standring , Harmsen
Was this review useful?


By Derek Warwick , President at BRDC
Cutting edge, quality, value for money, clean, friendly, fun to work with and ultimately professional. I would not have anyone else do my work and look forward to the next projects.
Was this review useful?


By George De Sousa , PAGE Architects
As architects, Canal Engineering is our first port of call when designing a bespoke staircase and / or handrail system.
Was this review useful?


By George De Sousa , PAGE Architects
Canal Engineering offered PAGE Architects solutions to enable us to realise our visions and concepts. Where other companies only highlighted problems, Canal Engineering offered us solutions and in some cases showed us how much further we could take our designs in staircase and handrail design. The whole company ethos from the initial design right through to installation and handover of the product has been about the quality and the design of the product.
Was this review useful?


Associations
Approvals & Certificates

ISO 9001 Quality management systems
News & PR
Cantilever Fever
The CANAL team fabricate and install a cantilever floating staircase into a residential home with low iron glass balustrade and stainless steel features.
Safe Access for Dover
The AJAX Safe Access team fabricate a lightweight, corrosion resistant, dual platform, access unit for the Port of Dover to carry out maintenance on ferries.
Events & Shows
Clerkenwell Design Week 2015
Key Contacts

Mr . Matthew Dorey
Marketing
Tel: 01159 866 321
Email: matthewdorey

canalengineering.co.uk
Payment Methods
BACS
Opening Hours
| | |
| --- | --- |
| Monday | - 8:30 to 5:00 |
| Tuesday | - 8:30 to 5:00 |
| Wednesday | - 8:30 to 5:00 |
| Thursday | - 8:30 to 5:00 |
| Friday | - 8:30 to 5:00 |
| Saturday | - Closed |
| Sunday | - Closed |