Todays Opening Hours
Wednesday : 24 hrs
Open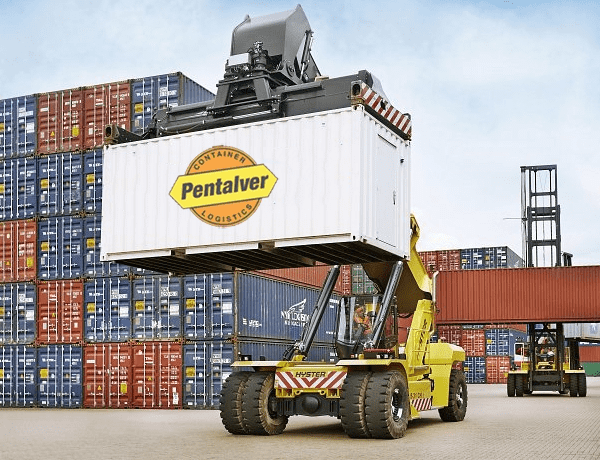 Steel Shipping Containers | Cargo Shipping Containers
Pentalver Transport Ltd has over 20 years experience in providing customers good quality and affordable new and second hand Steel Shipping Containers & Cargo Shipping Containers. Being the largest importer of New build cargo shipping containers into the UK we are able to offer Shipping Container Hire and Cargo Container Hire of all size and types from 8ft to 45ft. These can be available from all locations throughout the UK and Ireland meaning whatever requirement you have we can meet it and go beyond your expectations in both price and quality. Pentalver Transport is also one of the market leaders in shipping container Conversions, with years of experience we have the facilities and skills to offer a professional service for any modification large or small.

Our services don't just stop at selling you cargo and steel shipping containers, we offer delivery on a crane assisted lorry into your preferred location as well as site visits if required from a dedicated hauliers prior to delivery to add to your piece of mind for access and positioning. Our expert team is on hand to contact for any queries or questions and to offer you our experience and knowledge to make any purchase a smooth process.
Image Showcase
Steel Shipping Containers
A steel shipping container is constructed from Corten steel which is rust inhibiting steel that fits its purpose of life on the open waves. Therefore when it comes to site storage on dry land a cargo shipping container offers a hardened long life solution, which can also be modified by one of our specialist teams around the country in to a site office, welfare unit or to your specific requirements.

Below is a brief list showing the diversity of cargo shipping containers and some of their uses. Pentalver can offers all types and Sizes Nationwide.
New build Containers (Once Used Containers)
For years Pentalver has been at the forefront in the production and transportation of new build containers into the UK. With sizes varying from 8ft,10ft,20ft and 40ft long as well as high cubes we really can offer you any variety in steel shipping containers from depots nationwide. The once used container is a perfect solution to a secure storage problem to a private individual or a business. With their clean and professional appearance alongside the high level of security it is little wonder our cargo shipping containers are used nationwide in self storage sites.
m
Our containers are all produced with (P – PENTALVER S- SELF S - STORAGE U- UNIT) markings , giving you a clear indication of the quality of the Pentalver New builds.

We also offer you extra security options and advice on keeping your stored goods at premium quality.
Second hand Containers for storage or Shipping
The typical sizes for a used steel shipping container is 20' and 40' long, we can however fabricate a container to any size you require. A second hand cargo shipping container is perfect for storage being produced to with stand harsh conditions it offers a secure, wind and water tight housing area for your goods.

If you require using the container for its original purpose of shipping goods then we can help you through the whole process. At Pentalver we have fully qualified Lloyds Registered staff who will certify the container for shipment overseas. We also have a department dedicated to shipping offering you the whole package of container and shipment all within the same company.
Steel Shipping Container Conversions
Cargo Shipping containers are not only very secure and have a long life span but they can be very versatile and cost effective in there employment.

At Pentalver we are a market leader in cargo shipping container modification and conversion. We have an extensive client base with local government services, The Ministry of Defence and Antarctic Expeditions some of our recent bespoke projects.

We have also worked very closely with established self storage depots to promote storage from ground level up. The Topper container promotes Pentalvers constant drive to develop the use of steel shipping containers for everyday site improvement and solutions.

If you are requiring anything from a cut down containers, a Site office, Welfare unit, Chemical store, a Studio, workshop, drying room through to humidity controlled containers and much much more. Our special projects team have the knowledge and know how to adapt a cargo shipping container to meet your specialised requirements. Please contact us for any further information or advice, we are happy to assist you, no matter how small or large your project may be.
Services and Extra products
It is not just steel shipping containers that Pentalver can provide we also offer many other services and products to ensure your needs are met and surpassed. For double stacking containers we offer staircases, for loading vehicles into a container we can supply ramps and even down to fitting your recently purchased office with office equipment, we go the whole mile for you.

As well as the above we can offer simple services to add even more to the benefits of owning a cargo shipping container, whatever the purpose you have for it. The most popular products are our high strength padlocks and lock boxes fitted to container doors, both these products offer even more security against unwanted attention. Another area Pentalver are conscious of is anti condensation products, we offer many different options from disposable de humidifiers, to anti-condensation spray used on interior of the container up to fully insulated a cargo shipping container.
Summary
Being part of the Pentalver transport Ltd group we can offer many more services apart from container retailing, including cargo shipping container haulage, loading , lashing, shipping, storage and refrigerated shipping containers. Please visit our website for more information www.pentalver.co.uk.

For more information regarding all the services and products we offer please view our web site www.pentalvercontainersales.co.uk or call us. Our friendly team is happy to help you whatever you require and wherever you are in the UK.
www.pentalver.com
Related Products and Services
Container Sales

Container Conversions

Refrigerated Containers

Container Accessories

General Containers

Container Storage

Container Transport

Maintenance & Repair

Hiab delivery

Radar and Comms room

Wood lined Shipping Container

Office container

0

stars based on

0

customer reviews
Write a review
Events & Shows
Payment Methods
Visa
Cash
Visa Debit
Cheque
BACS
MasterCard
Online Bill Payments
Direct Debit
Maestro
Postal Orders
Diners Club Intl
Opening Hours
| | |
| --- | --- |
| Monday | - 06:00 to 00:00 |
| Tuesday | - 24 hrs |
| Wednesday | - 24 hrs |
| Thursday | - 24 hrs |
| Friday | - 24 hrs |
| Saturday | - 00:00 to 12:00 |
| Sunday | - Closed |