Todays Opening Hours
Wednesday : 9:00-1:00 & 2:00-5:00
Open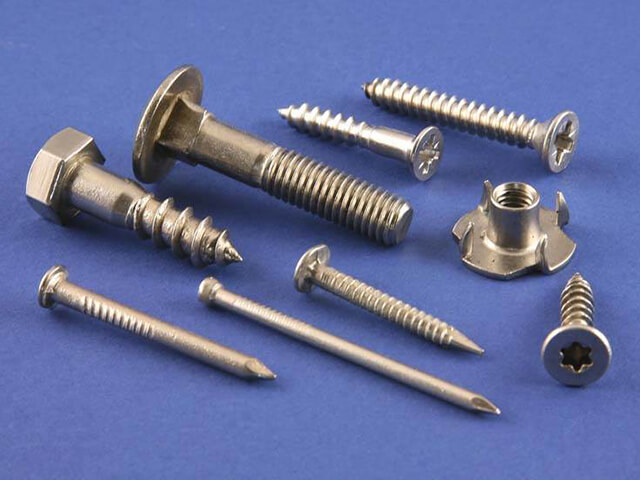 Stainless Steel Screws & Fasteners
Avon Stainless Fasteners Ltd have had experience in the supply of Stainless Steel Fasteners and Stainless Steel Screws for over twenty years. During this time our stainless steel fasteners, screws and fixings have been supplied to a varied customer base which includes General Engineering, Oil industry Engineering, Construction, Fabricators, Telecommunications, Ministry of Defence Contractors, Marine, Glass and Glazing Fabricators, Water and Sewerage Industries, Motorcycle and Car restoration and many others too numerous to mention here.

Being a specialist with experienced and knowledgeable staff we can normally find a solution to most fastening related problems, whether you require Stainless Steel Screws or other types of Stainless Steel Fasteners, we can probably help. Our standard scope of supply currently exceeds over 5000 different items.
Stainless Steel Screws
Our range of screws is extensive, we stock types for all applications including; Self Tapping, Plate Screw, Socket Button Head, Self Drill, Hex Head, Countersunk Head, Pan Head, Socket C and many more, please visit our website to view our full range of Stainless Steel Screws.
Stainless Steel Fasteners
With over 5000 different products available we are sure to have the fasteners you require. The product page on our website contains a list of all products supplied, every type of Bolt, Nut, Pins and Washers you could think of. If we do not have the Fasteners you are looking for please contact us so we can acquire it for you. As a company we have built a reputation for our ability to source difficult to find items and semi-standard products in both small and large diameters, and in short and long lengths.

Our range is slightly unusual in as much that we still supply a wide range of products with Imperial threads. Screws, Fasteners and related products are available on request with thread form types including, UNF, UNC, BSF, BA, BSW (Whitworth), Metric Course and with some items being available with Metric Fine threads. A small range of Stainless Steel Fasteners are also provided in Metric Course with Left Hand threads.

Dependant on the thread type, a range of head styles (shapes) are commonly available including Pan, Countersunk, Raised Countersunk, Cheese, Hex, Cap, Round, Button, Flanged, Fillister.

Drives dependant on thread and screw types are normally Slotted, Pozidriv Recess, Phillips recess, Socket Drive. Some items are also available in a TX drive (6 Lobe) some tamperproof types are also available on request.

The standard supply grades of our fasteners which are of the Austenitic type are A1 (AISI303) A2 (AISI 304) and A4 (AISI 316) other exotic grades are available to order and can be quoted on application.

Dependant of method of manufacture and the product type required the standard stock grades are supplied in A1/50, A2/70 and A4/80.

If your requirement does not fall within our standard range we are able to supply specials in most materials subject to receiving a detailed sketch or toleranced drawings. Quantities both large and small can be quoted although obviously medium to large quantities would be more economic due to machine setting up charges and running times.
More About Us
Mostly small to medium runs would be turned from bar, however depending on the items attributes it may lend itself to being Cold formed or Hot Forged. Cold forming is only economic for quantities of around 20,000 parts upwards subject to confirmation as to suitability. Hot Forged products tend to be Hexagon or Socket Headed products in diameters of 12mm (1/2") upwards.

Screws and Specials products are procured from our long standing tried and tested approved supplier base with which we enjoy close working relationships. Most have gained British Standard / ISO approvals, so most special products can if required be supplied with a copy of Chemical and Mechanical certification and at the very least a Certificate of Conformity but these must be requested at the time of enquiry.

Although based in a modern warehouse unit the South West of the United Kingdom in the City of Bristol, we quite frequently supply screws via our courier service to any part of the U.K. mostly on a next day service subject to stock availability.

Our websites show full details of the products and range of items we can supply, many from stock others normally on a short lead time.
We have another website that specialises in:

Socket Nuts, Tube Nuts, Connector Bolts, Clamp Bolts, Sex Bolts, Barrel Nuts, Screws with Internal Threads, Sleeve Nuts etc

To find out more about Interscrew Click Here
www.avonstainlessfasteners.co.uk
Related Products and Services
Wood Screw Products

Socket Screws

Misc Products

Marine Products

Marine Fixings

Machine Screws

Inter Screws

Hexagon Products

Stainless Steel Special Fasteners

0

stars based on

0

customer reviews
Write a review
Payment Methods
Visa
Cash
Visa Debit
Cheque
BACS
MasterCard
Online Bill Payments
Maestro
Opening Hours
| | |
| --- | --- |
| Monday | - 9:00 to 1:00 & 2:00 to 5:00 |
| Tuesday | - 9:00 to 1:00 & 2:00 to 5:00 |
| Wednesday | - 9:00 to 1:00 & 2:00 to 5:00 |
| Thursday | - 9:00 to 1:00 & 2:00 to 5:00 |
| Friday | - 9:00 to 1:00 & 2:00 to 5:00 |
| Saturday | - Closed |
| Sunday | - Closed |