Todays Opening Hours
Wednesday : 9:00-6:00
closed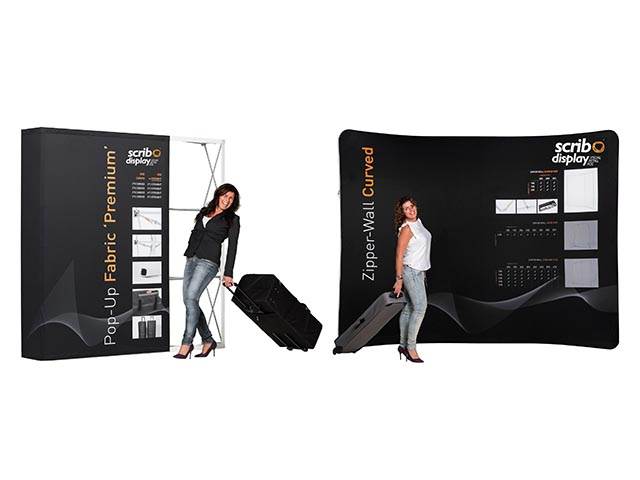 A Complete Signage & Display Design and Manufacturing Service
Scribo displays offers customers a complete signage and display design and manufacturing service from initial concept through to production and installation.

Working with many corporate businesses Scribo Displays aim is to build relationships with its clients with bespoke display requirements.

We like to work alongside them right from the word go in order to find them a unique solution for their display purposes.

We offer our customers a totally one stop shop so why spend hours trawling the internet, just simply get in touch and tell us your thoughts for your display project.

Also all of the display products and services provided by Scribo Displays are extremely competitively priced so please do not hesitate to get in touch to find out more.
Products & Services
Exhibition Stands
When organising an exhibition or other corporate event it's very important to get it just right.

Scribo Displays are experts in the design of exhibition displays and can help you with every little detail because it's paramount that everything is synchronised and promoted in the right way.

We offer a complete exhibition stand service including but not limited to:

...• Banner Stands
...• Freestanding Displays
...• Fabric Displays
...• Counter Top Display Stands
...• Brochure Holders
...• Hanging Displays
...• Lighting Products
...• Exhibition Furniture

You also have to be careful about choosing the right type of stand if you want it to stand out from the crowd to attract more attention and the right kind of customers. Scribo Displays will help you in every single way to get your message across.

To view our range of Exhibition Stands Click Here
Outdoor Displays
At Scribo Displays we believe in making sure our customers are offered a wide range of advertising solutions because each and every one will have a varied effect on your targeted audience so you need to get it just right.

We are able to design and supply a wide range of outdoor display products such as Flag Banners, Poster Displays, Street Boards, Pavement Signs, A-Boards, Forecourt Signs and Projecting Displays which provide a good option for exhibiting your brand name with minimal work being done so why not get in touch to find out more.

To view our range of Outdoor Displays Click Here
Retail and POS Display Stands
From Snap Frames, Window Displays, Counter Top Displays through to Crowd Control Barriers and Chalkboards Scribo offers one of the most comprehensive retail and display stand services.

To view our range of Retail & POS Display Stands Click Here
Snap Frames
If you're planning on giving an exhibition or a promotion for a particular product you need to have the right tool for the job.

At Scribo Displays we know how to get the best reaction from your target audience. A snap frame is capable of getting all of the right information in the best possible way without making the whole process inconvenient for you.

To view our range of Snap Frames Click Here
Custom Printed Displays
When it comes to custom printed displays we are the experts.

As experts in this field we offer the complete bespoke service to customers with specific needs enabling them to get all they need from one single source from initial design ideas through to production and installation so please get in touch to find out more.

For more information on Custom Printed Displays Click Here
www.scribodisplay.com
Related Products and Services
Pop-Fabric Premium Straight

Roller Banners

Pop-up Fabric

Promotional Counter Stands

Exhibition Stands

Promotion Counters

Hanging Displays

Snapframes

Illuminated Displays

Window Display

Flag Banners

Streetboards

A-Boards

Crowd Control Barriers

Acrylic Business Card Holder

Clear Leaflet Dispensers

LED Chalkboards

Projecting Displays

Freestander Brochure Display

Window Display Systems

XL Swing Master

5

stars based on

5

customer reviews
Write a review
By Ayhan Tunc ,
Very good service and prompt delivery, the end product was designed to our specifications and we were very happy with the results.
Was this review useful?


By Holly Thackray ,
Excellent service, good communication, very happy with the product. We purchased a flag and base for our trade stand. I spoke to a member of staff as I needed advice as to which flag would be best and which base we would need. When we received the product we were very happy with advice given as it suited what we needed perfectly, we even went back and purchased another.
Was this review useful?


By Dan Sheridan ,
Have used Scribo quite a few times now for queue barriers, mesh banners and a few other products. Every time the service has been good, only one time had an issues with some items not turning up with an order, but this was sorted in the quickest possible time and resolved without fuss. Would recommend Scribo for sure.
Was this review useful?


By Louise Robinson ,
Very good Customer service, assisted us with very quick delivery to meet our time frame & products looked really good on our stall.
Was this review useful?


By Paul Birch , Revolver World
We love the Scribo so much we bought three of the XL boards. This clever innovation is a great alternative to a chalk board and we found it gives us the flexibility to do "spot promotions". This is a modern, effective means of communicating and fits into a modern or retro environment, equally well. Unlike other means of communications, this is a green solution because it uses barely ambient supply of electricity, something of increasing importance to all of our business. Paul Birch Revolver Co-operative Ltd www.revolverworld.com
Was this review useful?


Key Contacts

Raj Ballari
Director
Tel: 7951820186
Email: hello

scribodisplay.com
Payment Methods
Visa
Cash
Visa Debit
Cheque
BACS
MasterCard
Online Bill Payments
Paypal
Maestro
Postal Orders
American Express
Opening Hours
| | |
| --- | --- |
| Monday | - 09:00 to 18:00 |
| Tuesday | - 09:00 to 18:00 |
| Wednesday | - 09:00 to 18:00 |
| Thursday | - 09:00 to 18:00 |
| Friday | - 09:00 to 18:00 |
| Saturday | - 10:00 to 13:00 |
| Sunday | - Closed |