Todays Opening Hours
Monday : 9:00-5:00
closed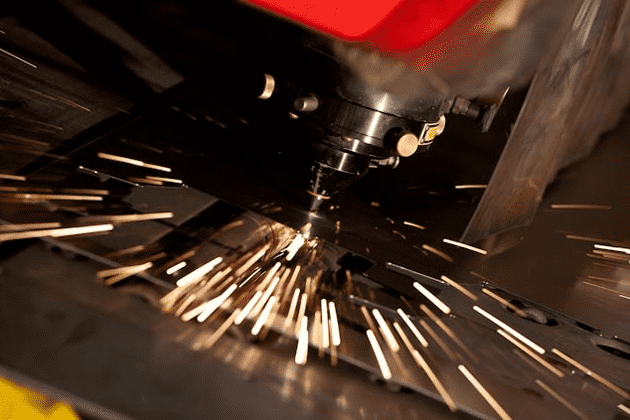 CNC Laser Cutting | CNC Punching
For over fifty five years The St. Anns Sheet Metal Company has been providing one of the most comprehensive sheet metal manufacturing services to a wide range of business sectors including the Electrical, Electronic, Automotive, Heating and Ventilation and Process Manufacturing to name but a few.

Over this time St. Anns sheet Metal Company has built a reputation for quality both in workmanship and materials which has been further complimented by its ISO 9002 Accreditation.

The company specialises in light to medium fabrications in a wide range of materials such as stainless steel, mild steel, aluminium, Zintec, galvanized steel and various plated metals.

With a continual program of investment in new technology we are able to utilise state of the art equipment such as laser cutting, CNC punching and bending in order to provide our customers with a competitively priced manufacturing service.

The sheet metal service provided by St Anns Sheet Metal Company is further supported by a network of suppliers enabling them to offer a range of additional services including precision machining, plating and powder coating processes all of which are competitively priced.

For further information about us Click Here
Our Manufacturing Processes
Laser Cutting
St Anns Sheet Metal Company offers a comprehensive laser cutting service. This complex process of laser cutting can be used to accurately produce complex exterior contours virtually burr free thus often eliminating the need for further deburring operations.

For more on laser cutting Click Here
CNC Punching
In certain instances CNC punching provides a more viable and cost effective alternative to laser cutting. Our CNC punching machines are controlled from CAM software and enable a part or assembly to go direct from the design stage through to manufacturing without the need for any paper drafts etc.

For more on cnc punching Click Here
CNC Bending
With a range of CNC bending machinery including our AMADA, TRUMPF and PROMECAM Press Brakes St Anns Sheet Metal Company has the capacity to provide an impressive CNC Bending Service to meet our customers' requirements both large and small.

For more on cnc bending Click Here
Welding - Mig Welding/Tig Welding/Spot Welding
St Anns Sheet Metal Company provides a full range of welding services from Mig welding and Tig welding through to spot welding. Mig welding is the most popular form of welding mainly due to its ease and versatility. Tig welding is probably the most versatile of all arc welding processes and less complex to master.

We utilise both forms of these welding techniques along with spot welding to bring our customers an all-round competitive manufacturing service.

For more on cnc bending Click Here
Thread and Nut Inserting
Thread and Nut Inserting is carried out using various machines so as to provide our customers with a completely finished component. Almost any size of thread can be inserted and positioned accurately.
Powder Coating
Supported by a network of suppliers we offer a complete powder coating service. Powder coating offers a range of benefits including thicker coating, great consistency and allows for a wide range of special effects.
Metal Plating
The Metal Plating service provided by St Anns Sheet Metal Company is also outsourced and allows us to offer our customers a competitively priced one stop shop for all of their sheet metal needs.

St Anns Sheet Metal Company also provides a range of additional services to include Hot Dip Galvanizing and Production Tox Jointing of which further information may be found on our website.

Based in The East Midlands UK, St Anns Sheet Metal Company is close to all major road networks making them well placed to serve industries far and wide.

For more information about St Anns Sheet Metal Company please go to our website.
Company Video
www.saintanns.co.uk
Related Products and Services
CNC Laser Cutting

Sheet Metal Laser Cutting

CNC Bending Sheet Metal

Thread Inserting Sheet Metal

Spot Welding Services

Spot Welding

Laser Cutting Sheet Metal

CNC Punching

Clinching Sheet Metal

St Anns Sheet Metal Warehouse

Sheet Metal Laser Cutting

CNC Punching

0

stars based on

0

customer reviews
Write a review
Key Contacts

Dave Bloomer
MD
Tel: 01159269649
Email: dave

saintanns.co.uk
Opening Hours
| | |
| --- | --- |
| Monday | - 09:00 to 17:00 |
| Tuesday | - 09:00 to 17:00 |
| Wednesday | - 09:00 to 17:00 |
| Thursday | - 09:00 to 17:00 |
| Friday | - 09:00 to 17:00 |
| Saturday | - Closed |
| Sunday | - Closed |