Todays Opening Hours
Wednesday : 6:00-8:00
closed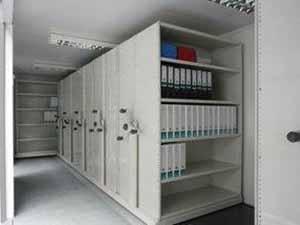 Leading Suppliers of Mobile Roller Racking and Shelving
Storage Aspects offers advice on the designs of mobile shelving and roller racking. These mobile shelves and mobile roller shelving products can offer substantial savings in space when compared to traditional cupboards and storage shelves.

Our designs are based upon your requirements in regard to capacity, appearance and security and therefore we are able to offer our clients the mobile roller racking to suit their requirements and the available space.

We also provide a full on site survey of the building and can advise on floor loadings, should these be an issue.

Our team of experience installers provide a client friendly service that ensures that all installations are completed on time with the minimum of disturbance. We also provide training on the use of the mobile shelves and mobile roller racking, which many clients find useful.
We design and install systems that are designed to offer offices, archives and stores facilities the maximum high density storage that is possible, thus saving space. Alternatively by using our mobile roller shelving and roller racking the capacity can be increased within the same foot print, thus allowing substantially more storage space.

Our mobile roller shelving repairs and roller racking repairs and maintenance service is widely used by clients whose existing installations have failed or broken down. We have an extensive range of spare parts and can generally fix all mobile shelving systems.
We provide mobile shelving systems that are designed to operate in cold rooms and freezers as well as systems using the Gratnell storage trays for school prep rooms. Our extensive range of media storage rolling systems and archive mobile roller racking provides the solution for these materials.

Therefore Storage Aspects is a company that prides itself in the advice we provide to clients so as to allow them to make balanced and informed decisions about mobile roller shelving and roller racking.
Related Products and Services
Mobile Shelving in Portable Building or Container

Mobile Roller Racking for Archives

Mobile Shelving in Container or Portable Cabin

Mobile Roller Shelving for Archive Storage

Mobile Archive storage

Ledger, Journal Storage Bays BS 5454 2000

Gratnells Roller Storage

Archives Roller Racking

Archive Mobile Shelving Repairs

Archive Box Mobile Shelving

ESD or Anti Static Benches

Bin Storage in Secure Metal Cabinet

Office Secure Pigeon Hole Locker

Office Laptop Lockers with Incharge Socket doors

Office Lockable Pigeon Hole Locker with 4 Tiers

Small Parts Shelving with Storage Bins

Plastic Storage container Double sided Trolley

Industrial Drawer Cabinet

Lister Tool Cabinets

Gas Cylinder Storage Cages

Patient Cylinder Trolley

5

stars based on

2

customer reviews
Write a review
By National Maritime Museum ,
The storage used for our Museum Artefacts have all been supplied by Storage Aspects, they are a name that we know and trust. You would be making a great choice to use them as your own supplier, I highly recommend them. Thank you from everyone at the National Maritime Museum.
Was this review useful?


By St Thomas Hospital ,
Storage Aspects are the company we turn to for all of our Roller Racking. Having also had racking from other companies, I can safely say Storage Aspects provide both the best products and service. They are now our supplier of choice. Thank You.
Was this review useful?


Opening Hours
| | |
| --- | --- |
| Monday | - 06:00 to 20:00 |
| Tuesday | - 06:00 to 20:00 |
| Wednesday | - 06:00 to 20:00 |
| Thursday | - 06:00 to 20:00 |
| Friday | - 06:00 to 20:00 |
| Saturday | - 06:00 to 20:00 |
| Sunday | - 06:00 to 20:00 |
Specialising In