Todays Opening Hours
Tuesday : 9:00-5:00
closed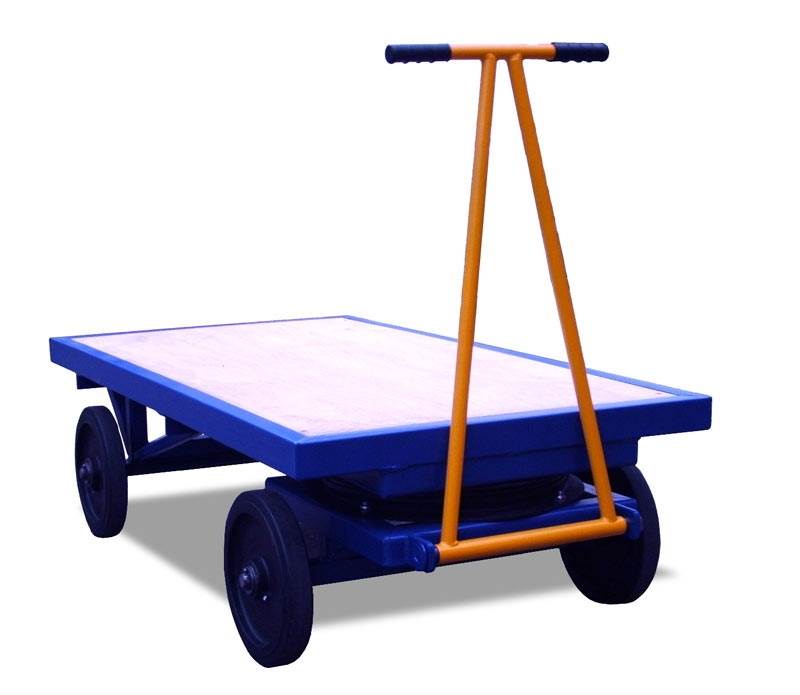 Supplying Flat Bed Turntable Trolleys, Plastic Trucks & Trolleys & More
WHO ARE WE: We are a team of dedicated specialists who manufacture and supply product handling, storage and warehouse equipment.

OUR SKILLS: Broadwood Handling Equipment currently works with both large and small companies offering a one to one contact. Drawing on 25 years experience in the industry. We offer design build facility for most bespoke requirements.

HOW WE WORK: We provide an 8am to 8pm service, we do not shy away from 'going the extra mile' to manage your requirements. We are happy to assist with advice and guidance on current or future requirements.
Image Showcase (mouse over images to enlarge)
Flat Bed Turntable Trolleys
Broadwood Handlings Flat bed Trolleys and Turntable trolleys provide a practical and , efficient solutions for operating in restrictive spaces. The Flat bed truck and turntable top designs can be fitted with, sides, ends or cage tops which offer security and safety to the loads.

All sizes of turntable trucks have anti-friction and ball bearing turntable plates.

The Anti-friction are for loads up to 600kgs and the ball bearing plates for 1000 to 2000kgs.

The tops of Flat Bed Trucks are as the name depicts generally encased in a steel frame which gives protections to the ply bed and are flat to enable goods to be easily slid on and off. All our trucks have options on size and sizes of wheels all rated well within the capacity rating of the truck.

Broadwood also offer a variety of handles selected for their suitability of use of each particular turntable truck. There is an option of a parking brake if required. The finish to the steel structure is of epoxy powder coated paint.

To find out more please Click Here
Mobile Scissor Lifting Tables
Broadwood Handling Range of Scissor Lifting Tables :-

Manual Hydraulic Lift for 150kgs through to 1000kgs.

Electric Mobile Lift Tables complete with Automatic Chargers 300kgs through to 1000kgs.

Complete with 12 month Warranty ON Site Parts and Labour.

Used Nesting Rollcages - Rollpallets

Most common sizes normally available ex – stock.

To find out more please Click Here
Warehouse Mobile Safety Steps
Complete range of safety steps from 2 tread steps through to 15 tread steps, all fitted with anti ascent bars & integral brake.

Retractable swivel castors to front and fixed to the rear for ease of movement

Please visit our website now to view our full product range. alternatively pick up the phone and contact a member of our team with any questions you may have.

To find out more please Click Here
Used Equipment
We have available most sizes of Refurbished and 2nd hand Roll Cages and Roll Container with Three and Four Sides or Full Security with a lid.

Generally in stock our are used Supermarket Trolleys in sizes from 125 to 270ltr.

Used and refurbished Pallet Trucks are available but subject to availability

To find out more please Click Here
Other Products
Plastic and Fibre 'Trucks & Trolleys':
"Plastic trucks Trolleys and containers for all industries from bottle trucks through to linen handling."

Workbenches Static and Mobile:
"We have a range of fabricated and self assembly work benches from as little as £68.03."

Forklift Trucks Attachments:
"Most attachments available for quick delivery, they include- access platform cages both fixed and folding - fork extensions from 1067 to 2440mm- self tipping skips – mini skips & industrial sweepers, full range of accessories available to handle drums"

Trolleys & Safety Steps:
"Full range of Sack trucks - Mobile Bases – Mobile Shelving – Cash & Carry Trolleys – Garden Centre and Garden Nursery Trolleys - Warehouse Trucks & Trolleys & Mobile Safety Steps - Flat Bed Turntable Trucks - Retail Shopping Trolleys & Hand Baskets, Assembly Line Picking Trolleys."

Cabinets:
"Broadwood has a full range of secure cabinets suitable for storage of hazardous materials."

Bespoke Design & Build:
" Broadwood can design and build to your requirements, call and discuss today"

To find out more please Click Here
Related Products and Services
Turntable Trolley

Flatbed Turntable Trolley

Flatbed Turntable Trolley With Sides

Retail Cash and Carry Trolleys

Order Selection Picking Trolleys

Mobile Safety Steps

Chassis Truck

Caged Turntable Trolley

Large Roll Container

BHE972 Moulded Truck

Coloured Plastic Moulded Trucks

Turntable Trolley With Caged Sides

0

stars based on

0

customer reviews
Write a review
Key Contacts
Mike James
Sales Director
Tel: 01409 220205
Email: mike

broadwoodhandling.co.uk
Payment Methods
Visa
Visa Debit
Cheque
BACS
MasterCard
Paypal
Payment Terms
Pro-Forma
15 days
30 days
Opening Hours
| | |
| --- | --- |
| Monday | - 09:00 to 17:00 |
| Tuesday | - 09:00 to 17:00 |
| Wednesday | - 09:00 to 17:00 |
| Thursday | - 09:00 to 17:00 |
| Friday | - 09:00 to 17:00 |
| Saturday | - Closed |
| Sunday | - Closed |