Todays Opening Hours
Sunday : 8:30 - 5:30
closed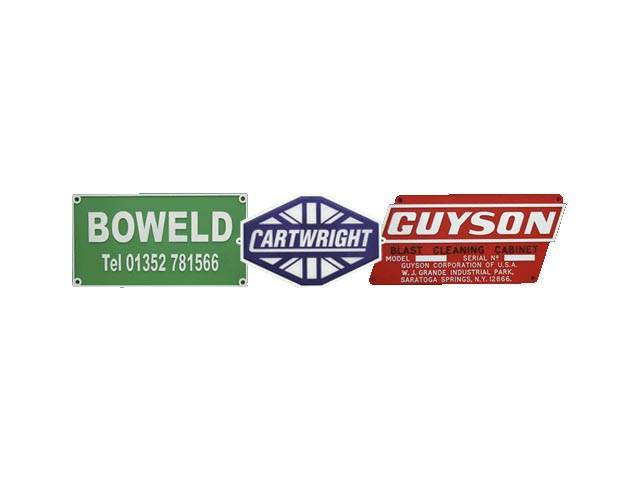 Plastic Nameplates, Identification Plates and Plastic Badges
Based in our factory in Nailsworth, in the heart of the cotwolds, Cotsworld Plastics is a privately owned company that has been operating for over 40 years. Over this period the company has developed a strong reputation for producing high quality Plastic Nameplates for a wide range of industries.

Cotsworld Plastics believe that a quality Nameplate can often be the difference between a product being perceived as being adequate or exceptional.

We produce Injection Moulded Plastic Nameplates, Badges and Labels, providing you with a high quality product coupled with exceptional service, backed up with ISO9001:2000 accreditation

We can offer a range of plastics to suit your requirements and sizes from a fishing reel logo to a commercial vehicle nameplate. Whatever product you need to brand, from Cars to Computers, Microwave Ovens to Machine Tools, Cotsworld can provide you with the right product for all your individual requirements.

...• Interior and Exterior Quality
...• A range of colours available from stock or matched to your requirements
...• Text and Images provided by Hot Block Foiling
...• Holes, Pegs or Self-Adhesive Fixings
...• Economical low runs available
...• We also offer Domed Badges, Metal Serial/Rating Plates, Fascias & more

If you are not sure what type of Badge would suit your needs best, please give us a call and we shall be more than happy to advise.
Other Services
Plastic Injection Moulding
Cotsworld Plastics produce high quality, plastic components for solutions to major sectors within the manufacturing industry, including electronic, automotive, medical & packaging.

Cotsworld Plastics has a pro-active approach to partnerships with customers. This enables us to develop an understanding of the customer needs and to provide the correct solution. We have the in-house capability to provide help with component design & development and with tooling design & optimisation.

We have full 2D & 3D CAD facilities.

Components are manufactured on computer controlled moulding machines. We process high grade engineering polymers as well as standard commodity grades. Our machines sizes range from 25 to 250 tonnes, with a capacity of 900 grams shot weight.

Cotsworld Plastics offer trade moulding as well as specific custom moulding services.
Splice Bridge
Cotsworld Plastics manufacture a high quality Cable Management System specifically for spliced Fibre Optic connections.

The SPLICE BRIDGE is a simple system, designed with the end user in mind. The system holds up to 36 spliced cables safely and securely. The Splice Bridge can be installed either using the fixing holes provided or by using the self-adhesive pad supplied. The system comes with a lid for enclosing the spliced fibres and to enable use of identification labels.

We can supply the product in a vast array of colours, and your own colour can be matched for quantities of 1k and above.
Visit our website for more information
Related Products and Services

0

stars based on

0

customer reviews
Write a review