Todays Opening Hours
Wednesday : 8:30-5:30
Open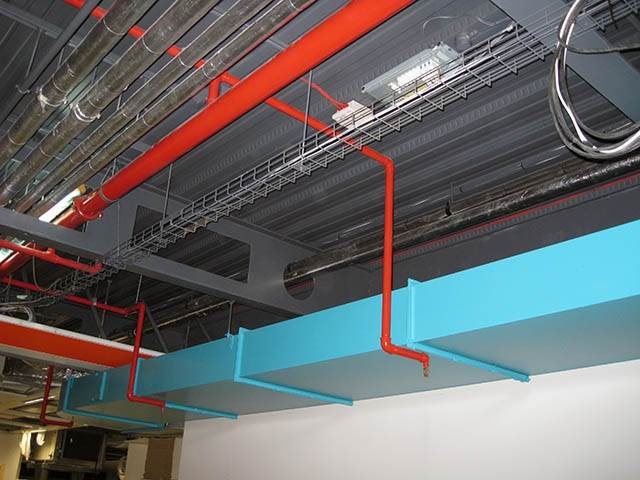 Welcome to CeilCote, your onsite spraying specialist

With around twenty five years in the business of onsite paint spraying CeilCote is able to provide one of the most comprehensive spraying services including ceiling spraying, cladding spraying, shop front spraying and lift door spraying.

As a leading specialist CeilCote utilises its own spray paint technology and spray painting processes to apply specially formulated mineral and fibre coatings to a wide range of surface applications. In fact, we actually introduced the first ceiling spraying restoration coatings for acoustic mineral fibre and metal suspended ceilings.

Over the years CeilCote has achieved a reputation for the high level of service it provides and has undertaken projects for some of the industry's leading organisations such as Amazon and Google in London where we spray painted the ceiling voids with their well known Google corporate colours.
Services
Ceiling Onsite Paint Spraying
CeilCote have had many years of experience in ceiling refurbishment and industrial airless spraying from small workshops to large office complex refurbishments where ceilings become dirty or discoloured over time.

If you are looking to refurbish or restore your existing ceiling or soffits and voids we are here to help and can restore all types of mineral fibre ceiling tiles, acoustic ceilings, plain metal pan ceiling tiles, perforated metal pan ceiling tiles, steelwork or galvanised and concrete soffits.

For ceiling spraying Click Here
Shop Front Paint Spraying
As experts in shop front spraying we are able to provide a wide range of solutions for the spraying of shop fronts, windows, shutters, curtain walling and doors.

Our on-site shop front spraying teams have been trained to the highest standards in the use of the very latest spray painting techniques including electrostatic spray painting. They will travel to your site and spray your shop front in the exact colour and gloss you specify to get your shop front looking refreshingly new again.

For shopfront spraying Click Here
Cladding Spraying/Cladding Painting
Over the past twenty five years we have successfully cleaned and spray coated vast amounts of cladding using our proprietary cladding formulation PVC94 bringing the building back to its original condition as new appearance.

This formulation is also compatible with Plastisol, Silicone Polyester, PVF2 and plasticised finishes on other common types of cladding. Because of its unique properties it can be applied quickly and efficiently with fast drying times making it well suited where business premises need to continue to trade throughout the work in progress.

For cladding spraying Click Here
Lift Door and Balustrade Spray Painting
Both commercial and retail property owners face the continual problem of dents and scuffs, stains and scratches to their lift doors and balustrades.

We have the perfect solution to this problem and can attend your site to carry out the lift door and balustrade spraying in situ using our teams of experienced sprayers around the UK.

The process starts with the encapsulation of the work area to protect button consoles and trims. The damaged surfaces are then filled with epoxy body filler and when dry finished off with fine grit sandpaper. This is followed by the application of primer paint followed by two top coats of the colour of your choice.

To find out more about our comprehensive service please visit our website.

For lift door spraying Click Here
Onsite Paint Spraying
Since 1989 CeilCote has been specialising in providing clients with a comprehensive range of onsite spraying services all of which are carried out by skilled professionals with many years of experience.

If you require a factory finished surface, spray painting is the only option to restore it back to its new condition. No project is too big or too small and we provide free quotations and surveys on request.

We have a wide choice of colours available including metallic so if you are looking to enhance your corporate image why not choose onsite spraying from CeilCote.

For lift onsite paint spraying Click Here
www.ceilcote.com
Related Products and Services
Ceiling Void Spraying at Google Headquarters

Ceiling Void Spraying at Google Headquarters

Acoustic Suspended Ceiling Airless Spray Painting

Acoustic Mineral Fibre Ceiling Spray Painting

All Types of Ceilings Spray painted by CEILCOTE

Metal Suspended Ceiling Paint Spraying

Metal Ceiling Spray painting by CEILCOTE

Metal Ceiling Spray Painting Restoration

Cement and Concrete Ceiling Soffit Spraying

Concrete/Galvanised Soffit Void Spray Painting

Cement Void & Galvanised Services Spray Painted

Walk Stores Aluminium Shopfront Spray Painting

Morrison Retail Shopfront Spraying

McDonalds Restaurants Onsite Spray Painting

BHS Retail Stores Onsite Shopfront Spray Painting

Metal Cladding Panel Paint Spraying with PVC94

Vinyl Cladding Panel Spray Painting

Commercial/Retail Cladding Spray Painting

Lift Door Elevator Spray Painting by CEILCOTE

Stainless Steel Lift Door/Surround Spray Painting

Metal Panel Lift Door Spray Painting by CEILCOTE

5

stars based on

7

customer reviews
Write a review
By MAGNUM INTERIOR CONTRACTORS ,
We appreciate the standard of work carried out by your operatives at our Reading project earlier this week, the ceilings look much improved.
Was this review useful?


By RANK XEROX ,
We have used CeilCote system of ceiling refurbishment on several occasions and find it an entirely satisfactory method of refurbishing suspended ceilings.
Was this review useful?


By MOAT HOUSE HOTEL, TELFORD, SALOP ,
The quality of the product and the manner in which it was applied provided a virtually new ceiling.
Was this review useful?


By HALIFAX BUILDING SOCIETY, HALIFAX, WEST YORKS. ,
We would be confident to employ CeilCote in the future.
Was this review useful?


By SANJO PROPERTY SERVICES, LONDON ,
It transformed a dull lifeless suspended ceiling into a bright new one.
Was this review useful?


By NEWAGE INTERNATIONAL, STAMFORD, LINCS ,
We have had several office ceilings treated with CeilCote and have found it to be an excellent product.
Was this review useful?


By BRITISH GAS, EDINBURGH ,
This treatment has been found to be preferable to painting mineral fibre ceilings and we will use this treatment in the future.
Was this review useful?


Payment Methods
Cash
Cheque
BACS
Online Bill Payments
Payment Terms
Pro-Forma
15 days
30 days
Opening Hours
| | |
| --- | --- |
| Monday | - 08:30 to 17:30 |
| Tuesday | - 08:30 to 17:30 |
| Wednesday | - 08:30 to 17:30 |
| Thursday | - 08:30 to 17:30 |
| Friday | - 08:30 to 17:30 |
| Saturday | - Closed |
| Sunday | - Closed |