Todays Opening Hours
Tuesday : 8:30 - 5:30
closed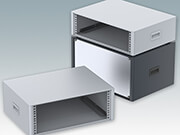 METCASE Enclosures is a division of OKW Enclosures Ltd

METCASE are manufacturers of a wide range of aluminium instrument enclosures and 19" rack mount enclosures for use on OEM electronic equipment.

Products

Standard Enclosures

Our range of standard aluminium enclosures offer modern ergonomic design and are suitable for use for desktop, wall mount or portable applications, all of which are manufactured to consistently high standards both in quality and finish.

They all offer robust and versatile use for professional housing solutions for OEM electronics equipment.

Aluminium Enclosures

We design and manufacture an extensive range of highly versatile modern aluminium enclosures suitable for an equally wide range of applications.

Rack Mount Enclosures

METCASE provide a comprehensive range of rack mount enclosures all conforming to DIN 41494 and IEC 291-1 standards.

Instrument Cases

Our 10.5" and 19" width rack mount cases are of a lightweight yet robust construction and conform to DIN41494 and IEC 297-1.

Desktop Enclosures

This range includes modern desktop enclosures for today's electronics equipment and are available as traditional front panel enclosures or as sloping front for desktop mounted terminals.

Instrument Enclosures

METCASE provides an extensive range of instrument enclosures for desktop, wall mount or portable and 19" rack mounted electronics equipment.

Customised Enclosures

At METCASE you can take advantage of our extensive customising service to include modifications for PCBs, displays, connectors and associated electronics equipment.

Enclosure Accessories

We can supply you with all of your enclosure accessory requirements including bail arms, swivel handles, front panels and much more.

So if you would like further information about METCASE or need help finding the correct enclosure product please contact one of our sales engineers for expert advice.

Wall Mount Enclosures

METCASE offer a range of wall mounted enclosures for indoor applications such as security equipment, building access systems, timers, machine controllers, monitoring systems and detectors.

Portable Enclosures

These include a modern range of portable instrument enclosures with tilt and swivel carry handles for easy transportation in the field and canting on the desk.
Related Products and Services
TECHNOMET Instrument Cases

UNIMET-PLUS Instrument Cases

UNIMET Instrument Cases

UNICASE Instrument Cases

UNIDESK Sloping Front Enclosures

DATAMET Wall Mount Enclosures

INSTRUMET 19" Cases 3U

COMBIMET 19" Rack Cases 1U-6U

UNIMET 19" Rack Cases 2U, 3U

METTEC 19" Rack Cases - 1U, 2U, 3U

VERSAMET 19" Rack Cases 1U

Enclosures Accessories

0

stars based on

0

customer reviews
Write a review