Todays Opening Hours
Tuesday : 8:30 - 5:30
closed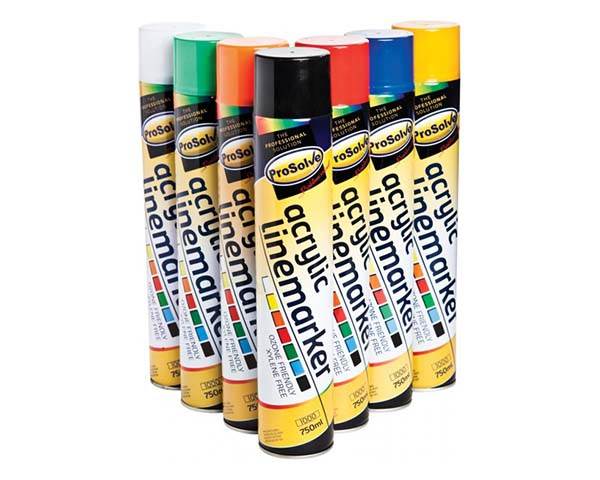 Floor Paint and Line Marking Manufacturer & Wholesaler
ProSolve offers one of the most comprehensive ranges of professional consumable products on the market today to include a vast portfolio of line markers, paints, industrial tapes, maintenance aerosols and more.

All of these high quality products have been specifically designed to meet the needs of a wide range of industries including construction, engineering, automotive and agricultural.

For more about us Click Here
Products
The range of professional products available from ProSolve is briefly listed below, however for further details on each product or our complete portfolio please refer to our online shop.

...• Line Marking Spray Paint
...• Line Marking Aerosol
...• Hard Surface Protector Film
...• Wooden Floor Surface Protector Film
Line Marking Spray Paint
From ProSolve hi-vis paint, ProSolve survey spray paint and the ProSolve spot marker spray paint to our ProSolve temporary line marker paint we offer one of the most comprehensive ranges of professional line marking paints.

The line marking aerosol from ProSolve is a high quality fast drying acrylic 'all angle` paint which is hard wearing, lead and xylene free.

All line marking spray paints from ProSolve have been specifically developed to bring excellent results on a wide range of both indoor and outdoor surfaces of which more information may be found by visiting our online shop.

For line marking paints Click Here
Hard Surface Protector Film
The hard surface protector film from ProSolve is a self-adhesive film which has been designed to provide a simple and highly effective solution for protecting hard surfaces such as laminates, tiles and wood etc.

This highly efficient product will protect your hard surfaces from the usual soiling normally associated with construction and building works such as dust, spillages, debris and foot traffic.
Wooden Floor Surface Protector Film
This hard and wooden surface protector film from ProSolve has been used successfully by contractors throughout a vast range of industries such as construction, renovation, maintenance and removals.

It's easy to use qualities also make the ProSolve hard surface protector a fast and highly effective form of protection.
Glass Protector Film
Also widely used throughout the construction industry is our ProSolve glass protector film which has been specially formulated for protecting glass areas during renovation and maintenance etc.

It also eliminates the need for scraping the glass hence reducing the risk of scratching. It's both tough and waterproof and incorporates a low tack adhesive that reliably grips securely to both exterior and interior window surfaces.
ProSolve Carpet Protector Film
Available in either normal or reverse wound form the carpet protector film from ProSolve is a self-adhesive heavy duty carpet protector designed to protect from the dirt, debris, foot traffic and spillages normally associated with building and maintenance work.

To find out more about this product or any other of the professional products available from ProSolve please visit our main website.
Areas Covered
We cover the following areas and the rest of the UK:
Aberdeen
Andover
Ashford
Avon
Aylesbury
Banbury
Bangor
Basingstoke
Bath
Beaconsfield
Bedford
Bedfordshire
Belfast
Berkshire
Birmingham
Bishops Stortford
Borders
Bournemouth
Bracknell
Bradford
Bridgend
Brighton
Brighton and Hove
Bristol
Buckinghamshire
Camberley
Cambridge
Cambridgeshire
Canterbury
Cardiff
Carlisle
Central
Chelmsford
Cheltenham
Cheshire
Chester
Chichester
City of London
Cleveland
Clwyd
Colchester
Cornwall
Coventry
Crawley
Cumbria
Derby
Derbyshire
Devon
Dorchester
Dorset
Dover
Dumfries and Galloway
Dundee
Durham
Dyfed
East Sussex
Edinburgh
Ely

Essex
Exeter
Fife
Folkestone
Glasgow
Gloucester
Gloucestershire
Grampian
Greater Manchester
Guildford
Gwent
Gwynedd County
Hampshire
Hemel Hempstead
Henley
Henley-on-Thames
Hereford
Herefordshire
Hertford
Hertfordshire
High Wycombe
Highlands and Islands
Humberside
Inverness
Ipswich
Isle of Wight
Kent
Kingston upon Hull
Lancashire
Lancaster
Leeds
Leicester
Leicestershire
Lichfield
Lincoln
Lincolnshire
Lisbon
Liverpool
London
Lothian
Luton
Maidenhead
Maidstone
Manchester
Merseyside
Mid Glamorgan
Milton Keynes
Newbury
Newcastle upon Tyne
Newport
Newry
Norfolk
North Yorkshire
Northampton
Northamptonshire
Northumberland
Norwich
Nottingham

Nottinghamshire
Oxford
Oxfordshire
Peterborough
Plymouth
Poole
Portsmouth
Powys
Preston
Reading
Reigate
Ripon
Rutland
Salford
Salisbury
Sheffield
Shropshire
Slough
Somerset
South Glamorgan
South Yorkshire
Southampton
St Albans
St David's
Staffordshire
Staines
Stirling
Stoke-on-Trent
Strathclyde
Suffolk
Sunderland
Surrey
Swansea
Swindon
Taunton
Tayside
Telford
Truro
Tyne and Wear
Wakefield
Warwickshire
Watford
West Glamorgan
West Midlands
West Sussex
West Yorkshire
Westminster
Weymouth
Wiltshire
Winchester
Windsor
Wolverhampton
Worcester
Worcestershire
Wrexham
Yeovil
York
www.prosolve.bdstl.com
Related Products and Services
Line Marking Spray Paint Yorkshire

Hard Surface Protector Huddersfield

Line Marking Aerosol Manchester

Wooden Floor Surface Protector Huddersfield

Survey Spray Paint 750ml Aerosol

Sharp Liner Paint 600ml Aerosol

Spot Marker Paint 275ml Aerosol

Stencil Spray Paint 400ml Aerosol

Hi Vis Paint

Chlorinated Rubber Road Marking Paint

Sharpliner Deluxe 4 Wheeled Linemarker

4 Wheeled Linemarker Aerosol Applicator

Hard Road Crayons

Soft Road Crayons

Timber Crayon

5

stars based on

1

customer reviews
Write a review
By Tim Jacks , Jacks Supplies
Really very happy with Prosolve products and working with Blue Diamond. Very good company to work with and their Prosolve range are excellent and really good sellers. I would highly recommend Blue Diamond and Prosolve.
Was this review useful?


News & PR
Blue Diamond launch new Heavy Duty Hand Wipes
Blue Diamond STL, manufacturer of a wide variety of construction consumables fuel additives and cleaning solutions, has introduced into its ProSolve™ ProWipe range a new Heavy Duty wipe.