Todays Opening Hours
Saturday : 8:30 - 5:30
Open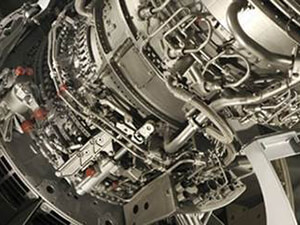 Precision High Performance Laser Welding Services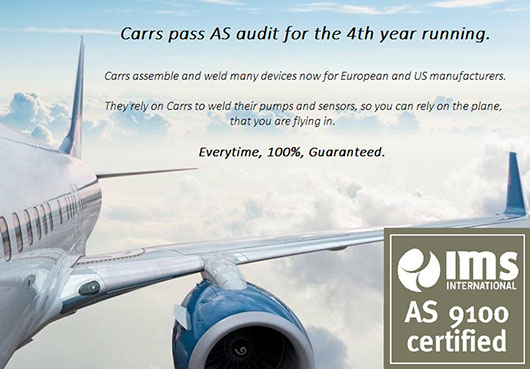 We are synonymous with the highest quality Laser Welding services. We supply the medical, aerospace, automotive industries and many other engineering companies who need Laser Welding services. Whether you want several hundred sensors welding or just a slight repair to a mould tool, you have come to the right place... Welcome to Carrs.

...• Laser welds to high grade and stainless nickel alloys.
...• Laser clad gun repairs.
...• Robot production Laser welding (6 axis).
...• Laser clad repairs to tools and moulds.
...• Laser welding procedures and trials.

Carrs have been laser welding since 1998, always investing in the best and latest equipment available. Using lasers to repair tools, clad components and recover worn parts is what we do every day. Our latest lasers move into new territory:
Aerospace
For over five years Carrs Welding has been providing a range of welding services for the Aerospace industry including many blue chip companies.

Recent projects include the new Airbus A380 where we were required to weld a permanent magnet motor which had a crucial role in the aircrafts operation.

From the very start of the project through to test piece manufacture, laboratory test reports, acceptability, robot laser welding and delivery you can count on Carrs Welding Technologies for our high level of reliability.

To learn more about Aerospace Click Here
Automotive
As experts in laser welding, Carrs Welding Technologies weld a wide range of parts for the automotive sectors including collapsible steering columns, clutch plates, transmission components and many more.

With state of the art welding technology Carrs has the capabilities to weld complex components such as fully assembled CV joints without fear of weld spatter or heat distortion damaging the existing surface treatment or precision tolerances.

Why not give us a call to find out how Carrs Welding Technologies can help speed up your production process.

To learn more about Automotive Click Here
Electronics
Carrs Welding Technologies are experts in electronic assembly welding.

We carry out a wide range of electronic welding services under microscope ensuring operators are always on target. Our laser welding facility allows us to create miniature welds down to 0.2mm in diameter with a high degree of accuracy.

This welding process also ensures the heat affected zones are extremely localised with minimal risk to highly sensitive electronic components.

If this is a service you require then please contact us to find out more.

To learn more about Electronics Click Here
Energy
With the ever increasing concerns about future energy sources many companies and entrepreneurs are at this moment working on tomorrows potential energy technology.

Carrs Welding Technologies is now assisting many in this sector particularly in the fabrication of smaller and lighter high performance components made from exotic materials that resist corrosion and reduce costs.

Applications in which we are currently involved include batteries, fuel cells and waste reduction so if you are in the process of developing energy saving ideas then please let Carrs Welding Technologies help.

To learn more about Energy Click Here
Medical
Carrs Welding Technologies are trusted suppliers to many surgical instrument making companies.

For over ten years Carrs Welding Technologies have been working on a wide range of specialised welding techniques for the medical sector some of which have included orthopaedic implants, surgical instruments and specialised medical cutting equipment.

Precision welding and cleanliness are paramount when operating under these conditions. We have a 100% inspection and nil failure record which largely contribute to improved patient care as well as reduced costs.

To learn more about Medical Click Here
Motorsport
Carrs Welding Technologies is privileged to be located next to many famous names in the motor racing industry and today are involved in a wide range of motorsport projects.

Gearboxes, suspension arm strengthening ribs, steering gear, cylinder blocks and differentials are just some of the components where Carrs have applied its welding technology. We also undertake prototype work on a regular basis.

Carrs has the ability to weld titanium, steel and a vast range of aluminium alloys and are here to resolve all of your high tech welding requirements

To learn more about Motorsport Click Here
ISO 9001/2000 Quality Assurance
Carr's Welding Technologies Ltd. are registered to ISO 9001/2000 standards, increasing the quality of the service and ensuring customer satisfaction. All problems are recorded and trends monitored so improvements can made at any stage of the process.

Every supplier Carr's use have to be approved and monitored for their quality. Helping to guarantee the quality of work carried out.
Related Products and Services
Aerospace

Automotive

Electronics

Energy

Medical

Motorsport

Nimonic Alloy C263

Seamless Tubes

Titanium Actuator

Swaged 316 Tube

Clutch Plates

JCB Bulkhead

Bentley Bulb Assembly

Geared Pulleys

Racking Element

Photon Detectors

Water Heat Exchanger

3D Chromatography

A Neat Leak Tight Job

Neat Laser Weld

Carrs pass AS audit for the 4th year running

0

stars based on

0

customer reviews
Write a review
Associations