Todays Opening Hours
Sunday : Closed
closed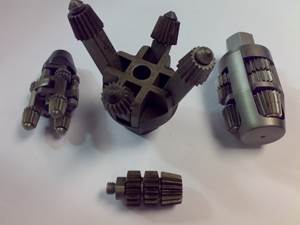 With over thirty years of research and manufacturing experience in the plant maintenance industry, Lark Descaling offers a range of tube cleaners and equipment which is to date one of the most advanced designs in the industry.

We confidently offer this range to engineers in industry whose task it is to maintain and service their plant during full production.

Our range of innovative products range from Lark motors to heads and cutters which are capable of descaling both straight and curved tubes and pipes from 3/8" to 16" in diameter all of which have been created to ensure fast, effective and reliable removal of tube deposits.
Lark 400 Series Air Motors for Straight Tube Applications
Lightly scaled condenser applications and heat exchangers from 5/8" to 1 7/8" I.D.

These highly efficient cleaners can be used in a combination of solid connectors or universal couplings with Lark drill heads, boring tools and expanding wire brushes.
Lark 500 Series Air Motors for Curved Tubes
The 500 series air motors from Larks are extremely effective for sharp bend applications in tubes varying from 11/16" through to 2 1/8" internal diameters.

To allow easy passage through curved bends and sharp corners the Lark 500 Series Motor has been designed with a reduced length.

The starting of all Lark air motors is instantaneous due to patented features which have now resulted in added speed and power so to find out more please do not hesitate to get in touch.
Lark 1000 Series Air Motors for Curved Tubes
Applications for this motor range from the cleaning of tubes from 2 1/8" diameter to 4 ¾" diameter and together with the drills, cutter heads and universal couplings provide fast and effective cutting action through all sections of the unwanted deposit.

When used in combination with universal couplings this drill head is the most commonly used piece of tube cleaning equipment which is capable of standing up to the most arduous of tasks.
Lark 1500 Series Air Motors for Straight Tubes
This is by far the most ruggedly constructed air motor and makes light work of removing even the most severe deposits from oil refinery tubes ranging from 1 5/8" through to 16" in diameter.
The motor mechanism itself is constructed from high tensile steel and is then hardened and ground to very fine tolerances.

Its patented features are also incorporated into the motors design whereby the paddles are lightly held in position with the inner surface of the shell when put under pressure during cleaning operations.

This is only a tiny sample of information about Lark Descaling and our products so if you would like to find out more about the range of Lark motors, heads and cutters please head over to the main website.
www.lark-descaling.com
Related Products and Services
LARK 500 SERIES AIR MOTORS

LARK 400 SERIES AIR MOTORS

Tube Cleaning Equipment

Lark Descaling

Pneumatic Tube Cleaning

Pipe Descaling Before & After

LARK 1000 SERIES AIR MOTORS

Pipe Descaling

LARK Descaling

0

stars based on

0

customer reviews
Write a review
Key Contacts
Steven Banfield
Director
Tel: 01582 416046
Email: sales

pact-engineering.co.uk
Opening Hours
| | |
| --- | --- |
| Monday | - 09:00 to 17:00 |
| Tuesday | - 09:00 to 17:00 |
| Wednesday | - 09:00 to 17:00 |
| Thursday | - 09:00 to 17:00 |
| Friday | - 09:00 to 17:00 |
| Saturday | - Closed |
| Sunday | - Closed |