Todays Opening Hours
Thursday : 9:00-5:00
closed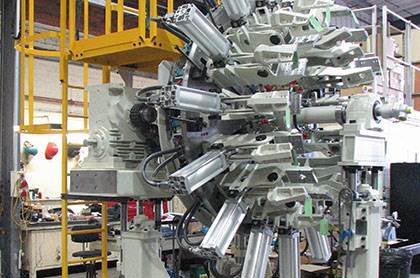 Engineering Excellence In The Heartland of Britain's Industrial Heritage
Borne from its long history of manufacturing capabilities and evolving in the industry, Glassworks Hounsell Ltd is able to provide a comprehensive range of high quality engineering products and services including precision engineering, general engineering and batch charging technology to include consultancy.

...• Glass Products
...• Precision & Bespoke Engineering
...• General Engineering
...• Batch Charging & Ancillary Equipment
Products for the Glass Industry
To date Glassworks Hounsell offers a range of products for glass melting as well as a range of associated services such as spare parts, training and commissioning, electrodes and connector systems.

We have an unparalleled experience in the design and manufacture of specific products to meet the needs of our customers and as precision engineers we are perfectly placed to adapt and customise specific issues in order to help you improve your production efficiency.

...• Oscillating Batch Charger
...• Static Charger
...• Screw Charger
...• Letterbox Charger
...• Aqua Sprays/Water Mixers
...• X/Y and Boom Chargers
...• Vibratory Feeder Systems
...• Glass Blowing Equipment
...• Pusher Type Charger
...• Training and Commissioning
...• Specials and Customisation
...• Tin Oxide Electrodes & Connector Systems

For Batch Charging & Ancillary Equipment Click Here
Oscillating Chargers (OBC)
Glassworks Hounsell was the first company to introduce the OBC onto an end fired furnace and to date we have supplied over 1150 units worldwide.

For Oscillating Chargers Click Here
Static Chargers
Our Static Chargers are well suited to some of the more challenging operating conditions and are capable of effectively sealing a `doghouse`.

For Static Chargers Click Here
X/Y and Boom Chargers
The X/Y and Boom chargers available from Glassworks Hounsell are mainly bespoke to meet our customer's specific requirements including both the electrics and mechanics of this equipment so to find out more please visit our website.

For X/Y and Boom Chargers Click Here
Aqua Sprays/Water Mixers
It is well known in the industry that inconsistencies in the moisture content and dust dispersal within the furnace can dramatically affect the quality of the glass being manufactured.

To overcome this problem Glassworks Hounsell has developed a range of Aqua Sprays and Water Mixers which can be manufactured in accordance with our customers particular needs.

For Aqua Sprays/Water Mixers Click Here
Letterbox Charger
Every single Letterbox Charger manufactured by Glassworks Hounsell is designed and manufactured to your exact requirements.

All are built to meet the ISO9001:2008 Standards.
Glass Blowing Equipment
For Glass Blowing we are able to supply Blowing Irons, Punty Irons and a range of tools well suited for this specific purpose.

In this area too we can provide a complete bespoke manufacturing service to include materials, length, types of handle and diameters so for further details please do not hesitate to get in touch.

This is only a small sample of the wide range of high quality glass manufacturing products and services Glassworks Hounsell is able to provide. If you would like to find out more please visit our website.
www.glassworkshounsell.co.uk
Related Products and Services
Bespoke Engineering

Oscillating Batch Charger (OBC)

Static Batch Charger

Screw Chargers

Letter Box Charger

Aqua Sprays

Vibratory Feeder Systems

General Engineering

British Manufacturing

Engineering for Precision Manufacturing

Precision Engineering

2D and 3D Design

Fabrication

Turning

Milling

Inspection

Oscillating Batch Charger

Glass Blowing Equipment

0

stars based on

0

customer reviews
Write a review
Opening Hours
| | |
| --- | --- |
| Monday | - 09:00 to 17:00 |
| Tuesday | - 09:00 to 17:00 |
| Wednesday | - 09:00 to 17:00 |
| Thursday | - 09:00 to 17:00 |
| Friday | - 09:00 to 17:00 |
| Saturday | - Closed |
| Sunday | - Closed |