Todays Opening Hours
Wednesday : 8:30 - 5:30
closed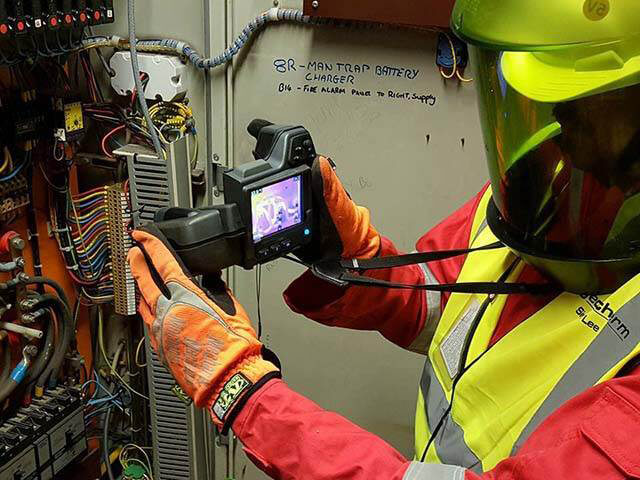 Dynamic Infrared Thermal Inspections & Maintenance Solutions
Since 2002 Geo Therm has been providing a range of value added professional condition monitoring services worldwide to a broad spectrum of industrial sectors including offshore, maritime, industrial and electrical.

We offer a range of dynamic and innovative infrared thermal inspections and maintenance solutions to help companies remain credible and compliant.

These Infrared Thermal Inspection Services have been specifically designed to pinpoint your equipment anomaly thereby reducing the need to shut down your systems often resulting in substantial time and money losses.

Our Services include but are not limited to:

...• Thermal Imaging
...• HV Partial Discharge Inspections
...• Hazardous Area Inspections
...• Acoustic Ultrasound Hatch & Compressed Air/Hydro-Carbon Leak Inspections
Offshore
As associate members of the International Association of Drilling Contractors, Geo Therm Ltd regularly excels in the level of service we are able to provide.

We professionally serve and service the offshore industry helping them to comply including maintenance, class and commissioning.

For Offshore Click Here
Maritime
We offer a range of marine inspection services all of which are carried out by our team of IIMS surveyors who follow the code set out by the International Institute of Marine Surveying.

Our qualified technicians regularly carry out both ship and super yacht inspections such as monitoring the vessels electrical systems, hatch covers and engine room environments both pre-voyage and actual voyage requirements.

...• Inspection and Maintenance of Electrical Equipment
...• Engine Room Hot Spot Detection
...• Thermal Imaging for Leak Detection
...• Water Integrity Tightness Testing for Cargo and Door Hatches
...• Asset Mounted IR Camera Installation
...• IR Thermal Night Vision Camera and Control Installation

For Maritime Click Here
Industrial
Working with a wide range of clients to reduce and limit risks Geo Therm Ltd offers an independent third party service to ensure compliance with H&S and insurance requirements.
Our range of industrial inspection and maintenance services also includes LV and HV asset maintenance services so to find out more please get in touch.

For Industrial Click Here
Renewables
We are members of the East of England Energy Group and as such offer a range of professional third party inspection and engineering services and O&M support aimed at the offshore and onshore renewable sector.

These include wind turbine maintenance support, solar farms, anaerobic digestion, thermal imaging Inspections, HV partial discharge inspection and electrical maintenance safety devices.

For Renewables Click Here
Worldwide Service
We are able to provide support for clients anywhere in the world in order to improve reliability, operational efficiency and the bottom line.

We also regularly secure both repeat and new business which stands testament to the high level of service and technical expertise we provide.
ISO 9001:2008
Geo Therm Ltd is an ISO 9001:2008 certified contractor with accreditation for Achilles FPAL.

For further information about Geo Them Ltd and our services please visit our website.
Related Products and Services
Infrared Thermal Inspections

Thermal Imaging Camera

Thermal Imaging Inspections

HVPD survey

The Delta-T Device

Thermal Inspections

Surveys Through Infrared Windows

Offshore Inspections

Thermal Inspection

Renewables Inspections

Maritime Inspection Services

Offshore Inspection Services

Industrial Inspection & Maintenance Services

Renewables - Inspections & Maintenance

Industrial Inspections

Maritime Inspections

Offshore Inspections

Inspections & Maintenance Solutions

5

stars based on

7

customer reviews
Write a review
By A. Clarke , Operations Director
Quality services year after year
Was this review useful?


By A. Sagrott. , Electrical O&M Director
Excellent service & reporting
Was this review useful?


By Simeon Lee ,
Fantastic company with a unique form of predictive maintenance.
Was this review useful?


By D. O'Sullivan , Offshore Rig Manager
The management have actually taken onboard our feedback on the quality of service we get from your good selves vs. your competitors.
Was this review useful?


By K. Cole , Regional Engineering Manager.
Professional, diligent and welcome back
Was this review useful?


By A.Venetico. , PA to UK Operations Director
Everythinhg to our satisfaction, very efficient
Was this review useful?


By R. Beane , Senior Hospital Maintenance Manager
Capable, professional and respectful
Was this review useful?