Todays Opening Hours
Wednesday : 9:00-5:00
Open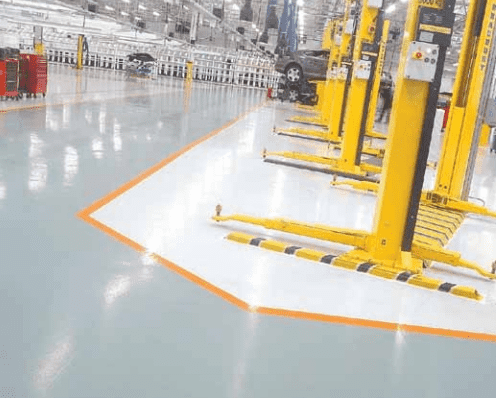 UK's Leading Resin Flooring Contractors

As the UK's leading resin flooring contractors Central Flooring Services provides one of the most comprehensive services for the installation of epoxy resin flooring.

With a team of highly skilled resin flooring installers each of whom with many years of experience Central Flooring Services is able to deliver high performance flooring systems to a wide range of commercial and industrial sectors covering the whole of the UK.

Our mission is to provide our clients with the complete flooring service from initial consultation and specification through to preparation and application. Central Flooring Services has also been chosen as the installer of choice for Herculan Sports Flooring throughout the UK.

All work undertaken by Central Flooring Services is installed to meet with the latest FeRFA Guidelines and all come with a full warranty ranging from 2-15 years.

Working with the UK's leading resin flooring manufacturers also provides us with the knowledge and expertise to provide customers with specific requirements and tailored specifications.

Central Flooring Services focuses on three main types of flooring services including:

...• Sports Flooring
...• Industrial Resin Flooring
...• Commercial Resin Flooring

Our team of expert installers work fast and efficiently causing minimum disruption and downtime to your site.

All of the services we offer can also be customised to meet your own particular specification requirements such as non-slip flooring, decorative flooring and hygienic flooring.
Industrial Resin Flooring
We supply a wide range of industrial flooring to an equally wide range of industries all of which follow the latest FeRFA Guidelines.

We have years of experience in installing industrial resin flooring and are dedicated to provide our customers with only the highest of quality products so whether you require industrial resin flooring for a warehouse, factory or engineering facility we will find a solution.

Anti Slip Safety Flooring
Anti Slip Safety Flooring Is perfect for warehouses and industrial applications where safety is a necessity

Polyurethane Resin Flooring
Our Polyurethane Resin Flooring has a highly durable finish making it the ideal choice for logistics, storage and chemical areas.

For more on Industrial Resin Flooring Click Here
Commercial Resin Flooring
Central flooring Services offer the most comprehensive ranges of commercial resin flooring all of which can be tailored to meet your exact requirements, covering retail, health, leisure and pharmaceutical.

We also ensure only the finest materials are used with high quality aesthetic finish and durability to meet the demands of a busy environment.

Over the years Central Flooring Services has installed commercial resin flooring for some of the UKs leading organisations and retailers including:

...• Liquid Vinyl
...• Comfort Flooring
...• Clean Rooms
...• Decorative Screeds & Coatings

For more on Commercial Resin Flooring Click Here
Sports Flooring
We are able to install a wide range of sports flooring all of which has been manufactured to EN14904 Standards.

It is also durable, resistant to wear and extremely easy to clean.

As sole suppliers and installers for Herculan Sport Floors, Central Flooring Services is able to supply and install a wide range of sports floors including:

...• Multi-Functional
...• Spike Resistant
...• Engineered Timber
...• Roller Hockey
...• Solid Hardwood
...• Lines & Logos
...• Re-Topping

For more on Sports Flooring Click Here

If you would like more information about Central Flooring Services Ltd please visit our website.
Areas Covered
We cover the following areas and the rest of the UK:
Aberdeen
Andover
Ashford
Avon
Aylesbury
Banbury
Bangor
Basingstoke
Bath
Beaconsfield
Bedford
Bedfordshire
Belfast
Berkshire
Birmingham
Bishops Stortford
Borders
Bournemouth
Bracknell
Bradford
Bridgend
Brighton
Brighton and Hove
Bristol
Buckinghamshire
Camberley
Cambridge
Cambridgeshire
Canterbury
Cardiff
Carlisle
Central
Chelmsford
Cheltenham
Cheshire
Chester
Chichester
City of London
Cleveland
Clwyd
Colchester
Cornwall
Coventry
Crawley
Cumbria
Derby
Derbyshire
Devon
Dorchester
Dorset
Dover
Dumfries and Galloway
Dundee
Durham
Dyfed
East Sussex
Edinburgh
Ely

Essex
Exeter
Fife
Folkestone
Glasgow
Gloucester
Gloucestershire
Grampian
Greater Manchester
Guildford
Gwent
Gwynedd County
Hampshire
Hemel Hempstead
Henley
Henley-on-Thames
Hereford
Herefordshire
Hertford
Hertfordshire
High Wycombe
Highlands and Islands
Humberside
Inverness
Ipswich
Isle of Wight
Kent
Kingston upon Hull
Lancashire
Lancaster
Leeds
Leicester
Leicestershire
Lichfield
Lincoln
Lincolnshire
Lisbon
Liverpool
London
Lothian
Luton
Maidenhead
Maidstone
Manchester
Merseyside
Mid Glamorgan
Milton Keynes
Newbury
Newcastle upon Tyne
Newport
Newry
Norfolk
North Yorkshire
Northampton
Northamptonshire
Northumberland
Norwich
Nottingham

Nottinghamshire
Oxford
Oxfordshire
Peterborough
Plymouth
Poole
Portsmouth
Powys
Preston
Reading
Reigate
Ripon
Rutland
Salford
Salisbury
Sheffield
Shropshire
Slough
Somerset
South Glamorgan
South Yorkshire
Southampton
St Albans
St David's
Staffordshire
Staines
Stirling
Stoke-on-Trent
Strathclyde
Suffolk
Sunderland
Surrey
Swansea
Swindon
Taunton
Tayside
Telford
Truro
Tyne and Wear
Wakefield
Warwickshire
Watford
West Glamorgan
West Midlands
West Sussex
West Yorkshire
Westminster
Weymouth
Wiltshire
Winchester
Windsor
Wolverhampton
Worcester
Worcestershire
Wrexham
Yeovil
York
www.centralflooringservices.co.uk
Related Products and Services
Industrial Resin Flooring

Commercial Resin Flooring

Polyurethane Resin Flooring

Anti Slip Safety Flooring

Flowcrete Commercial Flooring

AltroSeal™ / AltroCoat™ Flooring

Sports Resin Flooring

Sports Flooring

Seamless Sports Flooring Supplier

Seamless Commerical Flooring

Industrial Resin Flooring

Warehouse Resin Floorin

0

stars based on

0

customer reviews
Write a review
Associations
Approvals & Certificates
ISO 9001 Quality management systems
ISO 14001 Environmental management
OHSAS 18001
CHAS - The Contractors Health and Safety Assessment Scheme
Opening Hours
| | |
| --- | --- |
| Monday | - 09:00 to 17:00 |
| Tuesday | - 09:00 to 17:00 |
| Wednesday | - 09:00 to 17:00 |
| Thursday | - 09:00 to 17:00 |
| Friday | - 09:00 to 17:00 |
| Saturday | - Closed |
| Sunday | - Closed |