Todays Opening Hours
Wednesday : 8:30 - 5:30
closed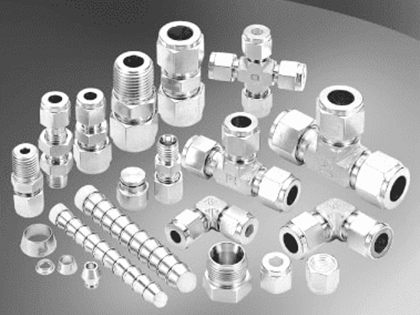 Pipeline Products for All Industries
With over 25 years of experience in the supply of pipeline products to a wide range of industries Stauff Anglia is able to offer advice and support to customers whatever the product, so whether you're looking for low pressure industrial pipework and hoses or information on how to protect your high pressure hoses or other equipment from damage, Stauff Anglia are only a phone call away.

We not only offer a `one stop shop` for all your needs but will give you our personal and undivided attention no matter how small or large your order is, and with a reputation for being able to source those hard to find items where else would you go.
Stauff Pipe Clamps
If you need help finding the correct Stauff Clamps for your particular application our website should have the answer but we will also be more than happy to discuss anything on the phone whether it's about metal saddle clamps, `U` Bolts or any other style of clamp.
Compression Couplings
Stauff Anglia can offer advice on all compression coupling products no matter what the system. All compression couplings from Stauff Anglia are available in both carbon and stainless steel and provide a high degree of integrity in terms of assembly and leak free operation.
Superlok Connectors
Stainless steel connectors are widely used for medium to high pressure systems and instrumentation and with the super smooth bore they are ideal for applications in pharmaceutical, hygiene, chemical and offshore industries.
Stauff Test Points & Accessories
With an established reputation for test couplings and accessories Stauff offers a vast range of screw in test couplings for tube fittings based on the international standards and therefore comply with applications worldwide.
Filtration Technology
We offer a full range of filtration products and services designed to provide the highest level of contamination control that todays sophisticated systems demand.
Hydraulic Accessories
At Stauff our hydraulic accessory program has been specifically designed to provide an ever growing range of sophisticated components for today's industrial needs such as designing power packs, building tanks, reservoirs & hydraulic applications.
Hydraulic Adaptors
Hydraulic adaptors come in a vast array of unit styles, thread styles and thread sizes so Stauff will always offer advice on the best product for your particular application whatever it is.
Steel and Stainless Steel Tubes
Stauff are able to supply one of them most comprehensive ranges of tube and pipe for all common specifications including carbon steel tube metric OD, carbon steel pipe NB, Carbon steel tube imperial OD, black and galvanized, stainless steel and polished stainless steel.
Hose Couplings
There has never been a better choice of hose coupling products available on the market which means some decisions have to be made. Stauff will always assist you in finding the right product for your requirements so why not take a look at our online shop for more information.
SAE and Gear Pump Flanges
SAE flanges are used as a reliable alternative to regular tube and pipe connectors with the biggest advantage being their resistance to higher pressure and continuous high pressure levels.

Stauff SAE flanges are available either as individual components or as a complete set with seals and bolts.

This is just a small sample of the wide range of products and services available from Stauff so to find out more why not visit our online one stop shop.

At Stauff we've got a lot to shout about:

• Specialist Product Experience
• Strong Technical Support Capability
• Wider Product Range
• Excellent Customer Care

So please do not hesitate to give us a call because at Stauff the most important thing is being able here to help our customers.
www.stauffanglia.com
Related Products and Services
Superlok Twin Ferrule Tube Couplings

Filtration Technology

Hydraulic Accessories

Valves

Malleable Iron Fittings Black And Galvanised

SAE And Gear Pump Flanges

Industrial Pipeline Flanges

Steel and Stainless Steel Tubes

Stauff Test Points And Accessories

Safeplast Hose Safety And Protection Systems

Clamps

Industrial Hoses

0

stars based on

0

customer reviews
Write a review