Todays Opening Hours
Thursday : 8:30-5:00
closed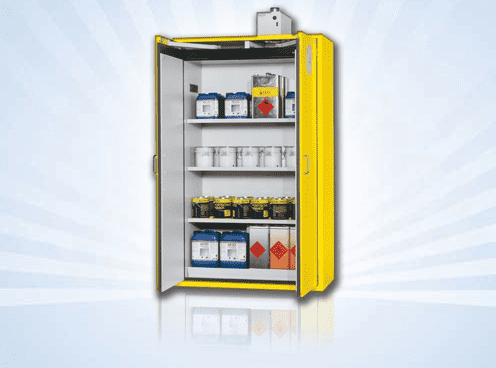 Providing Equipment That Safely Store Hazardous Materials

Denios is a market leader in the supply of a comprehensive range of products associated with health and safety at work, in particular hazardous materials storage and environmental protection.

As specialists in hazardous materials technology Denios offers a range of fire-rated containers so whether itís a walk in store, chemical store or a hazardous materials container youíre in safe hands with Denios.

For over ten years we have used our experience and extensive knowledge to meet the requirements of our clients hazardous materials storage needs whilst at the same time enabling them to conform to UK regulation and legislation.

For more information about us Click Here
Flammable Storage Cabinet
Denios offers a comprehensive range of flammable storage cabinets which have been tried and tested to meet fire protection requirements in accordance with REI 120. These innovative cabinets offer unparalleled protection where the requirement for storing hazardous materials and substances is necessary.

Take a look at our Fire Resistant Safety Cabinet G-1201 Here
Chemicals Cabinet
Denios are experts in the design of chemical cabinets. We supply a range of chemical cabinets with innovative safety features including spill pallets, self-closing doors, ventilation connections, pull out prevention systems and natural ventilation openings in the base.

To view our Chemical Cabinets Click Here
Fireproof Storage Cabinet
Denios supply a wide range of specialised fireproof storage cabinets for an equally wide range of applications covering compressed gas, flammable liquids, chemicals and hazardous materials certified to R10 and R12 and in accordance with DIN EN 14470-1.

To view our Fire Rated Storage Cabinets Click Here
Hazardous Chemical Storage Cabinet
Our range of hazardous storage cabinets have been specifically designed and manufactured to safely house and store chemicals from small containers through to large tanks.

They offer a long service life due to their robust construction and provide natural ventilation through grilles in the cabinetís base. All are ready for connection to ventilation port.

To view our range of Hazardous Storage products Click Here
Paint Storage Cabinet
From storing hazardous materials through to the safe storage of paint and water products Denios offers one of the larges ranges of paint storage cabinets anywhere around. Storage capacities vary so why not head over to our online shop to find out more.
Flammable Liquid Storage Cabinet
In many industries it is necessary to store flammable liquids directly in the workplace environment.

By combining safety and convenience in the workplace Denios offer the perfect solution with a range of cabinets for acid and alkaline substances that comply with BS-EN 14470-1.
Laboratory Storage Cabinet
Denios have had many years of experience in the design and manufacture of laboratory cabinets.

We supply a wide range of laboratory cabinets that can be used straight away based on your exact requirements. They come with pre-fitted mountings, hailfen rails for mounting gas cylinders, air extraction and well thought out break through points for laboratory gas supplies.

More information on our range of laboratory cabinets may be found by visiting our website.
Hazardous Storage Cabinets
When visiting the online shop at Denios you'll find one of the most comprehensive ranges of hazardous storage cabinets.

Whether your requirements are for outdoor storage or indoor storage you'll find the exact product you're looking for to meet your application requirement.
Work Safety Equipment
As experts in the storage of hazardous materials Denios offers a number of efficient work safety equipment for the protection of the workforce in their daily production processes.

Products from Denios in this category include cleaning & disposal equipment, site equipment, showers, eye wash stations, workplace matting, recycling bins and containers and personal protection equipment.
Areas Covered
We cover the following areas amongst many others...
Aberdeen
Andover
Ashford
Avon
Aylesbury
Banbury
Bangor
Basingstoke
Bath
Beaconsfield
Bedford
Bedfordshire
Belfast
Berkshire
Birmingham
Bishops Stortford
Borders
Bournemouth
Bracknell
Bradford
Bridgend
Brighton
Brighton and Hove
Bristol
Buckinghamshire
Camberley
Cambridge
Cambridgeshire
Canterbury
Cardiff
Carlisle
Central
Chelmsford
Cheltenham
Cheshire
Chester
Chichester
City of London
Cleveland
Clwyd
Colchester
Cornwall
Coventry
Crawley
Cumbria
Derby
Derbyshire
Devon
Dorchester
Dorset
Dover
Dumfries and Galloway
Dundee
Durham
Dyfed
East Sussex
Edinburgh
Ely

Essex
Exeter
Fife
Folkestone
Glasgow
Gloucester
Gloucestershire
Grampian
Greater Manchester
Guildford
Gwent
Gwynedd County
Hampshire
Hemel Hempstead
Henley
Henley-on-Thames
Hereford
Herefordshire
Hertford
Hertfordshire
High Wycombe
Highlands and Islands
Humberside
Inverness
Ipswich
Isle of Wight
Kent
Kingston upon Hull
Lancashire
Lancaster
Leeds
Leicester
Leicestershire
Lichfield
Lincoln
Lincolnshire
Lisbon
Liverpool
London
Lothian
Luton
Maidenhead
Maidstone
Manchester
Merseyside
Mid Glamorgan
Milton Keynes
Newbury
Newcastle upon Tyne
Newport
Newry
Norfolk
North Yorkshire
Northampton
Northamptonshire
Northumberland
Norwich
Nottingham

Nottinghamshire
Oxford
Oxfordshire
Peterborough
Plymouth
Poole
Portsmouth
Powys
Preston
Reading
Reigate
Ripon
Rutland
Salford
Salisbury
Sheffield
Shropshire
Slough
Somerset
South Glamorgan
South Yorkshire
Southampton
St Albans
St David's
Staffordshire
Staines
Stirling
Stoke-on-Trent
Strathclyde
Suffolk
Sunderland
Surrey
Swansea
Swindon
Taunton
Tayside
Telford
Truro
Tyne and Wear
Wakefield
Warwickshire
Watford
West Glamorgan
West Midlands
West Sussex
West Yorkshire
Westminster
Weymouth
Wiltshire
Winchester
Windsor
Wolverhampton
Worcester
Worcestershire
Wrexham
Yeovil
York
www.denios.co.uk
Related Products and Services
Hazardous Storage - Indoors

Hazardous Storage - Outdoors

Hazardous Materials Handling

Spill Kits & Absorbents

Tank systems

Gas Cylinder Storage

Work Safety Equipment

Thermotechnology

Site Equipment

Site Signage

IBC Storage

IBC Spill Pallets

Safety Barriers

Tipping Skips

Bespoke Hazardous Storage Containers

Containment Shelving

Bunded Spill Flooring

Gas Bottle Cages

Waste Collection Bins

Eye Wash Stations

Workplace Matting

5

stars based on

5

customer reviews
Write a review
By Rob Leake , Hampshire Cosmetics
This technology has improved both our operational performance and our departmental GMP as well as providing us with a cost saving. At the same time it has helped us in cutting down on our carbon emissions and is an important part of the range of improvements Hampshire Cosmetics is putting in place to take the company forward. The overall effect is that we now have a much better managed and planned heating and storage procedure cutting raw material melting times by two thirds as well as creating more space, a better visual impression and greatly improved our operational efficiencies. Given our position as one of the leading producers of Toiletries and Cosmetics for a very wide range of customers, it has been a crucial and very successful decision to acquire the focused Denios technology.
Was this review useful?


By Chris Warburton , SKF Bearing
We now have a much better managed and planned storage procedure, which has created more space and a better visual impression, as well as meeting the strict insurance criteria which equally dovetail with the pertinent HSE guidelines. Another thoughtful touch was to have a small general cabinet installed within the main building so that we have a ready supply of oil available at all times. Given our position as the foremeost manufacturer of dedicated bearing systems for all manner of civil and military aircraft, it has been a crucial and very successful venture to acquire the bespoke Denios technology.
Was this review useful?


By Keith Butler , Coopervision
They are a very sound company and they know exactly what is required. The larger units mean more storage in less space and this has contributed to the tidier look of the area as well as increased traffic space and easier movement. We can now split the cabinets so as to have one dedicated for waste and the other for working ongoing IMS. And other major benefits include the easy gliding sliding doors being oblivious to windy weather conditions and the large integrated sumps tanks. The latter are especially important to prevent spillage and pollution. All in all it has been a very successful and multi faceted project.
Was this review useful?


By Mr Taberner , Jones Stroud Insulations
Only Denios were able to provide different types of containers for varied contents and I was very comfortable that they know what they are about. The numerous epoxy resins and solvents involved include Toluene, Xylene, Acetone, White Spiirt and MEK. The area has been transformed. It nows looks much more modern and cleaner which impresses our customers, the Local Authority and the Environment Agency. And interestingly I have also noticed a distinct improvement in staff morale as they realise that we are a thoughtful and progressive company, concerned with keeping our people and the environment safe.
Was this review useful?


By Frank Wilkin , SCIGRIP
From day one, the DENIOS Hot Box has been an outstanding success. It gives us a more centralised and monitored system and saves considerable space and especially time for bringing all manner of substances such as sensitive waxes up to the ambient level. I am delighted to also say that the HSE are also very impressed and appreciative of our safety efforts, which certainly meet their standards. In conjunction with the DENIOS system containers, we have a truly integrated and professional-looking storage system to consolidate our efficiency and quality.
Was this review useful?


Associations
Key Contacts

Miss . Clare Reece-Evans
Internal Technical Consultant Manager
Tel: 01952822241
Email: sales

denios.co.uk

Mr . Simon Kelsey
Head of Technical Consultants UK & Ireland
Tel: 01952822241
Email: sales

denios.co.uk
Payment Methods
Visa
Visa Debit
Cheque
BACS
MasterCard
Paypal
Opening Hours
| | |
| --- | --- |
| Monday | - 8:30 to 5:00 |
| Tuesday | - 8:30 to 5:00 |
| Wednesday | - 8:30 to 5:00 |
| Thursday | - 8:30 to 5:00 |
| Friday | - 8:30 to 4:00 |
| Saturday | - Closed |
| Sunday | - Closed |