Todays Opening Hours
Wednesday : 8:30-5:00
closed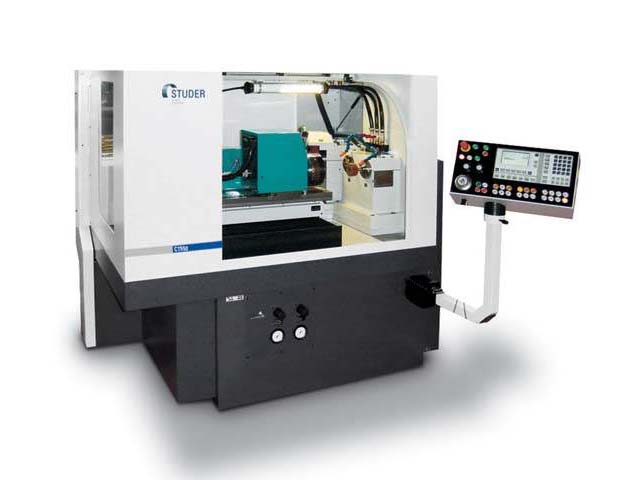 .
.
.
Exclusive Sales Agents for STUDER, SCHAUDT & MIKROSA
Advanced Grinding Supplies Ltd represent and supply products from leading Swiss, German and Italian manufacturers of CNC Machine Tools, Equipment, Tooling and Consumables in the engineering industry. Our main aim is to work closely with you to supply top quality products and CNC Machine Tools to meet individual requirements.

First established back in 2002 as agents for the Precision Cylindrical CNC Grinding Machine Tool Manufacturer Fritz Studer AG, as their exclusive Sales agents in the South West UK & South Wales. We have moved forward to now also represent Schaudt, Mikrosa and Combitec Grinding machines who are all part of the Schleifring Group of companies in the Cylindrical CNC Grinding Machines division.
As well as the CNC Machine Tools, we aim to be able to meet the many different needs of our customers by also supplying the full range of additional equipment, tooling and consumables not only to fit Conventional and CNC Grinding machines but for all CNC Machine Tools. To do this we have teamed up with companies like Losma, Bruckner, Technologie FRB to supply their complete range of products.

Cylindrical and Centreless grinding machines from the Schleifring Group of Companies including:

Company Videos

Fritz Studer AG, Grinding Machine
Manufacturer Introduction Video

Losma Introduction Video Presentation

Studer CNC & Manual Cylindrical Grinding Machines for:

- Manual Universal Grinding
- CNC Universal Grinding
- CNC External Grinding
- CNC Internal Grinding
- CNC Combination Grinding & Hard Turning
- Fully Automated Production CNC Grinding

Capable of: -
- Cylindrical Grinding
- Form / Un-round Grinding
- High Speed Form Grinding (Internal & External)
- Thread Grinding (Internal & External)
- High Speed / peel Grinding
- Contour Grinding
- Punch Grinding
- Combined Hard Turning & Grinding

The internal grinding machine tool manufacturer Combitec was taken over by Fritz Studer and their range of internal grinding machines have been fully integrated in the Studer range which means that the Studer machine range also includes capacity for:

- Radius Grinding with full CNC workhead swivel during grinding
- Sapphire Grinding
- and much more...

To find out more Click Here

Schaudt

CNC Cylindrical & Camshaft / Crankshaft Grinding Machines for:

- CNC Universal Grinding
- CNC External Grinding
- CNC Internal Grinding
- CNC Combination Grinding & Hard Turning
- Fully Automated Production CNC Grinding

Capable of: -
- Cylindrical Grinding
- Form / Un-round Grinding
- Camshaft & Crankshaft Grinding
- High Speed / peel Grinding
- Contour Grinding
- Combined Hard Turning & Grinding

To find out more Click Here

Mikrosa CNC Centreless Grinding Machines for:

- Centreless Grinding
- Combination between Centres & Centreless Grinding
- Fully Automated Production CNC Centreless Grinding

Capable of: -
- Through-feed Centreless grinding
- Plunge-cut Centreless Grinding
- Diameter Grinding of Taper Rolls in Through-feed Grinding

To meet your needs for Coolant and Mist Extraction / Air Filtration we for many years now have been a main distributor of Losma. Which means that we are able to supply their full range of products including consumables and spares many of which we keep in stock in the UK.

To find out more Click Here

Losma Filtration Systems for:

- Coolant Filtration (Stand alone or Centralised systems)
- Mist Extraction (Stand alone or Centralised systems)
- Electrostatic Filters
- Dust Extraction
- Magnetic separators
- Portable Oil Fine Filtration Systems

Whether you need a Basic Paper-band coolant filtration, media free Coolant Filtration, Magnetic separation or a Centralised Coolant Filtration system for multiple machine tools the wide range of Losma products will have the best solution to meet your individual requirements.

We can offer standard Air Filtration / Mist Extraction systems or we can configure tailor made systems to meet specific requirements. We also supply spares and replacement parts for all of our systems along with replacement filters.

To find out more Click Here

Coolant Filter Paper:

We stock a wide range of Coolant Filter Paper in standard width and length rolls of various grades and filtration levels. We can also supply rolls to other non-standard sizes if required so we can supply filter media to fit any make and model.

Bruckner Precision Live & Dead Centres and Face Drivers:

All centres are available with various Morse Taper Shanks as well as other interface types like VDI Shank, Capto & Cylindrical Shafts. Known throughout the world for their High Quality, the Bruckner range includes:

- Carbide & Tool Steel Dead Centres
- High Performance Live Centres
- Spring Loaded Centres
- Adaptor Sleeves / Reduction Sleeves
- Hydraulic & Mechanical Compensating Face Drivers
- Carbidor © Coated Driving Centres
- Custom made Centres to suit your individual needs

Dressing Tools Both Natural Diamond and Synthetic:

We stock our own range of standard dressing tools which include Natural Diamond Single Point Chisels, Cone Type Tools, CVD Log Fliese Dressers, Grain Fliese & Needle Fliese Dressing Tools, PCD & CVD Dixi style dressing tips.

We are also able to manufacture dressing tools to suit your individual requirements. If you need to replace a worn out dressing tool, if your current dressing tool is not doing the job or if you would like something special we are happy to manufacture 1off or 100ís.

Grinding Wheels and a full range of Abrasive Products: -
We can supply a Full Range of Abrasive Products including Grinding Wheels from manufacturers including Flexovit, Norton, Hermes, Winterthur to name a few, Cloth / Paper Belts, Fibre / Paper Discs, Mounted Points, Cut-off discs and much more.

We can also offer technical advise and recommendations on the correct abrasive product for your application.

www.adgrind.co.uk
Related Products and Services
Studer CT550

Studer S242

Studer S20

Studer S41

Studer S33

Losma Icarus

Grinding

Bruckner Live Centers

0

stars based on

0

customer reviews
Write a review
Associations
Key Contacts

Andrew Peirce
Office Manager
Tel: 0845 053 0340
Email: info

adgrind.com

Peter Harding
Managing Director
Tel: 0845 053 0340
Email: info

adgrind.com
Payment Methods
Visa
Visa Debit
Cheque
BACS
MasterCard
Paypal
Opening Hours
| | |
| --- | --- |
| Monday | - 08:30 to 17:00 |
| Tuesday | - 08:30 to 17:00 |
| Wednesday | - 08:30 to 17:00 |
| Thursday | - 08:30 to 17:00 |
| Friday | - 08:30 to 17:00 |
| Saturday | - Closed |
| Sunday | - Closed |