Todays Opening Hours
Wednesday : 8:30-5:00
Open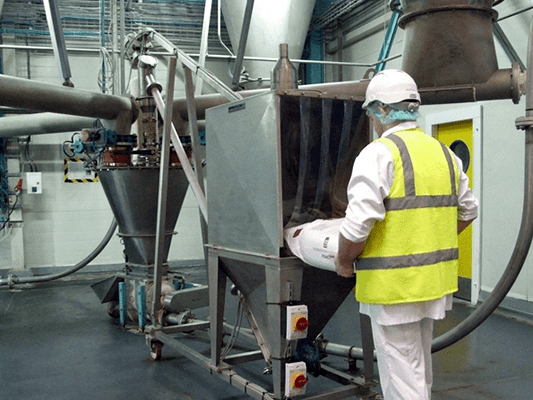 Powder Handling & Processing Systems
Spiroflow is one of the world's leading manufacturers and suppliers of equipment for the handling of dry bulk solids and ingredients in pellet, powder and flake form across a vast range of industrial sectors.

Spiroflow's main range of equipment and machinery includes Flexible Screw Conveyors, Bulk Bag Dischargers, Aero Mechanical conveyors, Bulk Bag Filters, Ingredients Handling, Tubular Cable and Chain Drag Conveyors and Weighing Machines.

Our equipment can be found in operation on global scale and is well known for its long working life and versatility, in fact it can be found in any environment where the demand for reliable operation is required.

Our market sectors range dramatically, from the chemicals and cosmetics to the minerals and plastics. Spiroflow fully understands the equipment needs of its customers and are able to design and create specific products to meet their individual requirements.

With over forty years of material handling experience Spiroflow have a proven track record and offer all of our customers a choice of conveyors to ensure the correct product is used at each part of your system.
Our Products
Flexible Screw Conveyors
Our flexible screw conveyors are exactly that... flexible! That because they are designed to convey in every direction from vertical to horizontal. They can also be routed around fixed obstacles and other equipment and even through small wall openings. This equipment is perfect for lifting products from sack tip stations and storage bins and conveying materials at ceiling height to feed a line of packaging or process machinery. Main advantages of flexible screw conveyors include gentle product handling, greater hygiene, easy to clean and provide total containment.

For more on Flexible Screw Conveyors Click Here
Aero Mechanical Conveyors
Spiroflow's Aero Mechanical Conveyors have a tubular design which contains a wire rope assembly with evenly spaced polyurethane discs that move at high speed. The wire rope runs on specially designed sprockets on each end of the conveyor. The ropes action when travelling at this speed produces an air stream running at the same velocity, and as the material is fed into this airstream it is fluidized and transported to the outlet where it is centrifugally ejected. The advantages of this equipment allows round the corner configurations that can operate at any angle. It's also very easy to clean.

For more on Aero Mechanical Conveyors Click Here
Tubular Drag Conveyors
Our tubular drag conveyors are largely a development of the aero mechanical conveyors only operate with reduced clearances and running speeds and are designed for the gentle handling and installations that require multiple planes. They can be used to transfer friable bulk materials from single or multiple in feed points or multiple discharge points. They are also able to do this over a long distance with little or no damage.

For more on Tubular Drag Conveyors Click Here
Vacuum Conveyors
Spiroflow have spent many years in developing mechanical conveyors, yet we still recognise there is a need for vacuum or positive pressure pneumatic conveying and as a result these products have now been added to our portfolio. We have now established a range of Spiroflow Vacuum and Positive Pressure Pneumatic Conveyors for the European market. Equipment advantages include both multiple inlets and outlets, can operate at any angle and provide total containment of the product.

For more on Vacuum Conveyors Click Here
Bulk Bag Fillers
The Spiroflow range of bulk bag weighing and filling equipment is capable of up to 2000kgs and offers customers a range of models to meet most requirements. They are modular in construction and allow the operator to specify a range of options to meet their individual requirements both current and in the future. They are dust free and offer total containment, forklift bag removal and pallet truck removal options.

For more on Bulk Bag Fillers Click Here
Bulk Bag Dischargers
This equipment is known worldwide and has now brought about changes in bulk handling practises. Even the pharmaceutical industry are using these products to replace rigid IBCs. This is due to the advantages they offer in both hygiene and containment operation. Spiroflow are experts in high containment bulk bag filling and discharge systems and offer one of the most comprehensive range of equipment in the industry.

For more on Bulk Bag Dischargers Click Here
Bin, Bag and Drum Emptiers
As experts in this market Spiroflow are able to offer a range of products that are designed to empty bins, drums, sacks and bags with efficient and dust free operation. That means it is not only good for the health of the operator but also means less waste which results in cost savings. The range of Spiroflow emptiers allow for lifting and inverting drums, assisted lifting of bags and contain a dust extraction system that can be either through a central system or using a factory filtration unit.

For more on Bin, Bag and Drum Emptiers Click Here
Ingredients Handling Systems
At Spiroflow we understand the needs of our customers and know it is unlikely they are able to want an off the shelf conveyor and that is why we respond to their needs by using our skills and experience to provide turnkey systems with controls to meet the optimum level of the ATEX requirements.

For more on Ingredients Handling Systems Click Here

Spiroflow are here to discuss your specific requirements and can install, commission and provide you with full after sales support, service contracts and spares to provide you with peace of mind.
www.spiroflow.com
Related Products and Services
Bag Emptiers

Tubular Chain Drag Conveyors

Bulk Bag Discharger

Aero-Mechanical Conveyor

Flexible Screw Conveyor

Bin, Bag & Drum Emptiers

Vacuum Conveyors

Tubular Drag Conveyors

Ingredients Handling Systems

Flexible Screw Conveyors

Bulk Bag Fillers

Bulk Bag Dischargers

Aero Mechanical Conveyors

VAC

Spiroflow Ltd

0

stars based on

0

customer reviews
Write a review
Events & Shows

Key Contacts
Eleanor Spensley
Marketing Coordinator
Tel: 01200422525
Email: eleanor.spensley

spiroflow.com
Payment Methods
Visa
Visa Debit
Cheque
BACS
MasterCard
Maestro
Payment Terms
Pro-Forma
30 days
60 days
Opening Hours
| | |
| --- | --- |
| Monday | - 08:30 to 17:00 |
| Tuesday | - 08:30 to 17:00 |
| Wednesday | - 08:30 to 17:00 |
| Thursday | - 08:30 to 17:00 |
| Friday | - 08:30 to 17:00 |
| Saturday | - Closed |
| Sunday | - Closed |