Todays Opening Hours
Monday : 8:30 - 5:30
Open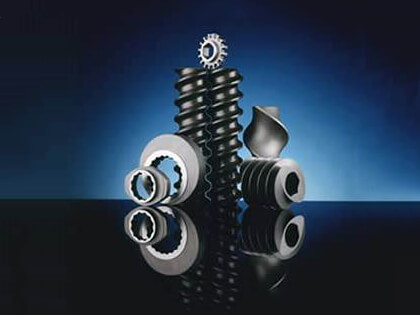 Extruder Vacuum Vent Port Stuffers, Screw Elements & More…
Screwtech Engineering offers a complete manufacturing service for high quality twin extruder components to a wide range of industrial sectors.

Our extensive knowledge and vast experience in this area has been gained over many years working with some of the UKs leading manufacturers of well-known products.

Today we offer a second to none manufacturing service along with advice, fast turnaround times and a range of practical solutions to meet their specific needs.

Working from a modern manufacturing facility based in the Forest of Dean, Screwtech Engineering's program of continual investment paired with a highly skilled workforce allows us to respond to our clients' needs fast and effectively so whether you require just the one off or a volume of hundreds we will respond.

Extruder Vent Port Stuffers - Vacuum & Pressure
The Self-wiping twin-screw design helps prevent material rising up the vent port.

...• Improved capacity
...• Minimise downtime
...• Precision tolerances allow full vacuum, removing moisture and volatiles
...• Allows screw configuration to be less critical
...• Maximised barrel length
...• High quality stainless steel for demanding environments
...• Easy cleaning
...• Oil filled gearbox with water cooled jacket
...• A range of sizes to suit a wide range of twin screw and single screw extruders
...• Tried and tested design used by many leading compounding and extrusion organisations

For more on Vent Port Stuffers Click Here

Screw Elements
All screw elements manufactured at Screwtech Engineering are produced from top quality corrosion and wear resistant steels with nitriding, stainless steels and other alloys available for specific customer requirements.

For more on Screw Elements Click Here

Barrels and Liners
Screwtech also provides a range of parallel barrels and liners which can be manufactured in lengths of up to 400mm. We can also design and manufacture bespoke parts along with modifications should our customers so desire.

For more on Barrels and Liners Click Here

Shafts and Tips
We are able to provide a wide range of shafts and tips so please do not hesitate to get in touch with your requirements.

For more on Barrels and Liners Click Here

Dies and Moulds
Screwtech Engineering also has the capabilities to design and manufacture by utilising the very latest in 3D CAD Modelling Software.

For more on Dies and Moulds Click Here

This is just a brief description of the wide range of screw element and vent blockage solutions Screwtech Engineering is able to provide so to find out more please visit our website or contact us directly.

www.screwtechengineering.co.uk
Related Products and Services
Screwtech Engineering

Extruder Vacuum Vent Port Stuffer

Dies and Moulds

Shafts and Tip

Screw Elements

Bespoke Screw Elements

0

stars based on

0

customer reviews
Write a review