Todays Opening Hours
Thursday : 8:30 - 5:30
closed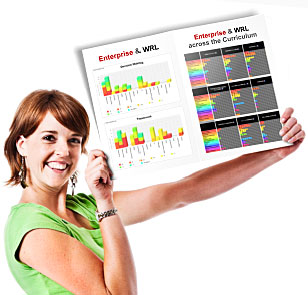 Enterprise Education & WRL
Hundreds of schools use GridMaker to plan and record their delivery of enterprise education, work related learning, PLTS and many other soft-skills.
How

does it work?
We create your Grid for you...


First of all - we setup your online Grid for you (most schools ask us to add enterprise skills, the QCA WRL criteria and the PLTS - but we can use any criteria you want).

Activities are mapped...


Now, in less than 60 seconds - anyone at your school can log in and map an activity to relevant criteria. Watch the short video below to see how quick and simple it is:

What

does it produce?

It produces an online Grid which can be shared with staff, parents, partner schools - even Ofsted when they come looking for evidence. (Many schools also link the Grid to their school website and VLE.)
---
It creates a cross-curriculum Grid which can be filtered to highlight activities by specific departments, subjects or year groups. (You'll be amazed how competitive staff become when the Grid reveals that other departments are 'more enterprising' than theirs.)
---

It generates bar charts and graphs to show exactly how skills are being covered across the curriculum. (We've know of many schools who download and print these charts to decorate their enterprise suites!)
---
It exports printable PDF reports containing the complete visual Grid as well as full text descriptions. These PDF reports can be downloaded, printed - or emailed as attachments.
---

Why

does everyone in the school like it?
| | | |
| --- | --- | --- |
| | | |
| Senior managers like it because it generates a central store of valuable evidence in one easily accessible place. | Teaching staff like it because it's extremely quick and easy to use and makes the most of work they're already doing. | Ofsted and parents like it because it opens a unique window on the entire school, revealing teaching and learning that normally goes un-noticed. |
What

do schools really think of it?
It's enabled the college to quickly review whole college enterprise without creating a mountain of paperwork and stress. Teaching staff and support staff alike can access the Grid and use it without fuss to provide a picture of all the activities and programmes that take place, ideal for tracking enterprise and citizenship

Ralph Plummer - Enterprise Coordinator
St Joseph's Catholic College, Swindon
Fantastic. Very user friendly, the staff prefer using it as it is such a simple system - so adaptable.

Karen Fingland - Enterprise Coordinator
Fulston Manor School, Sittingbourne
I saw it demonstrated at the Specialist Schools National Conference in Bristol. I telephoned and arranged a trial, which allowed me time to ensure that it was the right product for me. I have found it easy to use and the help and support is 2nd to none! Thank You.

Dawn McColl – B&E Manager
Falmouth School
A whole school monitoring system for our enterprise learning curriculum has quickly been established enhanced by its simplicity to manage and update. The Grid is proving to be a user friendly vehicle for all staff to record evidence of enterprise learning in an efficient and user friendly manner.

Ian Wilks - Assistant Headteacher
Bennerley Business & Enterprise College

Why

you should try it?
See the "big picture"


The Grid provides a clear picture of what's happening across the whole curriculum making it much easier to review existing policy and plan for the future.

Save time and reduce workload


The Grid enables all staff to record information in less than 60 seconds - much easier than trying to use excel spreadsheets or paper-based systems!

Avoid omission and duplication


The Grid shows exactly which skills are being covered by which activities - minimising the risk of duplicating some and completely omitting others.

Share best practice


The Grid creates an interactive map, dynamic charts and printable reports, allowing you to share information with the SLT, Oftsed, even parents!
FREE

trial accounts available.

We're so confident in the Grid that we are willing to provide you with a fully-functioning trial account. We'll even customise it for your school if you tell us which criteria you're interested in mapping against. To request your free, no commitment trial account - please email [email protected] or call us on 0115 9293419.
Related Products and Services