Todays Opening Hours
Friday : 9:00-5:30
closed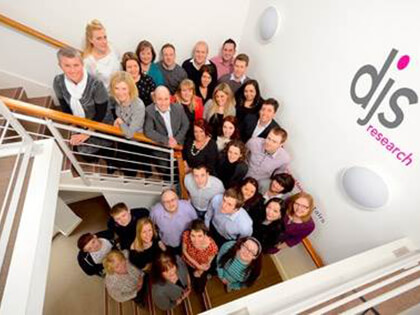 A UK-Based Market Research Company
Established Qualitative & Quantitative Market Research Company
DJS Research Ltd is an independent UK Market Research Consultancy based in the North West, High Peak (close to Manchester on the Derbyshire/Cheshire border), which was set-up in 2001. The agency is led by five Research Directors who carry out all elements of the research process from start to finish. We therefore offer very high standards of service at competitive rates. We can be contacted by revealing our telephone number or clicking on our website link (both above)

The Research Directors have worked within the research industry for a number of years (at least 12 years each) and have both agency and client side experience. We offer both qualitative research and quantitative research services - either a full service approach i.e. including the initial proposal through to fieldwork and the delivery of the results, or resource for a particular aspect of the research project.

For more info on qualitative research Click Here, for quantitative research services Click Here.

Bespoke Consumer & B2B Market Research Projects Run By Research Directors Only
Our main market research services include both consumer and business-to-business research, utilising the following methodologies:

For info on Consumer Market Research Click Here, for B2B Market Research Here.
Services
Qualitative Services:

   • Research Design
   • Depth Interviews
   • Accompanied Shops/Surfs
   • Quali Hall Tests
   • Focus Groups/Group Discussions
   • Online Research (web enabled groups/depths)
   • Analysis, Interpretation & Reporting

Quantitative Services:

   • Face-to-Face Interviewing (In-Home/Street/In-Store/Exit)
   • Hall Tests
   • Telephone Interviewing (CATI)
   • Postal and Self-Completion
   • Online Research (web surveys utilising panel respondents or online customer surveys)
   • Desk Research
   • Data Processing, Data Tabulations
   • Statistical Analysis, Interpretation & Reporting

Substantial Research & Sector Expertise
The consultancy conducts market research projects within a range of sectors including both the public and private sector, with clients such as United Utilities, Siemens Energy Services, Department for Education & Skills and Ufi / learn direct.

For more info on Public Sector Market Research Click Here, for Private Sector Market Research Click Here.

We do not have any 'off the shelf' products to sell, we treat each research brief we receive with a fresh pair of eyes and put forward a tailored approach. We also do not like to pigeon hole ourselves in terms of our offer because it is broad ranging. However, having said this, particular areas of expertise are:

   • Testing awareness/perceptions of brands and branded materials
   • Testing/developing products and propositions
   • Measuring customer satisfaction and loyalty
   • Advertising Research
   • Usage & attitude research
   • Website evaluation & usability

A Five Star Service
In summary, we offer:

   1) Seamless qualitative and quantitative research approach
   2) Experienced researchers and the personal touch
   3) No off the shelf products
   4) Consumer and business to business experience
   5) Overheads are low so prices are competitive
And Don't Just Take Our Word For It:
We have a number of client testimonials that can be viewed on our website.

Satisfied & Loyal Clients
After the completion of our projects we send out a client satisfaction form. All of our clients have indicated that they were satisfied with us and 90% indicated they were very satisfied. In addition, during 2007 we analysed how many of our clients were previous repeat clients and we found that 90% fell within this category.

Projects Conducted To Industry Standards
Any project that we undertake is conducted under the strict rules of the Market Research Society (MRS). All consultants at DJS Research Ltd are members of the MRS and have been so since starting their careers in market research. We are also members of ESOMAR (world organisation for enabling better research into markets, consumers and societies) and AIMRI (Alliance of International Market Research Institutes). In addition, we are registered under the data protection act.
UK, European and International Coverage:
| | | | | | |
| --- | --- | --- | --- | --- | --- |
| North East | Yorkshire & Humberside | East Midlands | Eastern | South East | London |
| Newcastle | Bradford | Leicester | Essex | Buckingham | Greater London |
| Durham | Leeds | Nottingham | Bedford | Oxford | North London |
| Middlesbrough | Hull | Derby | Hertford | Kent | South London |
| Sunderland | York | Northampton | Cambridge | Brighton | |
| | Halifax | Lincoln | Norfolk | Surrey | |
| | Sheffield | | Suffolk | Berkshire | |
| | | | Norwich | Hampshire | |
| | | | | West Sussex | |
| | | | | East Sussex | |
| | | | | Southampton | |
| | | | | Milton Keynes | |
| | | | | | |
| | | | | | |
| South West | West Midlands | North West | Wales | Scotland | |
| Cornwall | Birmingham | Manchester | Cardiff | Edinburgh | |
| Devon | Coventry | Liverpool | North Wales | Glasgow | |
| Dorset | Warwick | Chester | South Wales | | |
| Gloucester | Stafford | Blackburn | Swansea | | |
| Somerset | Worcester | St. Helens | | | |
| Wiltshire | Hereford | Lancaster | | | |
| Bristol | Shropshire | Cumbria | | | |
| Plymouth | Wolverhampton | Carlisle | | | |
| | | Preston | | | |
www.djsresearch.com
Related Products and Services
Market Research Agency

Market Research Agency

Market Research Agency

Some of Our Clients

The Balloon Launch From our Office Opening.

Our Industry Memberships

5

stars based on

20

customer reviews
Write a review
By Saint-Gobain ,
After the project briefing, Charlotte of DJS took ownership of the project and handling the process from start to conclusion in a very professional manner.
Was this review useful?


By Severn Trent Water ,
It's been an absolute pleasure working with you both (Alex McCluckie and Ali Sims) on this project. You clearly understood our (lengthy!) brief, you have an in depth understanding of our industry and gave us the insight and actionable recommendations we need. Thank you!
Was this review useful?


By The Honest Brand Ltd ,
We were very impressed with DJS. They responded to our unique survey request, charged a fair fee, kept us informed throughout the process and were professional and knowledgeable on the style of survey questions. We would definitely use them again.
Was this review useful?


By Charitable Trust ,
I commissioned DJS Research to undertake a series of telephone interviews with stakeholders and was impressed by their astute interpretation of the brief and their recruitment of participants. The team produced a high quality report that has been very useful in our strategy development process. James and Emma were great to work with and very responsive to our needs. The project was good value for money and I would have no hesitation in recommending DJS Research.
Was this review useful?


By Futures Coaching ,
DJS are research experts with customer facing appeal.
Was this review useful?


By Leisure & Tourism ,
DJS were there to help when I had an extremely short deadline to turn around some research for the business. They were very enthusiastic and supportive and provided a great debrief at the end of it. I'd definitely use them again!
Was this review useful?


By Capespan ,
The team at DJS Research have worked diligently to understand our needs and deliver actionable insight. The robust research methodologies and quick learning of the team have all helped to deliver against our research objectives. Both ourselves and our Retail customers are delighted with the output and will definitely be using DJS for future projects.
Was this review useful?


By Engineering Council ,
It was a pleasure to work with such a professional team. David was very approachable and quickly understood our requirements; the interviewers did a great job in overcoming language barriers and maintaining the interest of the respondents despite the length of the calls.
Was this review useful?


By London Borough Council ,
I found the service we received from DJS Research second to none. From the time of our initial contact to the submission of their final report I found them professional, enthusiastic and well informed. They responded quickly to queries and suggested creative solutions to challenges during the lifetime of the project. They handled a very sensitive project respectfully and with a mature and understanding approach. I would have no hesitation in recommending them to another organisation and engaging their services again.
Was this review useful?


By Sixth Form College ,
We were very impressed with DJS research from first contact all the way through to the end of our research project. Their understanding, insight and enthusiasm was very helpful and we found at every stage communication was excellent and responsive. The quality of the final report was superb with a high level of detail and analysis which gave us the evidence to refocus our marketing plan with confidence.
Was this review useful?


By UCAS ,
DJS impressed me with their expertise and enthusiasm from the moment their proposal landed on my desk. The focus groups were carried out to a tight timescale and the research answered all of our questions. The debrief was excellent - with actionable insights and clear recommendations. I couldn't ask for any more!
Was this review useful?


By Sport England ,
DJS helped us to explore a complex issue in a way that felt relatable to colleagues who don't 'live and breath' research. The team gave us a really helpful strategic steer, as well as great day-to-day project delivery. The resulting piece of work is attractive, accessible and valuable.
Was this review useful?


By Major UK Water Company ,
The team at DJS were a pleasure to work with and the project ran exactly to plan, and provided great insight into a substantial piece of work we are doing to improve the Customer Experience. We'll be able to make some sound recommendations and business decisions based on the insight, ensuring we're prioritising and investing in initiatives that our customer value most. I would most definitely recommend them and look forward to working with them again in the future.
Was this review useful?


By Saint-Gobain ,
DJS have never let me down, and in recent projects they have pulled out every stop imaginable to get the job done within ridiculously tight timescales. I always know that if I work with DJS I will get results and recommendations that are accurate and actionable, with creative presentations and analysis.
Was this review useful?


By The Residential Landlords Association ,
DJS took on our research project at short notice and with a very tight turnaround period. All deadlines were met and the results have been extremely useful in promoting our policy positions to influencers and stakeholders.
Was this review useful?


By SmartestEnergy ,
DJS Research was very professional throughout the process from briefing of the research to presenting back the findings. One of the particular highlights working with them was the efficiency in which they managed the program to a strict schedule and provided progress updates through the process. It was a pleasure working with Julie and Ali and I look forward to next years research and any other bespoke pieces that we require.
Was this review useful?


By Sprue Safety Products ,
Well managed and well presented by David who was very knowledgeable, in control of the presentation and unfazed by questions from senior members of the Sprue Management and Executive team. It was also great to have Kate on the team. We like her heading up the account, and welcome her confidence, experience, and insights.
Was this review useful?


By RM Results ,
We've been very impressed by the service DJS provide. Obtaining reliable, timely, detailed information to support decision-making is vital to us, and DJS have consistently delivered that; and have been very easy to work with throughout the process. I look forward to continuing to work with the team on future projects and wouldn't hesitate to recommend them to anyone looking for a high quality, responsive and professional market research agency.
Was this review useful?


By Independent Parliamentary Body ,
DJS provided a professional, flexible service and were able to get us a great response rate from a difficult population to survey (schools) at a very reasonable rate. I would highly recommend them
Was this review useful?


By FMCG Retail Client ,
DJS are responsive, reliable and recommended (by me)! They provide me with a regular flow of high quality respondents who fit the brief(s) well. We have used videos from these shoppers in many high profile customer meetings in 2014.
Was this review useful?


Associations
Key Contacts
Mr . Danny Sims
Managing Director
Tel: 01663 767 857
Email: dsims

djsresearch.com
Mr . Elliot Simmonds
VoicED Panel Manager
Tel: 01663 767 857
Email: esimmonds

voiced.org.uk
Mr . Alexandre Tatry-Gautier
International Business Development
Tel: 01663 767 857
Email: atatry-gautier

djsresearch.com

Mr . Alasdair Gleed
Research Director
Tel: 01663 767 857
Email: agleed

djsresearch.com
Opening Hours
| | |
| --- | --- |
| Monday | - 9:00 to 5:30 |
| Tuesday | - 9:00 to 5:30 |
| Wednesday | - 9:00 to 5:30 |
| Thursday | - 9:00 to 5:30 |
| Friday | - 9:00 to 5:30 |
| Saturday | - Closed |
| Sunday | - Closed |