Todays Opening Hours
Tuesday : 6:00-6:00
Open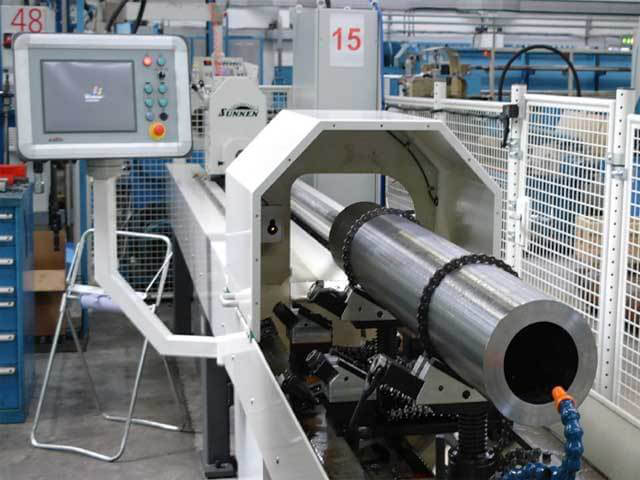 Leading UK Deep Hole Boring & Drilling Company
Originally formed as a sub-contract honing company, Hone-All Precision discovered a recurring problem experienced by the purchasers and specifiers of sub-contract machining:

In order to produce a single component, it was often necessary to involve several companies to complete it. This resulted in increased costs and administration and wasted valuable time. We became the UK's leading Deep Hole Boring Company specialising in Boring Services, Hole Boring, Deep Hole Drilling and much more...

The investment in new technology, CNC machine tools, deep hole boring and deep hole drilling equipment, premises and Inspection facilities was specifically tailored to ensure we could meet and exceed the requirements of our customers to ensure their & our competitiveness.

The Guide To Deep Hole
Drilling, Boring & Honing Costs

This investment also included working toward the Business Excellence Model, Best Practice, and Lean manufacturing techniques. These enabled new perspectives and processes to develop in order to ensure that our levels of service matched the unique and extensive range offered.

The result is a single source manufacturer able to supply materials and completely machine components up to 3 metres in length to the highest quality standards and within one facility. This ensures the control of cost and quality, effective communication and traceability second to none. This combined with a positive commitment to excellent customer service; effective communication through teamwork and partnerships ensures the highest standards of service and quality at the most competitive rates.

Deep holes are defined by a high ratio between hole depth and hole diameter. Deep-hole drilling is the preferred method for drilling hole depths of more than 10 x the diameter up to 150 x diameter.

Please Click Here to view our up to date blog page

CNC Turning

With a program of continual investment Hone All's range of state of the art and professionally maintained machinery means we are able to provide our customers with a CNC turning capacity of 550mm diameter and 4 metres in length between centres.

This capacity also means we are able to react immediately for our customers turning, trepanning and boring to precise tolerance requirements.

For more information on CNC Turning Click Here

CNC Honing

Having been the primary foundation of our business this key element remains at the forefront of the wide range of precision services Hone-All provide.

Investment in the very latest CNC honing technology enables higher stock removal whilst at the same time maintaining the precise standards of surface finish and geometry.

For more information on CNC Honing Click Here

Deep Hole Boring

Hone-All are masters of deep hole boring and able to provide you with the very ultimate solution where deep precision boring is required.

By using the latest cutting and machine tool technology Hone-All can achieve close tolerances, precise accuracy and surface finishes.

For more information on Deep Hole Boring Click Here

Deep Hole Drilling

With the best deep hole drilling machine technology we regularly achieve between 2mm and 25mm diameter hole drilling of up to 2500mm in depth.

This impressive range of machines allows us to provide our customers with a totally cost effective and fast response service for their specific deep hole drilling requirements.

For more information on Deep Hole Drilling Click Here

CNC Gundrilling

Where the demand for CNC Gundrilling is required we are the best.

Our wealth of experience, expertise and CNC technology means we can provide a service which often exceeds the requirements of our customers some of which include the aerospace, petrochemical, medical and automotive sectors.

For more information on CNC Gundrilling Click Here

Precision Rollers

As experts in this field Hone-All now manufacture the highest quality rollers and shafts for the print and packaging industry.

Perfectly balanced and machined to the highest quality our precision rollers and shafts are all machined and finished in house. This manufacturing facility means we can guarantee you a cost effective, accurate and prompt service for all of your needs.

For more information on Precision Rollers Click Here

Dynamic Balancing

One of the most important aspects of manufacturing precision rollers is Dynamic Balancing.

We have the expertise and capacity to provide you with the highest quality precision balancing service so whether you have a repair or a refurbishment project either for a one off prototype or even a production run we have over thirty years of experience in dynamic balancing.

Hone-All also provides a 24 hour repair and balancing service thanks to our dedicated night shift team so please get in touch for more information.

For more information on Dynamic Balancing Click Here

Corporate Videos

www.hone-all.co.uk
Related Products and Services
Boring Services

Deep Hole Boring

Hole Boring

Deep Hole Drilling

Deep Hole Boring Company

Hone All

Deep Hole Drilling & Boring

Honing

Gundrilling

Turning

Deep-Hole-Boring

Deep-Hole-Drilling

5

stars based on

6

customer reviews
Write a review
By Dave Wright ,
I would like to say if all companies were as conscientious, informative and professional as Hone All the industry would be a lot better place. My project in the scheme of things to yourselves was a straight forward job but one I could not do myself in my home workshop, I thank you for taking on my small cottage industry project you excelled. The shame is it was only a one off job for me, I would recommend you to anyone.
Was this review useful?


By Chris O'Sullivan , Delivery Project Leader, BP
It was extremely refreshing to walk into a supplier that cares about their customers and especially to see a solid effort made by everyone to ensure that the whole experience is positive. I was very impressed with the professionalism of yourself and it was clear, that is carried right through to the team working on the factory floor. This doesn't happen overnight and requires a certain level of dedication and passion at each level of the organization. I left today with a very positive feeling that next critical stage of this project is now in the right hands.
Was this review useful?


By Stuart Thornton , MD, Thornton Engineering
Thank you for taking the time to speak to me, I can only imagine how busy you are, and any correspondence regarding the Aero exhibition and your company has been greatly received. I always follow the press releases on Hone All with great interest as I find all information about your company very informative and interesting. While running and working for a small engineering company it is always very refreshing to read about other small businesses growing, and being able to extract useful information and ideas has been very beneficial. Some of the items from articles have been discussed and acted upon within my company. Sometimes the articles confirm and enhance existing ideas, and I find it quite reassuring to read that an idea does work elsewhere.
Was this review useful?


By Lara Green , Senior Buyer, Esterline, Racal Acoustic
Please can you pass on a huge thank you to all those involved in turning this job around in such a short timescale; It has been a pleasure working with you.
Was this review useful?


By Julian Hooper , MD, Sunnen Products Limited
Sunnen Products Limited have been dealing with Hone-All Precision Ltd for over 15 years and have found them to be a very forward thinking and progressive Company, this forward thinking has given them a well laid out and well organised new premises which has enhanced the way they conduct their business. When calling either in person or on the telephone to Hone-All you are always met with a friendly reception and an easy of manner, which makes it a pleasure to do business with. It shows the Companies forward thinking in achieving the accreditations they have I would like to wish them all the success in the future.
Was this review useful?


By Geoff Nelder , Head of Cranfield University Manufacturing Consultancy
It is rare to find a company that make the commitment to a long-term, rewarding partnership with the University. Hone-All is one of the exceptions and the benefits flow both ways. One area in which they have consistently invested and are always open to new ideas is staff development focused on continuous improvement of business and production processes.
Was this review useful?


Opening Hours
| | |
| --- | --- |
| Monday | - 06:00 to 18:00 |
| Tuesday | - 06:00 to 18:00 |
| Wednesday | - 06:00 to 18:00 |
| Thursday | - 06:00 to 18:00 |
| Friday | - 06:00 to 17:00 |
| Saturday | - Closed |
| Sunday | - Closed |