Todays Opening Hours
Wednesday : 8:00-6:00
closed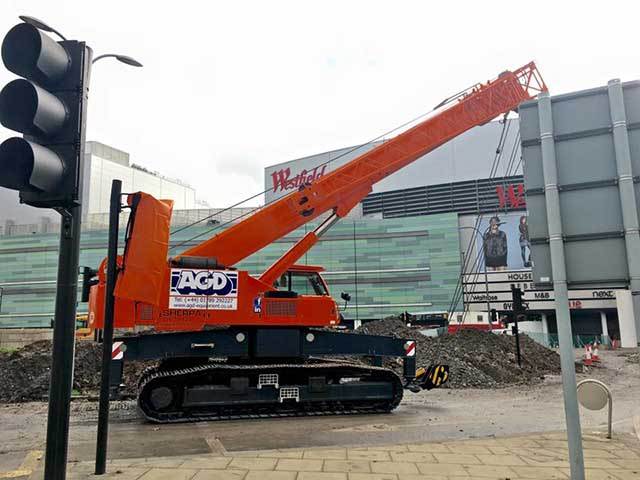 Crawler & Mobile Cranes, Soil Mixing Equipment & Piling Equipment

AGD Equipment Limited is a long established sales, rental and service company specialising in crawler cranes, mobile cranes and piling equipment.

Our establishment is one of the best in the industry, based in Stratford upon Avon, Warwickshire which is an ideal location to service the whole of the UK. Facilities include work shops, fabrication and welding shop with fume extraction and overhead crane, large wash bay, modern fully legislation compliant painting booth with baking oven, and the capability to paint equipment in 2-pack finishes.

Whether your requirement is simply to rent one crawler crane or piling rig for a short period; have one of your machines fully repaired and repainted; or need us to supply a complete fleet of crawler cranes, mobile cranes and piling equipment to a site on the other side of the world you will receive the same high quality, competitive and efficient service from our friendly and well trained staff.
Aerial video of AGD Equipment

Equipment Rental

AGD Equipment have offered hydraulic crawler cranes for rental for approaching 30 years. During this time our range has increased and we are now well established with a fleet of in region of 60 cranes.

Our fleet of lattice boom crawler cranes spans from 50 tons to 100 tons including 3 heavy duty models with high line pull winches designed specifically for piling and diaphragm wall grab applications in the 50, 80 and 100 tons capacity classes. These cranes can also be used to handle bored piling rigs, vibratory hammers and leaders.

We offer a large range of telescopic boom Crawler Cranes in the 25 tons, 40 tons, 50 tons, 70 tons and 80 tons class and a comprehensive fleet of mini cranes from 3 tons up to 10 tons capacity. Our entire fleet is available for hire with experienced and reliable CPCS accredited operators or if you prefer you may hire your crawler crane on a non-operated basis. We can offer operator familiarisation if required.

Equipment Available for Hire:

...- Telescopic Crawler Cranes
...- Crawler Cranes
...- Mini Cranes
...- CFA Piling Rigs
...- Telescopic Leader Rigs
...- Silent Piling Equipment including clamp cranes and super crush pilers
...- Sidegrip & Impact Hammer Rigs

Additionally we also carry a large fleet of ancillary items such as continuous flight augers, twin rotary heads and rig mounted pile presses.

All of our piling rigs are supplied with experienced and reliable operators with CPCS accreditation.

Our centrally located facility in the heart of the Midlands allows us to offer competitive mobilisation costs for crawler crane hire throughout the UK and the EU.

All backed by our Service Division which is also available for you to use to repair your own equipment. Either on site or at our purpose built premises.

To view the full range of equipment for hire Click Here

Equipment Sales

AGD Equipment are the largest supplier of construction equipment in the UK and have been selling construction equipment for 40 years.

We provide a comprehensive range of equipment:

...- Sennebogen Cranes
...- Marchetti Crawler Cranes
...- Marchetti Truck Cranes
...- Giken Silent Pilers
...- RTG Leader Rigs
...- Fambo Piling Equipment
...- Llamada CFA Piling Rigs
...- IHC Fundex Piling Equipment
...- NCB Foundation Equipment

To view available construction equipment Click Here

Used Equipment

We specialise in supplying used Crawler Cranes and Piling Equipment both in the UK and worldwide.

We are experienced exporters of used equipment and accept payment by letter of credit. Please view our latest stock on our website and email us with your requirements.

To view our range of used equipment Click Here

Videos

RTG RG21T telescopic leader rig installing pairs of Z piles in Withernsea

Llamada TCSP cased auger system

Pajot 1400 air hammer

Movax SG45 side grip vibro mounted on zero swing radius Hyundai excavator
on hire in Leeds

We are UK and Ireland distributors for:

Sennebogen - Crawler cranes and mobile cranes
Marchetti - Telescopic crawler cranes and truck cranes
RTG - Leader rigs & pile driving rigs
Giken - Silent pilers
Llamada - CFA piling rigs
NCB - Foundation equipment, drilling tools and casing accessories
Fambo - Hydraulic piling hammers and leaders
IHC Fundex - Mini piling equipment

www.agd-equipment.co.uk
Related Products and Services
Telescopic Crawler Crane Hire

Movax Hire

Sennebogen Cranes

Marchetti Crawler Cranes

Marchetti Truck Cranes

Giken Silent Pilers

RTG Leader Rigs

IHC Fundex Piling Equipment

Llamada CFA Piling Rigs

NCB Foundation Equipment

Mini Crane Hire

Telescopic Leader Rig Hire

Silent Piler Rental

Silent Piler Hire

Sidegrip & Impact Hammer Rig Hire

Telescopic Leader Rig Hire

CFA Piling Rig Hire

0

stars based on

0

customer reviews
Write a review
Associations
Key Contacts

Robert Law
Managing Director
Tel: 01789 292227
Email: info

agd-equipment.co.uk
Payment Methods
Cheque
BACS
Opening Hours
| | |
| --- | --- |
| Monday | - 8:00 to 6:00 |
| Tuesday | - 8:00 to 6:00 |
| Wednesday | - 8:00 to 6:00 |
| Thursday | - 8:00 to 6:00 |
| Friday | - 8:00 to 6:00 |
| Saturday | - Closed |
| Sunday | - Closed |