Todays Opening Hours
Sunday : Closed
closed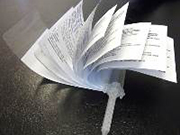 .
.
.
.
.
.
Welcome to Reel Appeal specialists in leaflet and booklet labels

By specialising in the manufacture of leaflet and booklet labels, Reel Appeal is able to make a real difference to our customer's sales. We recognise that the role of product labelling is the 'Ultimate point of sales' tool.

Communicating innovation and flexibility with our self-adhesive products, is very much at the forefront of Reel Appeal's aims. We pride ourselves on excellent customer service and with our very experienced production team there is nothing too big or too small. All of our products can be tailor made to fit your needs for size, colour, shape etc…

Leaflet & Booklet labels - "Peel open the possibilities"

Our leaflet and booklet labels help you to maximise valuable space on your product to promote, add extra legislation or even to become multilingual. This can all be achieved whilst adding to your products shelf appeal and strengthening your brands market position. This enables you to bring vital information direct to your customer's fingertips instantly improving their experience.

Your custom product labels can be tailor made to suit your specific requirements. We can supply labels from a 2 page leaflet to 32 page stitched booklets all full colour. We offer an option of a fully laminated top layer to our leaflet & booklet labels thus keeping the information inside protected against harsh environments.

All of our leaflet & booklet labels are produced in house by our experienced staff in conjunction with our sister company and lithographic supplier Brook & Learoyd.

Printed Colour Labels

Your labels can be just as important as the product itself to gain and retain your customer base. At Reel Appeal we understand that the quality and design can make all the difference between flying off the shelf and being left on the shelf. With this in mind we pride ourselves on producing high quality labels so your products will stand out from the crowd.

We can print up to 5 colours using our Flexographic press including in-line laminating, varnishing and die cutting. Along with our added Digital labels facilities we feel that we can offer everything that our customers require. In house we have a comprehensive range of finishing equipment to ensure that all our labels reach our customers as they requested and ready to use.

Digital Printed Labels

Digital label technology has revolutionised the label industry in recent years allowing customers to order short run work with the same great quality as you find with traditional printing methods. When ordering digital labels there is no minimum order quantity, we can produce like for like press proofs for product trials and it really lends itself to seasonal or promotional labels. There is no need for costly printing plates which can inflate short run label costs ensuring that we keep our prices competitive. With Digital we can change images with just a click of a button. At Reel Appeal we feel that flexographic and digital complement each other allowing us to offer a flexible approach to all your label requirements.

Waterproof Leaflet Labels

Our task is to print an eye catching label on a material that will shape with the container and remain perfect though out the life of the product, it needs to be 100% Waterproof. To achieve this, the labels are printed in 4 colour process and UV Gloss over varnish, onto a Gloss White Polypropylene material with permanent adhesive. This ensures the label sticks well to the container, repelled any water / moisture and gives a visually stunning appearance to what is not an overly glamorous product. Waterproof labels are essential for products like shower gel, bubble bath and other products like cosmetics that could require being near a source of water.

Full Colour Leaflet and Booklet Labels

Labels are used everyday on all manner of object, a label is an informative tool containing information that the customer may need to know, however labels are also a powerful advertising tool, a dull label will not catch anyone's eye. Coloured Labels really stand out, they can be made in any colour thinkable and really grab the customers attention, coloured labels come in any shape or size imaginable, we can produce coloured labels to suit your specific needs. Information, logos and much more can also be incorporated in to your coloured labels.

Variable Data Labels

For when you need to keep track for your promotions or competitions we can include variable data for winning codes, vouchers or for various prize levels etc… We can include variable data not only on your labels or the base of your booklet/leaflet label but actually inside the booklet or leaflet itself for example with a voucher book.

Tamper Proof or Security Labels

We can print on a wide range of tamper proof materials for many uses on different products where people might get the urge to try to change things like price labels for example. We also produce tamper evident booklet and leaflet labels that can show when they have been opened and may have been tampered with in cases when there might be a winning code or a certain voucher.

Barcode Labels

These are a necessity for near enough all products that we come into contact with and we can supply you with all the different variants of Barcode labels that you could need including the QR codes. We also can incorporate them into your booklet or leaflet labels if needed.

Domino's first N600i in the UK has Reel Appeal

 

www.reelappeal.co.uk
Related Products and Services
Booklet Labels

Waterproof Labels

Multilingual Labels

Leaflet Labels

Leaflet Label

Labels

Coloured Labels

Digital Labels

Mini Leaflet Labels

Leaflet Label

Leaflet Labels

Unique Label

Bespoke Labels

Waterproof Label

Waterproof Labels

Litho Printed Label

5

stars based on

3

customer reviews
Write a review
By Mark Gower , Private
As a first time customer of reel appeal, I've been massively impressed. As my label knowledge is very limited, reel appeal guided me through the process and pointed out the options available. The price supplied was very competitive and the delivery arrived before the deadline. The labels look wonderful on the finished product and sales have gone really well. Call me Paul, I need to place another order.
Was this review useful?


By Gareth Stone , Stonerig Raceway Ltd
I approached Reel Appeal to print some stickers for my business. Barry and his team where very helpful in their advice and their approach to the solution. The quality of the prints where excellent, this made a great impact on my customers. As a result other companies are advertising with us. "Thanks Barry great job.
Was this review useful?


By Liam Young , Procept Ltd
Thank you to all of the team at Reel Appeal for such a professional, reliable and beautifully customised service. As our first project in printing multi-ply leaflet labels, this has been a wonderfully smooth process led by Reel Appeal's expertise. The project was delivered ahead of schedule, at very reasonable cost and we will certainly be back for more.
Was this review useful?


News & PR
Reel Appeal installs first Domino N600i
THIS FAMILY RUN UK CONVERTER is looking to transform its conventional print business with the installation of the latest UV inkjet technology. Andy Thomas reports
Payment Methods
Cheque
BACS
Opening Hours
| | |
| --- | --- |
| Monday | - 9:00 to 5:00 |
| Tuesday | - 9:00 to 5:00 |
| Wednesday | - 9:00 to 5:00 |
| Thursday | - 9:00 to 5:00 |
| Friday | - 9:00 to 5:00 |
| Saturday | - Closed |
| Sunday | - Closed |