Todays Opening Hours
Wednesday : 9:00-5:00
closed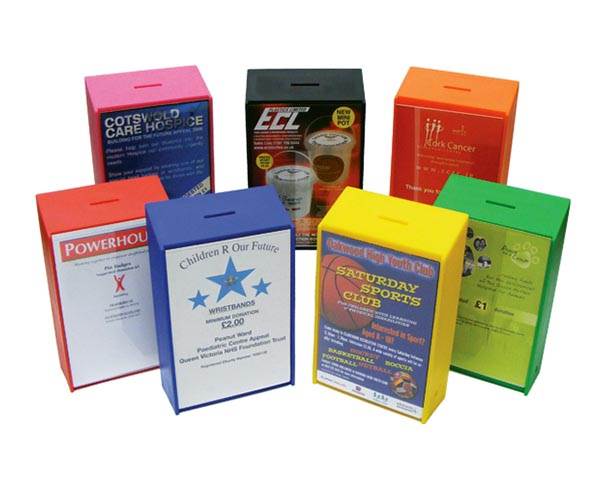 Welcome to ECL Plastics Limited

CHARITY COLLECTION BOXES & BUCKETS is what ECL Plastics Ltd is all about. Below you will find every sort of Collection Box manufactured for every occasion, Home use collection boxes, Counter use or Floor standing even collection in pubs with our exclusive Secure Street Collection Buckets, we stock most items for next day deliveries. Charity supplies such as Lapel Sticker, Sashes or a Tabard with your organisations name on. Click Through to our website to view our full product range.

PROMOTIONAL PRODUCTS
A full supporting backup with promotional products for fundraising resale. T-shirts, Pens, Keyrings, Mouse mats, Mugs, Teddies, you name it and we will supply it !

POINT OF SALE DISPLAYS
A full range of Leaflet Holders in plastic or card or a Special designed plastic display to merchandise anything.

CHARITY BUCKETS
Street secure with a lid attached by cable ties and a large label with, thanks for your donation on it. We hold large stocks in 8 different colours, all our lids are white. The buckets are 5.7 litres in size and stand 20cms High x 25cms Diameter.

HAND HELD COLLECTION BOXES
Stocked in four Colours, Red, Blue, Green and Yellow all have a carry Cord and are wasted in design for easy hold. These Come with a security label to go on top that says "Thanks For your donation". Strong and economical.

POSTER COLLECTION BOX
Produce your own A5 Poster and just slide it into the clear cover and you have Your own professional bespoke Collection Box. We Stock this item with different coloured sides, Red, Blue, Green and Yellow. Other colours available on special request. Fitted with a lock and key for security and could also be fitted with a chain if required. We can supply from one upwards !

PIN DISPLAY BOXES
With a clear A5 Poster holder to produce your own design. The money section has a lock and key and could be supplied with chain for extra security. Stocked with bodies in white with either, Blue, Red, Yellow or Green sides. Again if you need a special design, this could be produced for Your charity. Sell any product from this box. Buy from one upwards!

CARDBOARD, FLAT PACK DISPLAY BOXES
Incorporating a money section to the back of the box. A5 OR A4 size held in stock from one to thousands. Ideal for selling any products, Pins, Teddies, Pens Or sweets. We can provide a Back Printed Header if required on quantity.

QUALITY RANGE OF COLLECTION BOXES
House Shape, Disc Shape or our Mega Box, all made From non-toxic PVC, strong but with a soft touch, all Boxes have a lock and key and have a security point Should you wish to put a chain on. Most suit a sticker To be put on but some could be screen printed. Stocked in various colours or could be made in any Colour of your chose.

SPECIAL DESIGNED COLLECTION BOXES
We can produce any design as we do for many Of the Charity Market, please speak to us with Your requirements.

METRO BOXES
Recycled board cylinder Collection Boxes, that are economical and strong for use in Schools, Shops or at home. Two sizes to choose from 3"x 3" or 6"x 3"and in two colours, White or Blue.

MONEY BOXES
Over 150 different designs in stock. Most Banks, Building Societies, Financial Institutes Or Charities use our quality Piggy Banks, House shaped Money Boxes, Cubes, Animal Range of Boxes. All our Money Boxes come with a lock & Key.

LARGE COLLECTORS
We hold a range of floor standing collection boxes, such as our 3ft or 2ft Cylinders, great for receptions Or offices. Our Wood Collection boxes have a clear front to see the Money and look quality in Museums or at the Reception. We also stock a 3ft or 18" PILLAR BOX, used for collecting Anything! TOMBOLAS are also a stock item!

FLAT PACK HOME COLLECTION BOXES
One colour or full colour boxes, made to Your Specification, with a gift aid form underneath. We also hold stock of a plain small Home Collection boxes that we sell in any quantity.

LEAFLET HOLDERS
Produced in plastic or card, most Sizes are in stock for us to overprint or just sell plain.

TABARDS
Day glow Yellow & Orange in stock, T-SHIRTS, CAPS & RUNNING VESTS, made to Order, with a full supporting range of Promotional Clothing.

PROMOTIONAL PRODUCTS
For resale, exhibition or Just as a giveaway, we have a full brochure with prices on Request.

LAPEL STICKERS & STICKERS FOR COLLECTION BOXES OR WINDOWS
Minimum quantity of 5,000 we can do From one colour to full colour in various sizes. We produce a vast Range of printed stickers for all products.

ECL prides itself on GOOD SERVICE WITH A SMILE, please find below some very happy clients.

Boots, Asda, Tesco, RNLI, Sargent Cancer Care, BBC Children In Need Appeal, Lloyds Charitable Trust, St. Lukes Hospice, Manchester Dogs Home, Stroud & Swindon Building Society, Photo Corporation, NSPCC, Greggs Trust, My Travel, And we supply so many more big and small Companies, to many to mention.

www.eclplastics.co.uk
Related Products and Services
Coinstar Collection Boxes

High Impact Collection Buckets

A5 Leaflet Display Collection Box

Collection Buckets with Custom Labels

Bespoke Collection Boxes

Clear Collection Boxes

Coin Cascade Charity Boxes

Interchangeable Wall Mount Collection Box

Executive Vault Donation Box

Drum Charity Boxes

Custom Made Collection Boxes

Tower Collection Box

Donation Boxes with Leaflet Insert

Cube Collection Box

Plastic Counter Collection Box

Cardboard Counter Donation Box

Bespoke Collection Box Labels

Collection Bucket Security Chain

Promotional Charity T-Shirts

Branded Charity Vests

High Viz Tabards

5

stars based on

2

customer reviews
Write a review
By Karen Edwards , CareTrade Charitable Trust
Paul Just to say a big thank you to everyone at ECL for getting our collection boxes out so quickly. They looked good and Barclays Reach Comedy Club raised some £3,000 for CareTrade last night. Happy Christmas Kind regards Karen
Was this review useful?


By Get A-Head Charitable Trust ,
Just a quick note to thank you for the very prompt service you have provided. The collecting buckets and labels were delivered first thing this morning by TNT and are exactly what we wanted. In fact the first 7 buckets are going out tomorrow for a collecting day at our local Sainsburys store :) Once again thank you for he service and we will look to use you again in the future, as well as recommending you to others. Kind regards Anne-Marie
Was this review useful?


Events & Shows
Hospice Care: Fit for the Future 21- 23 October 2013
Key Contacts

Eddie Lewis
Managing Director
Tel: 0161 7666444
Email: eddie

eclplastics.co.uk
David Stott
Director
Tel: 0161 7666444
Email: david

eclplastics.co.uk

Paul Walker
Designer
Tel: 0161 7666444
Email: paul

eclplastics.co.uk
Payment Methods
Visa
Cash
Visa Debit
Cheque
BACS
MasterCard
Paypal
Maestro
Opening Hours
| | |
| --- | --- |
| Monday | - 09:00 to 17:00 |
| Tuesday | - 09:00 to 17:00 |
| Wednesday | - 09:00 to 17:00 |
| Thursday | - 09:00 to 17:00 |
| Friday | - 09:00 to 16:00 |
| Saturday | - Closed |
| Sunday | - Closed |