Todays Opening Hours
Friday : 9:00-5:00
Open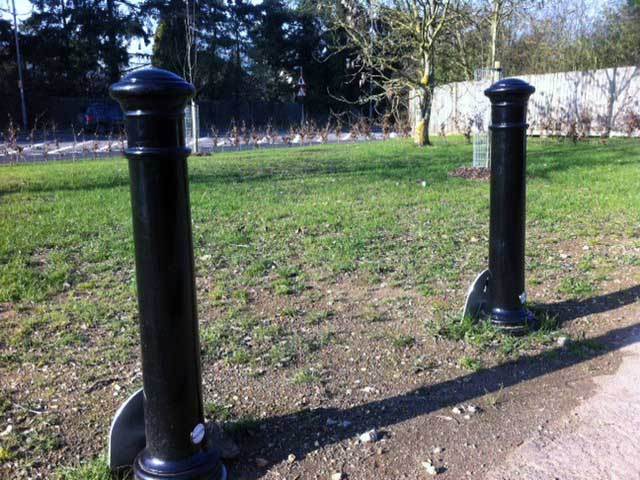 UK Suppliers of Bollards, Amenity Bollards and Road Signs
Street Furnishings Ltd has been developing and supplying an impressive range of street furniture products including bollards, barriers, parking posts, guardrailing and signage since 1989.

We are now the dynamic one stop shop for all UK equipment for highways such as road zebra crossings, street furnishing, road signs and more.
Traffic Bollards & Highway Maintenance Products
We are able to supply a wide range of products specifically designed for highway maintenance such as traffic bollards and signage.

Our range of high quality and robust signage products have been chosen to cover every application from standard give way signs through to no entry signs and local area directional signs. All street signage products supplied by us are manufactured in all grades of reflective and non-reflective material.

For more information Click Here
Decorative Bollards & Amenity Bollards
Under this category Street Furnishings Ltd offers a great range of decorative bollards which have been designed to meet virtually any application where bollards are required.

We supply fixed, fold down, removable and telescopic bollards for parking restriction situations, bollards to delineate areas in reflective, cast iron and wooden, stainless steel, concrete and recycled and polyurethane versions.

Bollards for directing traffic are also available for keep left signs, verge posts and cycle routes. We supply a range of bollards for protective purposes such as anti-ram raid, pavement protection and mild steel bollards.

We also provide range decorative bollards manufactured in fancy cast iron, wood and stainless steel.
Traffic Management, Temporary Signage, Roadworks Equipment
Under this category Street Furnishings is able to supply a vast range of products that are used in roadworks applications.

All products above are designed and manufactured to meet the `Safety at Street Works and Roadworks Code of Practice and Recommendations` contained in Chapter eight.

Additional equipment available includes, vehicle accessories, measuring equipment, workman tents, traffic lights and spill management kits.

To find out more Click Here
Pedestrian Guardrailing Crash Barriers & Fencing
We offer a wide range of pedestrian Guardrailing, rails and post combinations to cover an equally wide range of applications, from bow top fencing and palisade fencing to crash barriers for car park environments.

Guardrailing is well suited for applications such as children's play areas in recreation parks and with the use of high-vis colours with additional panels they are perfect for making routes to school safer particularly where motorists are met by the excellent visual reminders.
Amenity & Street Furniture
Street Furnishings supply cycle parking, public seating, signage and litterbins to cover a wide range of situations from the traditional park bench through to cycle stands, boundary signs and tree protection so to find our more please visit our website where you`ll find a number of PDF downloads available containing detailed information.
Car Parks & Access Control
We supply all types of bollards for restricting parking areas, road studs and white lining for parking bays etc.

These items include barriers, gates, traffic mirrors, access control systems, amenity lighting and speed ramps.

As far as car park maintenance is concerned we offer a range of quality grit bins, signage, wheel clamps, temporary barriers, cones and lamps etc.
Solar Powered Products
Street Furnishings is now able to offer a range of solar powered products including bollards, centre island refuge beacons and belsiha beacons. Further information on these products may be found by visiting our website.
Night Owl Bollards & Bounce Back Systems
Night Owl is one of our new products and offers a highly effective highway sign solution for both night and day use.

It utilises a fluorescent `Diamond Grade` material on the front and DG3 non-fluorescent material on the sign graphic itself.

Graphics can be applied to front and back of the bollard and importantly to the side edge providing a high level of transitional visibility.

For more information about Street Furnishings Ltd please visit our website or get in touch.
www.streetfurnishings.co.uk
Related Products and Services
Removable

Removable Bollards

Wooden Bollards

Slough Bollard

PU Manchester

Telescopic Bollards

Collapsible Bollards

Bollard

Traffic Bollards

Highway Maintenance Products

Decorative Bollards

Amenity Bollards

0

stars based on

0

customer reviews
Write a review
Key Contacts

Mr . Tony Bendall
Director
Tel: 01189 404717
Email: tonybendall

streetfurnishings.co.uk

Mr . Tony Barnes
Sales Director
Tel: 01189 404717
Email: tonybarnes

streetfurnishings.co.uk
Opening Hours
| | |
| --- | --- |
| Monday | - 9:00 to 5:00 |
| Tuesday | - 9:00 to 5:00 |
| Wednesday | - 9:00 to 5:00 |
| Thursday | - 9:00 to 5:00 |
| Friday | - 9:00 to 5:00 |
| Saturday | - Closed |
| Sunday | - Closed |