Todays Opening Hours
Friday : 8:00-5:00
Open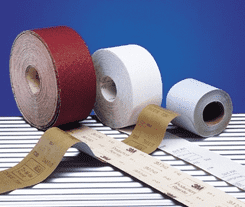 Suppliers of Wide, Linisher and Abrasive Sanding Belts & Discs
BND Abrasives & Tapes Limited is an abrasive belt converter & distributor of industrial consumables, Belts and Discs. We are based in Andover, Hampshire. Established over 30 years ago, BND is a family owned & run business supplying industrial tools & consumables throughout all sectors of industry, predominantly the woodworking, metalworking, aerospace & automotive industries. For over 15 years, BND has been the appointed UK converter for 3M Abrasive Systems UK, manufacturing & distributing custom sized abrasive belts & discs to 3M customers throughout the UK.

In late 2009 our website, www.bndabrasives.co.uk, was established as an online store to service customers requiring professional industrial tools & abrasives at trade prices.

In 2010, BND were also appointed a converter for SIA, manufacturing their full range of Abrasive Sanding Belts for SIA customers within the UK.
Wide Sanding Belts

Our in house abrasive conversion facility, enables us to offer custom sized sanding belts up to 10,000mm in length, in a variety of grades & minerals to suit every application, including Alumina Oxide, Zirconia, Ceramic , Silicon Carbide, Conglomerates or a combination in a variety of backings & weights. We stock a broad range of materials from a host of manufacturers, recognized throughout the world, such as Saint Gobain (Norton), SIA & Hermes. We also stock the entire range of linisher discs & 3M materials in the UK, including 3M Trizact™ & 3M Cubitron™, all with a 3–4 day turnaround.

To ensure the quality of our products, we stay at the forefront of advances in machinery & utilize regular testing methods coupled with controlled working conditions. We are also QMS ISO 9001 certified, this is a certification performed annually by an outside source. This verifies to customers that we manufacture products through specified processes & maintain quality at the highest standard.

To download our
Belt Builder PDF,
click the image below:

Please contact us on the contact details above for more information or Click Here

Abrasive Discs & Supplies

We stock a broad range of abrasive disks and associated consumables, for supply to various industries throughout the UK & Europe, this range includes not only discs but also sheets, hand pads, flap wheels, handy rolls and much more all from established manufacturers, in a wide range of sizes, grades & minerals to suit.

We offer a range of Nonwoven & 3M ScotchBrite™ products as well as an extensive range of bonded abrasive products including grinding wheels & points in various forms & compositions for all applications.

To find out more Click Here

Industrial Tapes & Adhesives

A comprehensive range of tapes & adhesives for all uses, ranging from general use packaging tape & spray adhesives to specialty items, such as VHB foam tapes & Industrial strength adhesives & solvents, all from reputable manufacturers such as 3M™, Nitto Denko™ & Tesa™.

For more information Click Here

PPE & Safety Equipment

Protective equipment such as dust masks & respirators in FFP1-2-3 ratings & specials for welding fumes etc. BND are also suppliers of anti slip surfacing products available in a variety of colours, sizes & forms.

I.e: rolls, sheets & cleats for stairs & walkways.

BND supply safety clothing such as eyewear, ear plugs & defenders, overalls & gloves for use in a range of industries.

Click Here to view our range

Industrial Tools

BND offer a range of professional pneumatic hand tools for all industries, including orbital sanders, die grinders, various belt sanders, pneumatic shears & nibblers & impact wrenches. We are authorized distributors for Dynabrade, Universal Tools, Nitto Kohki & 3M range of air tools. Also we offer electric tools from companies such as Fein, 3M & Black & Decker.

Full repair & parts service available on all pneumatic tools. BND also supply CEJN couplings, plugs, hose etc for air system installation & maintenance.

Static workshop tools such as belt grinders & Centreless grinding units available upon request.

Click Here to find out more

Non-Woven Handpads/Rolls

A range of non-woven handpads and rolls available ideal for effective blending and finishing applications.

For more information Click Here

Abrasive Rolls

BND Abrasives & Tapes Ltd is able to supply a wide range of abrasive roll in various sizes and specifications, choose from either cloth or paper backing, available in convenient dispenser packs.

For further information on Abrasive Rolls Click Here

Technical Wire Brushes

Hand brushes, bench mounted brushes, spindle brushes and angle grinder brushes available including a range of gauges of wire in stainless, mild steel and brass.

More information on Technical Wire Brushes can be found Here

Deburring/Unitised Wheels

These products are extremely tough and provide an aggressive cutting action for your deburring applications. Available in a range of densities, forms and grades.

Grinding Wheels & Tooling

We are also able to supply a comprehensive range of grinding wheels and tooling designed for industrial applications, deburring, machine mounted applications, bench mounted applications and surface grinding wheels. We also supply carbide burrs in a range of shapes and sizes.

Blending Finishing Mops/Brushes

We are a leading UK supplier of blending finishing mops and brushes including spindle, 3M Roloc & Keyway Arbour, non-woven finishing lap mops, stitch sisals, cotton stitch mops and loosefold mops.

Rubberised Abrasives

BND Abrasives & Tapes Ltd supply rubberised abrasives including mounted points and blocks all of which are available with a fast delivery service.

Compound Glazes & Polishing Accessories

We stock a wide variety of compounds, glazes and polishers for the industrial workplace from leading brands such as SIA, Chrome Finishing Products and Norton Ice.

Backing Pads & Accessories

BND Abrasives & Tapes Ltd offer a wide range of backing pads and accessories ideally suited for use with our other quality products all of which you will find are competitively priced.

BND Abrasives offer a comprehensive service to both end-users & distributors alike. Please contact us directly via the details above or via our online store, www.bndabrasives.co.uk.

www.bndabrasives.co.uk
Related Products and Services
Abrasive Rolls

Sanding Sheets-Strips & Pads

Sanding Belts-Bands

Backing Pads & Accessories

Abrasive Flap Wheels & Mops

Blending Finishing Mops-Brushes

Deburring-Unitised Wheels

Tapes & Adhesives

Sanding & Grinding Discs

Technical Wire Brushes

ScotchBrite™ Handpads-Rolls

Grinding Wheels & Tooling

Air & Electric Tools

Protective Equipment

Compounds, Glazes & Polishing Accessories

0

stars based on

0

customer reviews
Write a review
Approvals & Certificates

ISO 14001 Environmental management systems – Requirements with guidance for use

ISO 9001 Quality management systems
News & PR
Introducing Belt Builder
Exclusive to BND, our Belt Builder allows you to custom size and build your belts to your individual specifications.
Payment Methods
Visa
Cash
Visa Debit
Cheque
BACS
MasterCard
Maestro
Opening Hours
| | |
| --- | --- |
| Monday | - 8:00 to 5:00 |
| Tuesday | - 8:00 to 5:00 |
| Wednesday | - 8:00 to 5:00 |
| Thursday | - 8:00 to 5:00 |
| Friday | - 8:00 to 5:00 |
| Saturday | - Closed |
| Sunday | - Closed |