Todays Opening Hours
Tuesday : 8:00-5:00
Open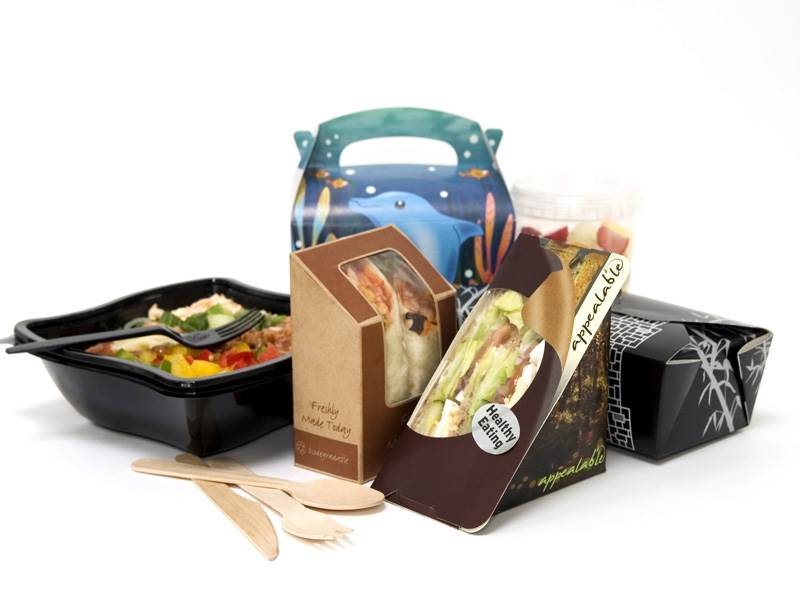 Leading Supplier of Industrial, Flexible & Biodegradable Packaging
R+R Packaging supply quality disposable packaging products. Based in the North East we deliver daily around the region and nationally via next day courier service. We stock a vast range of products available for next day delivery.

Our stock items include innovative food packaging, postal packaging, industrial packaging, cleaning and hygiene products and much more. If you are looking for a bespoke or branded item we have an in-house design service ready to realise your creative ideas.

Fresh food to go is easy with our stock range of innovative food packaging. We have a solution for every sandwich with same day or long life products available to hold wedges, tortillas, baguettes, bloomers and Panini's.

New business?
Why not tap into our experience in the food service industry and give us a call to discuss your food packaging needs. We stock a large range of food packaging perfect for the food to go market and can now offer bespoke printed cups on short runs with a turnaround time of 15 days.

R+R Packaging supply a range of Industrial packaging and Industrial Machinery helping your operation run efficiently. Contact us for bulk deals and bespoke Industrial solutions.
Bags and Carriers
Whether you're looking for carrier bags, disposable sacks, food bags or any other type of bag R+R Packaging offers a comprehensive selection of products designed to cover every aspect of your needs.

We even have a thick, high tensile bag for those applications requiring something a little stronger such as a bakery of green grocer so why not contact us with your specific requirements.

Perforated Bags
There's nothing more useful than the range of perforated bags from R+R Packaging. Options include size and thickness to cover all of your perforated bag needs.

White Paper Sandwich Bags
Whether you're providing a breakfast menu or sandwiches we can supply you with the perfect product to enable you to present your product in the right way.

Carrier Bags
You will not be disappointed when you browse through our range of carrier bags. We also supply a comprehensive range of eco-friendly bio- degradable bags.

For the complete range of Bags and Carriers why not take a look at our online shop, you'll be amazed at the choice.
Cups & Lids
When you serve drinks and soups you need the right lid.

When you use a cup or lid from R+R Packaging you can rest assured your hot beverages or cold drinks will remain in the cup every time.

R+R Packaging offer one of the largest ranges of cups and lids including Water Cones, Cup Carriers and Trays, Clear Plastic Cups and Smoothie Cups, Café Mocha Coffee Cups, Coffee Sleeves and many more.
Cleaning & Hygiene
No matter what your business you will always need cleaning and hygiene products to keep your establishment clean and safe particularly when working in a food based environment.

At R+R Packaging it is our aim to make that task as easy as possible.

R+R Packaging offers a wide range of cleaning and hygiene products including Cleaning Chemicals, Cloths, Sponges and Scourers, Disposable Gloves, Paper Towels, Mops, Buckets, Protective clothing and much more.
Food Packaging
When it comes to food packaging R+R Packaging can help you every step of the way with our vast range of products available that have designed to cover every area of your food packaging requirements.

It is our main aim to ensure there is a product here for everyone's needs regardless of what type of food your business deals with.

We offer an extensive range of innovative food packaging products including Shrink Wrap, Cling Film, Sandwich Packaging, Salad Containers, Soup Containers, Foil Containers and many, many more too numerous to list here so why not visit our online shop for more information.
Bespoke Printed Cups & Packaging
R+R Packaging offers a complete bespoke service for Printed Cups and Packaging.

So why not give your business that extra advantage with your own unique branded packaging.
We provide a no obligation quotation service so why not call for a quote today.

R+R Packaging offers a full range of cups including single wall and double wall suitable for both hot and cold drinks all of which can be printed with your design.
We print food packaging too!
Our bespoke printed food packaging service offers you the chance to display your brand across your product range including food wrappers, paper bags, sandwich packaging, salad boxes, and soup containers so why not get a quote today.
...
...
Supplier of Industrial, Flexible & Biodegradable Packaging
R+R also have another website dedicated to the supply of industrial packaging products, with items ranging from cardboard boxes to pallet wrapping machinery.

To take a look at R+R Packaging Industrial Packaging please Click Here
www.rrpackaging.co.uk
Related Products and Services
Biodegradable Food Packaging Supplier

Cups & Lids for Hot and Cold Beverages

Hygiene Products

Hand Stretch Film - Industrial Packaging

Custom Takeaway Packaging

Builders Sacks

Flexible Packaging - Custom Bags

Kraft Baguette Packaging

Kraft & Film Tortilla Packaging

Noodle Boxes

Delicious Soup Containers with Lids

Food Trays

Kids Party Boxes

12 oz Mocha Cups

0

stars based on

0

customer reviews
Write a review
Key Contacts

Elizabeth Raw
Administrator
Tel: 01670 546666
Email: elizabeth

rrpackaging.co.uk
Payment Methods
Visa
Cash
Visa Debit
Cheque
BACS
MasterCard
Paypal
Opening Hours
| | |
| --- | --- |
| Monday | - 08:00 to 17:00 |
| Tuesday | - 08:00 to 17:00 |
| Wednesday | - 08:00 to 17:00 |
| Thursday | - 08:00 to 17:00 |
| Friday | - 08:00 to 14:00 |
| Saturday | - Closed |
| Sunday | - Closed |