Todays Opening Hours
Wednesday : 9:00-5:00
Open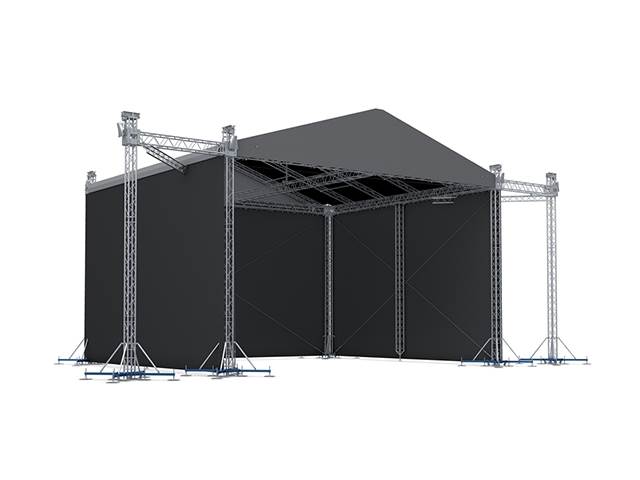 Structural Solutions with Flexibility to Adapt to Required Conditions
Milos Group is the world largest manufacturer of modular aluminium truss, Lighting Gantry and Staging Systems supplying a vast range of products for all events and environments from Retail to RockíníRoll.

Milos is please to provide FREE Design & Technical support to assist with the development of projects. Simply call, fax or email details of your project and we will provide accurate drawings / visuals and a QuickQuote by return.

Our QuickTruss technology is used in a wide range of our products to provide an extremely Quick, Simple and Secure assembly of structures without the use of nuts & bolts.
Products
Truss
The quick and easy to use aluminium truss systems from Milos offer significantly reduced assembly time along with trouble free installation.

The unique conical connectors and tapered pins have not only been specifically designed to allow ease of use but to provide a secure connection during your application. These Truss systems range from the M220 simple, light duty series to the 4GX-91 ultra-high capacity fork connection series.
Roofs
Milo Structural Systems offer a range of roof products to cover all of your small to medium sized outdoor events including our traditional and curved roofing profiles that offer quick assembly and teardown.

We also provide PVC canopies in a wide range of colours and designs. These systems install easily on any surface whether its grass, sand or asphalt.
Towers & LED Gates
Towers and LED gates from Milos utilise QuickTruss conical connectors to provide fast and easy assembly. All are customizable in both height and size and are compatible with all QuickTruss, xStage, Exhibition gantry and temporary roofing systems.

Winch options available include either hand or electrically operated systems.
xTruss
xTruss products from Milos allow you to expand on our QuickTruss systems to enable a wider range of applications whether its display lighting, media or space defining needs.

They provide the easy and flexible mounting of a diverse range of materials and formats to the M222 and M290 QuickTruss systems.
Cell Clamps
Hold your structures together safely and securely with our range of Cell clamps.

Cell clamps from Milos are manufactured from high quality aluminium for extended reliability and durability. Available in three sizes our Cell clamps are compatible with 48-51 mm, 32mm and 60m-63 mm diameter tubes.
Rigging Accessories
We offer a comprehensive range of rigging accessories to further complement our roof and tower systems, including shackles, eye bolts, adjustable chains, wire kits and mallets.

If by any chance you canít see what youíre looking for please get in touch we will be happy to help.
Crowd Barriers
All crowd barriers from Milos are TUV NORD certified and tested to 500kg/m.

These rigid barrier systems are quickly assembled with secure side entry location pins and secondary locks for panels, corner profiles and doors with durable anti-slip aluminium tread plate decks.

They provide the highest level of protection for your events so whatever your needs for crowd control, Milos can provide a system.
Mobiletech Lifts
Lift your hardware quickly and securely with our range of compact manual hand winch and telescopic mast sections.

The Mobiletech Lifts from Milos Structural Systems offer trouble free lifting in close to ground lifting situations with pin locking systems, rigid steel base and outriggers with integrated bubble level.
xStage
The xStage modular and portable stage systems from Milos are height adjustable, stable and easy to assemble.

Manufactured from high quality extruded aluminium they offer strength and extreme durability for all of your staging requirements. A range of additional accessories is also available to enable you to extend your applications.
T12
The new T12 modular display systems from Milos define spaces of all sizes whether itís a trade show, exhibition or trade show truss display.

It offers intelligent and minimalist design features that integrate radiant light, elegant curves and flowing graphic textiles while at the same time providing structural integrity for your display.
Stand Kits
Turn your vision of a custom exhibit stand into reality with a customised stand kit from Milos.
Our team of designers will assess your display plans and design a cost effective solution to differentiate your stand from the crowd.

All of our stand kits are designed to provide strength and durability without losing that eye catching appeal.
Banner Frames
We offer a comprehensive range of both indoor and outdoor banner frames which have been designed and manufactured to create an eye catching display for your potential customers.

Theyíre not only lightweight and easy to handle but also easy to store and offer quick assembly without the use of tools.
Ramps
Telescopic ramps, VAN ramps, folding ramps. ATV ramps, industrial ramps and bridges are all available from Milos Structural Systems to help you in your transport requirements.

They offer reduced storage space, anti-slip surfaces and can be used in both indoor and outdoor applications.
Special Projects
Milos also provide a number of special project requirements including the M290 and the M390 QuickTruss modular aluminium truss systems which have been specifically designed and manufactured to offer primary ballistic protection in dangerous area situations.

These structures can be clad with Kevlar panels and other types of protective materials to offer a high level of protection for military containers and personnel.
Markets
Our diverse product range and custom production facilities ensure a virtually limitless range of markets and applications:

Exhibition & Display
Lighting gantry / exhibition stands / modular displays / portable stands

Retail & Interiors
Kiosks / lighting grids / monitor gantries / specialist features

Entertainment / Theatrical
TV studio grids / line array towers

Events
Temporary structures / touring exhibits

MotorSport
Pit displays / fuel rig supports / pit perches / paddock hospitality structures

Church & Schools
Lecterns / projection screen frames / speaker towers
www.milos-systems.co.uk
Related Products and Services
Saddle Roof

Arched Roofs

Tent

Aluminium Truss

High Capacity Truss

LED Screen Structures

Steel Truss

Folding Steel Truss

Modular Ramps

Truss Totems

Glow Totems

Rigging Tower

Rectangular Lectern

Furniture

Crowd Barriers

Small Loading Ramps

Telescopic Ramps

Cell Clamps

Workwear

Milos Waterproof Jacket

Adjustable Chain

0

stars based on

0

customer reviews
Write a review
Associations
Key Contacts
Glen Brown
Sales & Marketing Director
Tel: 01945 410700
Email: glen

milosuk.co.uk
Payment Methods
Visa
Visa Debit
Cheque
BACS
MasterCard
Maestro
Opening Hours
| | |
| --- | --- |
| Monday | - 09:00 to 17:00 |
| Tuesday | - 09:00 to 17:00 |
| Wednesday | - 09:00 to 17:00 |
| Thursday | - 09:00 to 17:00 |
| Friday | - 09:00 to 17:00 |
| Saturday | - Closed |
| Sunday | - Closed |