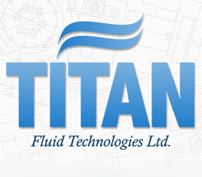 sales

titanft.co.uk
Phone: 0191 41 [Reveal]
Fax: 0191 415 9444
Welcome to Titan Fluid Technologies Ltd
Titan Fluid Technologies Ltd is a member of the British Fluid Power Distributors Association and is based in the North of England.

We are a major distributor of Bosch Rexroth hydraulic and pneumatic products. Bosch Rexroth is recognised as the largest manufacturer of hydraulic and pneumatic equipment in the world with a range of products second to none. Such has been our Company's success with this product that during the years 2008 and 2009 we had the largest monetary spend with Bosch Rexroth of all distributors in the area. We have continued to build upon this base during 2011. We offer the full range of Bosch Rexroth hydraulic and pneumatic components, plus of course the high level of technical support that this product requires.

Titan Fluid Technologies Ltd has a clear focus on engineering excellence and quality added services. We specialise in the design, build, installation, commissioning and repair of both hydraulic power units and pneumatic control systems, and the supply of associated components. Our product portfolio includes The Rexroth Bosch Group, Hydac, Flupac, Fawcett Christie, Ace Controls, Vickers, Festo, Norgren and our own branded Titan Cylinders.

As a company we have established an excellent reputation based upon a high level of technical expertise, integrity of product quality, and the ability to respond quickly to our customers varied requirements.

We have first hand experience of supply application solutions and complete systems to OEM customers in the Offshore, Marine, Machine Building, Power Generation, Automotive, Defence, Waste Paper and Petrochemical Industries.

Manufacturers and Products
Rexroth Bosch Group - Hydraulic / Pneumatic Components
Parker Hannifin - Hydraulic / Pneumatic Components / Fluid Connector Products
Hydac - Fluid Power Products
Koganei Pneumatics - Robotic Systems / Pneumatic Control Equipment / Fluid Power Products
Ace Control Ltd - Industrial Shock Absorbers
Fawcett Christie Hydraulics - Accumulators / Oil Coolers

For further information please visit our website
Related Products and Services