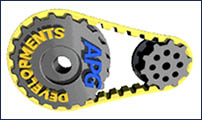 sales

apgdev.co.uk
Phone: 01634 7 [Reveal]
Fax: 01634 722 460
APG Developments - Suppliers of Timing Pulleys and Belts
Welcome to APG Developments, we are leading manufacturers and suppliers of Timing Pulleys and Belts in any materials, standard and to customer drawings.

APG have been established for over 23 years, we have a wealth of experience within the industry. We have our own manufacturing facility in Kent making us well placed to serve the whole of the UK. We have many machines at our disposal to give us a wide range of alternate methods of creating pioneering products.

All of our products are of the very highest quality achievable, are accurate in size and are always delivered as quickly as possible. It is our innovative use of CNC technology, Gear Shaping & Hobbing that gives us the ability to control production of our speciality products.
Quality Assured ISO9001
APG Developments - At the forefront of Special Transmission Products

Whatever products you are looking for we are able to produce them in almost any kind of fabric or material, we will tailor them to meet our clients specific needs and budget.

Our Timing Pulleys and Belts are suitable for a wide range of industries including; Engineering, Automotive, Manufacturing, Finishing and more...

If the standard sizes of our Pulleys does not meet your requirements we are able to alter the dimensions and correct standard sizes or ready made products. If you require more information about custom size Belts and Pulleys then please contact a member of our team who will be happy to help.

It it not just Timing Pulleys and Belts we can offer, we are also able to supply the following: Vee Pulleys, Toothed Bar Stock, Poly Vee Pulleys, Round Section Pulleys, Gears, Chain Sprockets and more...
www.apgdev.com
Related Products and Services