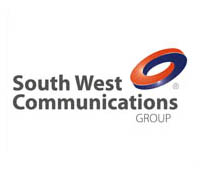 sales.enquiries

swcomms.co.uk
Phone: 01392 3 [Reveal]
Fax: 01392 360 011
Welcome to South West Communications Group
Established in 1983, South West Communications Group has been delivering innovative, secure, reliable and scalable communication solutions that address real business and customer needs without compromise for 30 years.




We are viewed as an all encompassing communications company that enjoyed industry award-winning status in 2010, having won the Comms National "Enterprise Vertical Solution" award, the Comms Business "Reseller of the Year" for large businesses and organisations and "Overall Reseller of the Year" awards and the Federation of Communication Services' "Communications Provider of the Year". We always strive to deliver high quality, high performance and well-managed solutions on time and within budget.

We have a wide customer base across the UK and specialise in the SME, MLE and the public sector market space. Our customers range from large corporate multi-site organisations to smaller, regional single site organisations. The variety of business types throughout the region leads to a varied customer profile; however, we are able to demonstrate significant success within the education, health, housing and local government sectors in particular.




We are headquartered in Exeter with regional offices in South Wales and Portsmouth. While we have the capability to deliver solutions on a nationwide basis (and indeed have several national account clients) our primary geographical areas of operation include the south and south west, the south Midlands and Wales extending east to London and down to Brighton.

Customer service
With 120 dedicated staff, more than 50% of whom are customer facing, the business has continued to demonstrate outstanding performance showing consistent growth and profitability throughout the years. Indeed year on year, nearly 60% of our new business comes from either existing users or from customer recommendations.

As a customer focused organisation, we offer 24-hour support backed up by a substantial holding of maintenance spares for all components that we implement for customers. We appreciate the amount of repeat and referral business that we receive and work hard to provide the levels of service required by our customers in order to retain their existing business and to receive additional business in return.

South West Communications Group continuously investigates and tests new and emerging technologies to ensure that we continuously develop and complement our existing solutions. With 27 years' experience in the field of telecommunications, we have developed a significant number of long standing and trusted relationships with key customers from all industry sectors through our ability to deliver on what we promise.

Solutions




Business telephone systems - We design, supply, install and support telephone systems for small and medium businesses through to large corporations and public sector organisations, including contact centre, unified communications, video conferencing, call recording and mobility solutions.

Calls and connectivity - We can meet all your connectivity needs including provision of fixed and mobile lines and minutes, business broadband solutions, geographic and non geographic inbound services and SIP connectivity together with online management tools and high level SLAs.




Data centre services – Our data centre is best in class for security, environment, power, fire prevention and network connectivity and can provide scalable, high availability, flexible solutions for all your server hosting, disaster recovery and data backup requirements.

Data network solutions - We are specialists in both fixed and wireless LANs, WANs and VPNs, often incorporating point to point microwave connectivity, wide-ranging WiMAX solutions and revenue generating WiFi hotspots.

Please visit our website for more information
Related Products and Services
Headquarters in Exeter, Devon

Business telpehone systems experts

Telecommunications equipment suppliers

Engineers throughout out catchment area

Server hosting and co-location in the data centre

0

stars based on

0

customer reviews
Write a review
Associations
Approvals & Certificates
ISO 9001 Quality management systems – Requirements
ISO/IEC 27001 Information technology – Security techniques – Information security management systems – Requirements
UVDB - Utilities Vendor Database
Key Contacts
Mr Harry Langley
Managing director
Tel: 01392 369369
Email: harry.langley

swcomms.co.uk
Mrs Sarah Flowers
Sales director
Tel: 01392 369369
Email: sarah.flowers

swcomms.co.uk
Mr John Holdstock
ICT director
Tel: 01392 369369
Email: john.holdstock

swcomms.co.uk
Mr Sean Doyle
Operations director
Tel: 01392 369369
Email: sean.doyle

swcomms.co.uk
Mrs Sarah Tadd
Finance director
Tel: 01392 369369
Email: sarah.tadd

swcomms.co.uk
Mr Brian Lodge
Group engineering director
Tel: 01392 369369
Email: brian.lodge

swcomms.co.uk
Opening Hours
Monday
08:00 to 18:00
Tuesday
08:00 to 18:00
Wednesday
08:00 to 18:00
Thursday
08:00 to 18:00
Friday
08:00 to 18:00
Saturday
Closed
Sunday
Closed