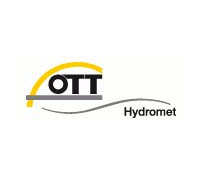 sales

ott-hydrometry.co.uk
Phone: (01246) 5 [Reveal]
Welcome to OTT Hydrometry
At OTT Hydrometry we design and manufacture specialised instrumentation products to monitor the planet's most precious resource… water, by providing essential tools for professionals to deliver the reliable and accurate data that is required to protect our environment. OTT`s measurement and communication technology applications encompass the complete water cycle, from precipitation through surface water and ground water to marine monitoring, providing a complete picture of the whole cycle. At OTT we are completely focused on what we do and are proud to have been market leaders in the field of hydro-metrology and water quality for over 130 years. This experience and expertise coupled with a continued investment program ensures the development of the most up to date technology solutions for environmental monitoring instrumentation.
Our Company
OTT UK Ltd is basically divided into three main divisions, being Technical Sales, Installation, Service and Rental of Hydrometric and Water Quality Monitoring Instruments. Our product range covers all aspects of level and flow monitoring, state of the art data loggers, sensors and software, hydrolab water quality instruments and the provision and installation of bespoke solutions. Being based under our parent company with accreditation of DIN EN ISO 9001, OTT`s highly efficient quality assurance program covers all aspects of the operation, from the early development stages and production processes, right through to the sales and installation of our products. OTT`s products cover a huge range of applications all around the world helping customers and measuring sites to transform their requirements into professional solutions and this is only achieved by working closely with our customers and providing the know-how from the strong in house sales and consulting team we have built for this very purpose.
About our Products
OTT ecology 500
A self-contained in well ground water level instrument offering flexible remote data transmission options.

Orpheus Mini
Groundwater data logger designed for reliable storage of water level and temperature for water management.

CTD
The professional groundwater data logger OTT CTD measures water level and temperature as well as conductivity.

Intelligent Top Cap
With OTT ITC groundwater data loggers can be economically upgraded to a complete data transmission system with alarm functionality.

Pocket PC
mall lightweight and easy to handle.

Thalimedes
Float operated shaft encoder with integrated data logger, designed for continuous unattended monitoring of water level in ground and surface water.

KL 010
Quick, simple and economic measurement of ground water level.

If you would like any further information on any of the products or services shown here please give us a call, e-mail us or visit our main website which contains more in depth information about our company and products.
www.ott-hydrometry.co.uk
Related Products and Services