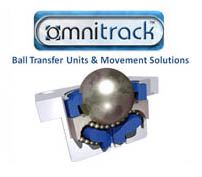 info

omnitrack.co.uk
Phone: 01453 8 [Reveal]
Fax: 01453 878 500
Welcome to Omnitrack
Omnitrack – Original UK manufacturer of heavy duty Ball Transfer Units. Family owned & run with over 100 years of experience offering innovative conveying & handling solutions. No minimum order charges, free technical advice & 'Specials' are no problem with on-site manufacturing.

High Capacity Ball Transfer Units:

Provides maximum precision & smoothest performance of all Omnitrack Ball Units. First patented in 1954 & in continuous production ever since, the innovative design of the interior mechanism supports the highest load capacity at any angle of orientation & has the longest service life available. Most units are user serviceable with material upgrades available to solve specific application requirements.

Medium Duty Ball Transfer Units:

The 'Metric' range is machined from solid steel bar & hardened for heavy load capacity & wear resistance. The reinforced machined steel top cap protects the unit against impact from misalignment of the conveyed item. Material upgrades are also available to suit a wide range of applications.

Light Duty Ball Transfer Units:

Our pressed steel light duty ball units are ideal for large conveying applications. The LP 'Plastic' units are non-magnetic, lightweight & offer complete corrosion resistance for pharmaceutical or hygienic applications. Alternative material options are available for most types to suit service in diverse operating environments.

Washdown / Air Cargo Ball Transfer Units:

'Washdown' solutions available across our ranges:

Our -Z 'Arduous Conditions' & -SS 'All Stainless Steel' High Capacity Unit material upgrades now feature an extra drain hole in the base of the unit to help eject contamination from the interior mechanism.


The MX 'Extreme' and MW 'Washdown' medium duty series have been specifically designed for the increasing weights of ULDs in the air cargo handling industry. Multiple drain channels allow contamination & fluid to exit the base of the unit easily.


Light duty LD32SS & LD32/3SS Ball Units are made entirely from stainless steel and feature 7 large drain holes in the base of the unit.

Spring Loaded Ball Transfer Units:

We recommend using High Capacity Spring Loaded Ball Units in applications where shock loading is a concern or uneven track conditions are likely. T Bars & B Bars that we tailor to your specific requirements are also available for effortless conveying of tools and dies on press & machine beds.

Omniball Ball Castor Units:

The innovative ball castor mechanism has provided the Omniball unit with a near-instantaneous directional change that solves the problems associated with the 'trail' produced by conventional castors. The plastic main ball minimises damage to fragile or soft surfaces such as wood, carpet or glass in 'ball up' or 'ball down' applications.

Omniwheel Conveyor Wheels

Choose Omniwheel for easy integration into your existing gravity or driven conveyor systems. This unit offers greater support for irregular or deformable items. 3 peripheral polyamide rollers rotating on stainless steel axles provide 360° of support for assembly lines, machine feed & packing areas when Omniwheels are coupled together. Also suitable for dirty, wet & dusty conditions.

Omnifloat Ball Castor Units

Engineered for handling sheet materials such as glass, the Omnifloat Ball Castor protects delicate or polished surfaces on conveyed items. Typically supplied in a 50% mix of 'left hand' and 'right hand' swivel to provide a neutral conveying plane and minimise turning bias. Replacement balls available and alternative materials can retrofit existing units for extended durability and service.

Omnitrack Ball Tables & Cargo Mats

Omnitrack Ball Tables, Cargo Mats and Turntables are bespoke solutions designed to solve your specific requirements. Contact our Technical Support Team by phone, email or instant message 'Live Chat' on our website to start devising your custom made solution.
Related Products and Services

0

stars based on

0

customer reviews
Write a review
Approvals & Certificates
ISO 9001 Quality management systems – Requirements
Payment Methods
American Express
BACS
Cheque
Maestro
MasterCard
Paypal
Visa
Visa Debit
Opening Hours
Monday
08:30 to 17:00
Tuesday
08:30 to 17:00
Wednesday
08:30 to 17:00
Thursday
08:30 to 17:00
Friday
08:30 to 17:00
Saturday
Closed
Sunday
Closed