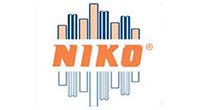 sales

niko.ltd.uk
Phone: 01926 8 [Reveal]
Fax: 01926 815 599
Niko Ltd is the UK subsidiary of Helm Hellas S.A. who is a leading European manufacturer. Niko specialise in the supply of lightweight overhead cranes, overhead conveyors, festoon supply equipment, sliding doors track and fittings and general lifting gear.

Lightweight Overhead Cranes

The Niko lightweight overhead crane kits are suitable for a wide range of lifting applications for safe working loads up to 2000kg. The modular design of these Niko cranes means they can be fitted into most working environments and can be suspended from the ceiling or from the floor. Low headroom versions of these cranes are available to make the best use of your workspace.

Overhead Conveyor Systems

An ideal solution for moving and storing loads within any working environment. The modular design means that Niko overhead conveyors can be tailored to your individual requirements. These systems integrate manual movement with localised powered travel to reduce your running costs and carbon footprint compared to continually powered travel conveyors. They also offer accurate repeatable load positioning, integration with your lifting equipment and utilisation of your storage space.

Jib Cranes

Niko manufacture a large range of jib cranes, built to your specification. They offer high performance and are ideal for lifting loads up to 2000kg SWL. Floor mounted, column mounted and wall mounted variations are all available depending on your needs. Low headroom versions can be made to offer you the best utilisation of your work area.

Festoon Supply Equipment

Festoon supply systems are used to feed power to overhead cranes and travelling machinery. Niko offer arrange of track sizes to suit both light and heavy-duty cables or hoses.

Enclosed Conductor Bar

Enclosed conductor bar systems are an ideally alternative to festoon supplies for applications where hanging cable is not appropriate. Niko stock a range of tracks with different current ratings depending on the application. The NCL range is lightweight, easy to install, and creates almost no drag on your travelling equipment.

A-Frame Portable Gantries

Niko A-frame portable gantries are ideal for lifting and moving loads without making modifications to your workspace. They are suitable for lifting loads up to 2000kg. Braked wheels ensure stability while lifting. Manufactured and designed to meet the individual needs of every customer.

Fall Arrest Systems

The 25.000 series Niko track has been tested and approved to EN795 for fall arrest applications. People working at height attach their fall arrest harness to this system and manoeuvre around a structure, should they fall this system will only allow them to drop within the parameters of their harness. It is ideally for window cleaning, maintenance and high ropes course safety applications.

Sliding Doors Track and Fittings

Niko track and fittings are ideal for hanging doors, there are a wide range of trolleys that allow you to create straight sliding doors, folding sliding doors, doors round corners. There are many applications for this product including industrial sliding doors, residential sliding doors, sliding partitions, sliding barn doors, wardrobes and cupboard doors, sliding curtains and sliding gates.

Scaffolding Runway System

This unique product to Niko enables the user to lift and move items around a scaffolding structure. It can cantilever over the edge of the scaffolding and lift a load from the floor to the top and traverse it into place. This is commonly used within construction industries for fitting windows, cladding and lifting tools.
Related Products and Services

0

stars based on

0

customer reviews
Write a review
Associations
Payment Methods
American Express
BACS
Cash
Cheque
Direct Debit
Maestro
MasterCard
Visa
Visa Debit
Events & Shows
Opening Hours
Monday
08:30 to 17:00
Tuesday
08:30 to 17:00
Wednesday
08:30 to 17:00
Thursday
08:30 to 17:00
Friday
08:30 to 16:00
Saturday
Closed
Sunday
Closed